Watershed Property Review Board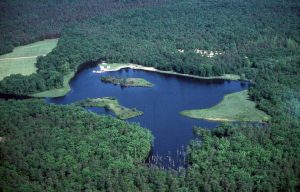 Meeting Notices
February 24, 2022
October 27, 2022
April 20, 2021
October 21, 2021—CANCELLED
April 21, 2020
October 22, 2020
Meeting Agendas
October 27, 2022
February 24, 2022
April 20, 2021
April 21, 2020
October 15, 2019
April 2, 2019
November 30, 2018
September 10, 2018
May 18, 2017
August 14, 2014
May 9, 2014
Meeting Minutes
October 27, 2022
February 24, 2022
April 20, 2021
April 21, 2020
October 15, 2019
April 2, 2019
November 30, 2018
In 1988, the Watershed Protection and Moratorium Act, P.L. 1988, c. 163, as amended by P.L. 1990, c. 19, suspended all transfer of watershed properties to allow the New Jersey Department of Environmental Protection (NJDEP) time to establish rules and regulations for the protection of watershed property throughout the state. This moratorium, which continues to be in effect, prohibits municipalities, municipal utilities authorities and public utilities from conveying any land that is used for the protection of a public water supply.
The same legislation established a Watershed Property Review Board (WPRB) to review requests from regulated parties for exemptions from the moratorium. The Board is comprised of the Commissioner of the NJDEP, the Commissioner of the Department of Community Affairs (DCA) and the President of the Board of Public Utilities (BPU). Members of the Board convene to address exemption requests as they arise. The Board is authorized to exempt the conveyance of watershed property from the Act if it can be demonstrated that there is a compelling public need for the conveyance of the property, denial of the exemption would result in extraordinary hardship, or that the sale or development of the watershed property is otherwise consistent with the purposes of the Act, which are to protect water quality and encourage open space preservation.
Any person applying for an exemption or requesting a jurisdictional determination from the Board should first contact Board Staff.
Commission Members
Shawn LaTourette, Commissioner, Department of Environmental Protection
Joseph L. Fiordaliso, President, Board of Public Utilities
Lt. Governor Sheila Y. Oliver, Commissioner, Department of Community Affairs
Board Staff
Geoffrey Gersten, Deputy Attorney General for the Board, Division of Law
973-877-1280       Geoffrey.Gersten@law.njoag.gov
Jessica Patterson, DEP, Office of Transactions and Public Land Administration
609-913-6790       Jessica.Patterson@dep.nj.gov
Michael Kammer, Board of Public Utilities, Director, Division of Water
609-913-6306       Mike.Kammer@bpu.nj.gov
PLEASE NOTE: The Watershed Property Review Board is an independent Board and is not a division of the New Jersey Department of Environmental Protection
---
Board Exemption Orders
October 27, 2022
Boonton Reservoir Trail Order
February 24, 2022
Old Tappan Road Order
April 20, 2021
Closter and Norwood Order
April 21, 2020
Long Hill Township &
NJ American Water Co. Order
October 15, 2019
Hardyston Order
Neptune Order
November 30, 2018
Emerson, Oradell, and River Vale
September 10, 2018
West Milford Order
Independence Township Order
May 18, 2017
Harrington Park Order
Closter/Harrington Park Order
August 14, 2014
Clinton
May 9, 2014
River Vale
Jersey City
In Memory of Mark Becker