"Offshore wind is the linchpin of our clean energy program and will help us reach Governor Murphy's goal of 100 percent clean energy by 2050, build an innovation economy, and combat the impacts of climate changes."
Offshore Wind Policy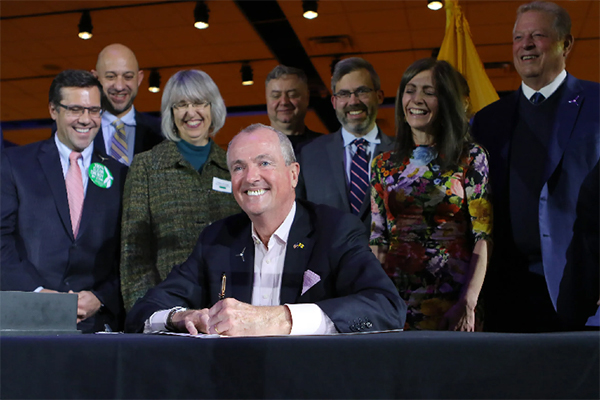 In August 2010, the Offshore Wind Economic Development Act (OWEDA) was signed into law. The Act advised the Board of Public Utilities to establish a program for Offshore Wind Renewable Energy Certificates (ORECs) to incentivize the development of offshore wind facilities.
January 31st, 2018, Governor Phil Murphy Signed Executive Order #8 which directs all New Jersey State Agencies with responsibilities under the OWEDA to fully implement the act in order to meet a goal of obtaining 3,500 MW from offshore wind by the year 2030.
The Executive Order also set forth provisions to:
Develop an Offshore Wind Strategic Plan
Implement OWEDA's OREC program
Procure the necessary resources and expertise including an offshore wind economic consultant
Issue a solicitation for offshore wind projects for the generation of 1,100 MW
Initiate a rule making process to establish the OREC Funding Mechanism
Initiate discussion with sister states in the Northeast and Mid-Atlantic Region to explore the potential benefits of regional collaboration on offshore wind and other opportunities to combat climate change
On November 19, 2019 Governor Murphy signed Executive Order #92. This order effectively raised New Jersey's offshore wind goal from 3,500 megawatts by 2030 to 7,500 megawatts by 2035 – more than double the initial goal. This new goal will deliver clean, renewable energy generation needed to meet the State's goals of 50% renewable energy by 2030 and 100% clean energy by 2050. See a schedule for offshore wind solicitations through 2028.
On September 21, 2022 Governor Phil Murphy signed Executive Order No. 307 , increasing New Jersey's offshore wind goal by nearly 50 percent to 11,000 megawatts (MW) by 2040. The Executive Order #307, which increases the state's current goal of 7,500 MW, also directs the New Jersey Board of Public Utilities to study the feasibility of increasing the target further.
For more information of Clean Energy Initiatives in NJ, visit Air Quality, Energy & Sustainability.
Offshore Wind in New Jersey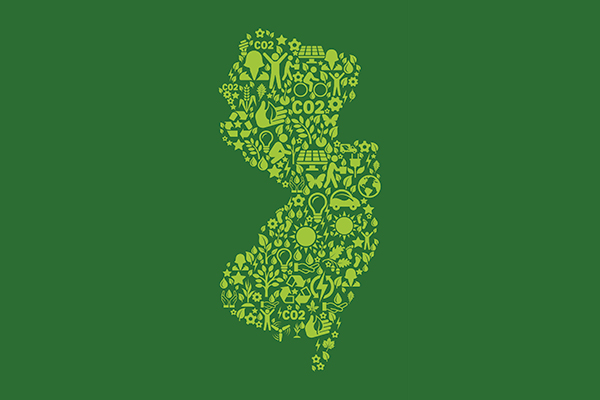 In the United States, the Federal Bureau of Ocean Energy Management (BOEM) regulates renewable energy activities on the Outer Continental Shelf (OCS). In New Jersey, Federal waters commence 3 nautical miles offshore our coast, as a result, BOEM has been facilitating lease sales of OCS blocks for the development of offshore wind energy facilities. BOEM has issued 2 commercial wind energy leases on the OCS offshore of New Jersey. For more information on the status of the wind projects offshore visit: https://www.boem.gov/New-Jersey/
New Jersey Permits and Approvals
NJDEP Permits
NJDEP has authority for state permitting; including regulatory oversight of offshore wind energy transmission cables and infrastructure built in state waters; as well as onshore activities. Within state waters and on regulated lands, the construction of associated facilities such as electrical substations, and the installation of cables and transmission lines will likely require several NJDEP permits including one or more of the following: a Coastal Area Facilities Review Act permit; Waterfront Development permit; Freshwater Wetlands permit; Coastal Wetlands permit, Flood Hazard Area Control Act permit, Water Quality Certificate under Section 401 of the Clean Water Act; and a Tidelands Conveyance.
Federal Consistency
The NJDEP will also review offshore wind projects for consistency pursuant to the Coastal Zone Management Act (CZMA). The CZMA establishes a formal review process commonly known as federal consistency review. Federal consistency provides an opportunity for states to review federal agency activities which have reasonably foreseeable effects on any land or water use, or natural resource of the coastal zone, to ensure consistency with the enforceable policies of a State's federally approved Coastal Management Program. NJDEP will review offshore wind projects for federal consistency during a project's environmental review period.
BOEM Process and Approvals
The Bureau of Ocean Energy Management's (BOEM) process for leasing and permitting offshore wind development on the outer continental shelf:
Area Identification
To begin the process of identifying lease areas, BOEM may publish a Request for Interest (RFI) to determine whether there is competitive interest in leasing a specific area of the Outer Continental Shelf (OCS). BOEM then publishes a Call for Information and Nominations, requesting information on areas to be considered for leasing, and will ultimately identify wind energy areas (WEAs).
Lease Development
After WEAs are identified, BOEM will begin the lease process. BOEM will typically publish a Proposed Sale Notice (PSN) and solicit comments on various aspects of the process, as well as request specific qualifying information from interested parties. Based on the information gathered, BOEM will publish a final sale notice (FSN), and an auction will occur thereafter, with the winner of the auction being granted the lease by BOEM.
Site Assessment
Once BOEM grants a lease, the lessee must submit a Site Assessment Plan (SAP). A SAP describes the activities necessary to characterize a lease area, including but not limited to; geophysical and archaeological surveys, and deployment of technologies to measure and assess ocean conditions. Once the SAP is deemed complete, a lessee will begin developing the Construction and Operations Plan (COP).
Construction & Operation Plan/ NEPA Environmental Review
The COP identifies all activities and facilities that a lessee intends to construct and operate as part of an offshore wind project within a lease area. The COP must include a description of all facilities; including turbines, array cables, export cables, onshore and offshore substations, and proposed interconnection points. After BOEM deems a lessee's COP complete, the NEPA environmental review may begin. BOEM will prepare a project specific Environmental Impact Statement, with opportunities for public comment throughout the process. If BOEM approves the COP, the project will move forward with the final BOEM decision being a Record of Decision once all federal and state approvals have been received.