Using Utility Fees
The Act allows SWUs to use the monies collected from fees and other charges for various activities related to stormwater management.  More specifically, the Act states the following: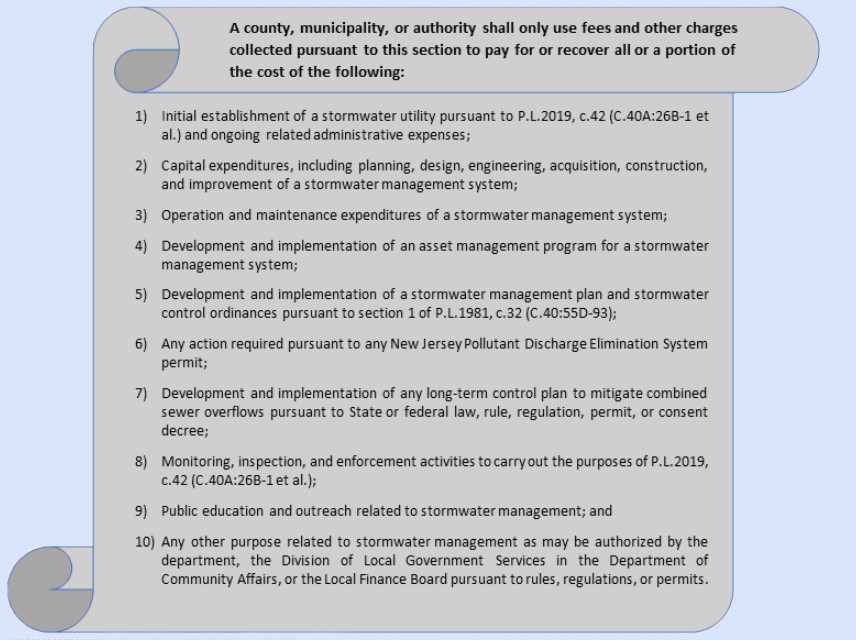 These are the ten categories related to stormwater management that are specified in the Act to which stormwater utilities may disburse funds raised from SWU fees or other charges. However, if an SWU has a use for funds that does not appear to fall under these categories, but is believed to be related to stormwater management, the SWU may contact the NJDEP to determine if that use may be approved as related to stormwater management.
Storm sewer systems, as with any infrastructure, need continuous proactive Asset Management in order to achieve maximum longevity and reduce the need for more costly reactive repairs over time. And, as with all infrastructure, a storm sewer system requires mapping, ongoing monitoring and inspections to ensure that any problems are identified and corrected promptly. There are also many administrative tasks associated with running an effective stormwater management program and SWU, such as customer service, completing and filing reports by the required due dates, and maintaining proper records, logs, and billing systems, among other typical business functions.
While every municipality is currently responsible for many of these tasks, not every municipality has allocated sufficient funds to address these issues in accordance with their MS4 permit requirements and the Stormwater Management rules. .  Municipalities with Combined Sewer Overflow (CSO) permits and Long Term Control Plan (LTCP) requirements may also need additional funding sources to reach the LTCP goals.
A stormwater utility is currently the only mechanism that would be able to dedicate these funds directly to stormwater management, thus allowing a utility to properly operate, maintain, repair, and improve their storm sewer system as necessary.
  As development continues over time, more land is converted from pervious coverage to impervious coverage, creating more stormwater runoff along with it. Additional stormwater management facilities will be installed to control stormwater quality and quantity as part of that development. This will also increase the burden on the existing stormwater infrastructure and increase maintenance needs due to the additional amounts of stormwater reaching the MS4.
In addition to the maintenance, repair, and upgrade of existing and failing infrastructure, municipalities will also have to incorporate and maintain green infrastructure projects and other stormwater management facilities to reflect amendments to the Stormwater Management rules.
It should also be noted that if an SWU has a service area larger than a single municipality, an SWU service agreement will need to be developed between the SWU and the member municipalities. This should not be confused with the MS4 shared service agreement that would be required if the SWU were performing MS4 permit required tasks on behalf of the municipality(ies).