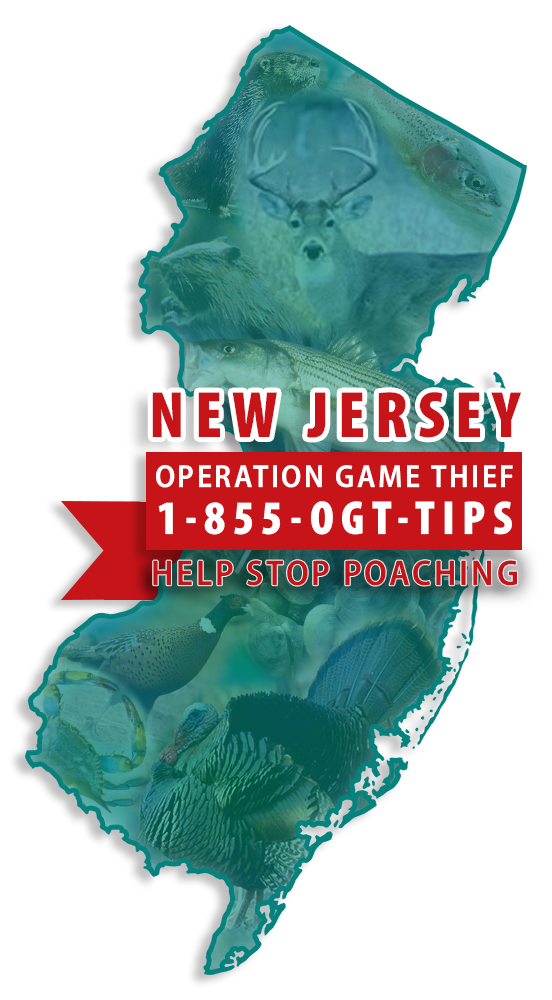 NJ OPERATION GAME THIEF (NJ-OGT) HOTLINE should only be used to report hunting, fishing and trapping violations.
Use the DEP Hotline – 877-WARN-DEP (877-927-6337) – for all other violations.
If you witness or suspect a wildlife violation…REPORT IT…24 hours a day, 7 days a week.
YOU CAN MAKE A DIFFERENCE. You may remain anonymous and you may be considered for a reward.
To contact a Fish and Wildlife law enforcement office, or for other wildlife-related information or questions, please refer to the Contact Us page.

For other ENVIRONMENTAL emergencies, call the 24 hr. DEP HOTLINE @ (877-927-6337) .
Report violations promptly…the quicker the information is received the better the chances for an arrest.
When you call provide all information that you can, including:
Description of violation.
Violation date and time.
Location of violation; as exact as you can.
Names, addresses, ages of suspected individuals along with height, hair color and clothing.
Number of Suspects.
Vehicle/Boat description with license and/or registration number.
Where contraband is stored.
How was contraband transported.
Number of Shots heard.
…and any other information you feel may be pertinent to the case.
The more information you can provide and the more specific you can be, the better the chances for an apprehension.
As a participant of NJ-OGT, your identity is fully PROTECTED and you can remain anonymous. Anonymous callers will be assigned a unique reference number and will be instructed how to call back for updates on the investigation. If you leave your name and call back information, a Conservation Police Officer will be able to update you with the results of the investigation.
POACHING…covers ALL wildlife violations.
POACHING is the illegal taking of wildlife, game or fish, trespassing while taking wildlife, littering or the employment of any means to gain an unfair advantage over other users of the state's precious wildlife resources.
Poaching can take a toll on fish and wildlife resources and poses problems for outdoor sportsmen and conservationists…..Poaching affects us all.
YOU can make the difference…YOU can help protect New Jersey's Outdoor Heritage by reporting abuses to… 1-855-OGT-TIPS
NJ-OGT is sponsored by New Jersey State Federation of Sportsmen's Clubs in cooperation with New Jersey Fish and Wildlife and is closely patterned after a highly successful program started in New Mexico in 1977. New Mexico's OGT program was modeled after the original crime stoppers program initiated by the Albuquerque, NM Police Department. Some form of the OGT program has been adopted in 49 of 50 states.
The person that poaches commits "a crime against wildlife" and is a thief, a cheat and a crook who robs us of our precious natural resources and diminishes our outdoor recreation experience. Their actions threaten outdoor opportunities for future generations and consume license and tax revenue paid by sportsmen and women.
Help us help you…Don't make excuses for "wildlife crimes" and don't tolerate poaching or any illegal activity amongst your hunting, fishing or hiking companions. Report violations and help conserve wildlife for yourself and others to enjoy.
* PLEASE JOIN IN THE EFFORT TO STOP "WILDLIFE CRIME" – CONSIDER MAKING A TAX DEDUCIBLE DONATION
NJ-OGT is a non-profit program supported by donations to the New Jersey State Federation of Sportsmen's Clubs OGT Fund. These monies are derived through a variety of sources such as sportsmen and women, conservation groups and businesses, all of which care about the future of New Jersey's wildlife and outdoor heritage. Please consider paying it forward and contributing to the reward fund, which makes this program possible.
Send donations to:
NJSFSC – OGT
PO BOX 10173
Trenton, NJ 08650-1073