Published by:
The Northeast Upland Habitat Technical Committee
and the Massachusetts Division of Fisheries & Wildlife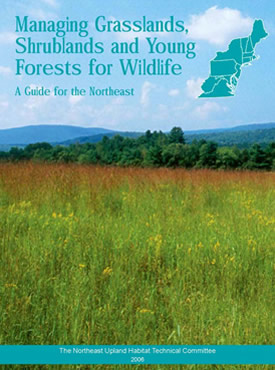 New Jersey Fish and Wildlife is pleased to present "Managing Grasslands, Shrublands and Young Forests for Wildlife: A Guide for the Northeast" as a valued reference for landowners interested in enhancing habitats for wildlife use. The guide, developed by the Northeast Upland Habitat Technical Committee in 2006, outlines specific management practices necessary to create or maintain early successional and young forest habitats in the northeastern United States.
Seventy percent of grassland bird species (including bobwhite quail) and reptiles such as black racers and wood turtles have significantly declined since the mid-1960s. The same is true for 48 percent of shrubland bird species, New England cottontail and many butterfly species.
Active management can create the vegetative conditions many early-successional species depend upon. When practiced across essentially forested landscapes, a broad array of wildlife habitat values can be enhanced as well as conserved without sacrificing mature forest values. Whether it is a 5-acre grassland, a 20-acre old field, or a woodlot of 100 acres or more, this publication can be of tremendous benefit to property owners and managers. Each chapter contains detailed information about managing these habitats. There are also case studies to serve as models to follow, as well as a chapter devoted to financial funding opportunities.
Each chapter of the guide is available in PDF format; clicking on a link will open the chapter in a new tab or window.
Contents – Cover, Title Page, Preface, Acknowledgements, Contents (pdf, 266kb)
Introduction – Darrel Covell, University of New Hampshire Cooperative Extension (pdf, 441kb)
Looking in a Landscape Perspective – John Litvaitis, University of New Hampshire (pdf, 888kb)
Maintaining and Restoring Grasslands – Paul Rothbart, Connecticut Department of Environmental Protection and Steve Capel, Virginia Department of Game & Inland Fisheries(pdf, 675kb)
Managing Shrublands and Old Fields – Brian Tefft, Rhode Island Division of Fish & Wildlife (pdf, 402kb)
Managing Regenerating and Young Forest Habitat – John W. Lanier, New Hampshire Fish & Game Department (pdf, 643kb)
Managing Small Forest Openings – Judy Wilson, Connecticut Department of Environmental Protection (pdf, 293kb)
Managing Abandoned Orchards and Apple Trees – Judy M. Wilson, Connecticut Department of Environmental Protection (pdf, 410kb)
Invasive Exotic Plants in Early-successional Habitats – James D. Oehler, New Hampshire Fish & Game Department (pdf, 1.3mb)
Riparian Areas: Managing Early-successional Habitats Near The Water's Edge – Thomas P. Hodgman, Maine Department of Inland Fisheries and Wildlife (pdf, 1.0mb)
Habitat Management Tools
Using Prescribed Fire to Manage Habitats in the Northeast – Tim Simmons, Massachusetts Natural Heritage & Endangered Species Program (pdf, 367kb)
Herbiciding – James D. Oehler, New Hampshire Fish & Game Department (pdf, 814kb)
Grazing for Wildlife Habitat Enhancement – Tyler Webb, Vermont Natural Resources Conservation Service (pdf, 135kb)
Mechanical Tools – Steve Hill, U.S. Fish & Wildlife Service (pdf, 509kb)
Habitat Management Case Studies
Creating Early-successional Habitat on a Small Woodlot in Southeastern New Hampshire – Matt Tarr, University of New Hampshire Cooperative Extension (pdf, 477kb)
Grouse Management at the Monongahela National Forest, West Virginia – Gary Foster, West Virginia Division of Natural Resources (pdf, 776kb)
Massachusetts Woodlands Cooperative: A New Tool for Landscape Planning and Management – Paul Catanzaro, University of Massachusetts Cooperative Extension (pdf, 1.4mb)
Quail and Cottontail Management on Buck Range Farm, Maryland – Bob Long, Maryland Department of Natural Resources and Donald Webster, Maryland Department of Natural Resources(pdf, 1.3mb)
Pennsylvania's Conservation Reserve Enhancement Program – Colleen A. DeLong, Pennsylvania Natural Resources Conservation Service and Jefferey D. Finn, Pennsylvania Natural Resources Conservation Service (pdf, 370kb)
Opportunities to Obtain Financial Assistance for Wildlife Habitat Management Projects – Jim Oehler, New Hampshire Fish & Game Department (pdf, 187kb)
Appendix A: Contact Information for Selected Federal and State Agencies (pdf, 158kb)
Appendix B: List of Common and Scientific Names of the Plant and Animal Species Mentioned in This Guide (pdf, 171kb)