General license Information
Duplicate License Information
New Jersey DEP Fish and Wildlife uses the Electronic Licensing System (ELS) to issue hunting and fishing licenses and permits. Licenses are available online and at the agent locations listed below. All agents sell all hunting and fishing licenses.
When purchasing your first hunting license using the IELS you must show an agent a previous year's resident license (any state) or Hunter Education card. After that initial transaction you will never have to show proof again to obtain a hunting license. You will then also have the option of purchasing your license(s) online (those licenses which cannot be printed at home will be mailed and a shipping fee added).
Nonresidents can use the Nonresident License Documentation Form to enable online license purchases without first going to an agent.
License purchasers are required to submit the NJ Child Support Certification each year. The certification can be obtained at an agent or online (recommended). If you complete the certification online, license agents will not require you to complete a paper form at their location. For more information see the NJ Child Support Certification Information page.
The following list of license agents is provided for informational purposes only. It is best to contact the agent beforehand to ensure the license(s), stamp(s) and/or permit(s) you want are available and their system is active.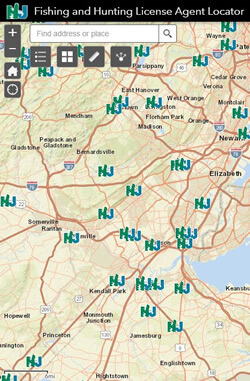 Agents by County:
Atlantic County
| | | |
| --- | --- | --- |
| AGENT | LOCATION | PHONE |
| Bass Pro Outdoor World | Atlantic City | 609-449-4500 |
| Buck Tails Outfitters | Mays Landing | 609-829-2229 |
| Butterhof's Farm & Home Supply | Egg Harbor City | 609-965-1198 |
| DC Sportsman | Buena | 856-457-5433 |
| Dick's Sporting Goods | Mays Landing | 609-407-1711 |
| Galloway Ace Hardware | Galloway | 609-748-7400 |
| Lines R US | Hammonton | 609-513-4494 |
| Range 129 LLC | Absecon | 609-380-2557 |
| Walmart | Egg Harbor Township | 609-415-6353 |
| Walmart | Mays Landing | 609-625-8200 |
| Walmart | Hammonton | 609-567-2700 |
Bergen County
| | | |
| --- | --- | --- |
| AGENT | LOCATION | PHONE |
| Dick's Sporting Goods | Paramus | 201-261-2926 |
| Ramsey Outdoor Store | Ramsey | 201-327-8141 |
| Tackle World | Rochelle Park | 201-587-0011 |
| Targeteers | Saddle Brook | 201-843-7788 |
Burlington County
| | | |
| --- | --- | --- |
| AGENT | LOCATION | PHONE |
| Cheyenne Mtn. Outfitters | Bordentown | 609-570-8430 |
| Dick's Sporting Goods | Mt. Laurel | 856-802-1225 |
| Dick's Sporting Goods | Burlington | 609-747-0400 |
| Fresh Farm Market | Palmyra | 856-786-0200 |
| Mighty Joe's Gas, Grill & Deli | Shamong | 609-268-0303 |
| Walmart | Cinnaminson | 856-303-2119 |
| Walmart | Lumberton | 609-702-9200 |
| Walmart | Marlton | 856-983-2100 |
| Walmart | Mt. Laurel | 856-372-6130 |
Camden County
| | | |
| --- | --- | --- |
| AGENT | LOCATION | PHONE |
| Dambly's Garden Center | Berlin | 856-767-6883 |
| Dick's Sporting Goods | Cherry Hill | 856-775-7630 |
| Walmart | Audubon | 856-310-1470 |
| Walmart | Cherry Hill | 856-665-5430 |
| Walmart | Somerdale | 856-545-9052 |
| Walmart | West Berlin | 856-753-8787 |
Cape May County
| | | |
| --- | --- | --- |
| AGENT | LOCATION | PHONE |
| Belleplain Supply Co. | Belleplain | 609-861-2345 |
| City of Ocean City | Ocean City | 609-525-9328 |
| Sea Gear Outfitters | Cape May | 609-884-0330 |
| United Uniforms | Rio Grande | 609-849-9347 |
| Upper Twp. | Woodbine | 609-628-2805 |
| Walmart | Rio Grande | 609-465-7760 |
Cumberland County
| | | |
| --- | --- | --- |
| AGENT | LOCATION | PHONE |
| Blackwater Sports Center | Vineland | 856-691-1571 |
| Butch's Gun World | Vineland | 856-692-1010 |
| Commercial Twp. | Port Norris | 856-785-3100 |
| Dick's Sporting Goods | Vineland | 856-776-7630 |
| Franzwa Trailer Sales | Millville | 856-825-0111 |
| Greenhorn Outdoors | Bridgeton | 856-451-0971 |
| The Girls Place | Port Elizabeth | 856-825-4565 |
| The Gun Rack | Vineland | 856-692-4773 |
| Walmart | Bridgeton | 856-453-0418 |
| Walmart | Millville | 856-825-4200 |
| Walmart | Vineland | 856-205-9940 |
Essex County
| | | |
| --- | --- | --- |
| AGENT | LOCATION | PHONE |
| The Bullet Hole | Belleville | 973-759-3968 |
| The Bullet Hole Annex | Belleville | 973-759-8800 |
Gloucester County
| | | |
| --- | --- | --- |
| AGENT | LOCATION | PHONE |
| A Ferrucci & Son | Newfield | 856-697-1864 |
| Bob's Little Sport Shop | Glassboro | 856-881-7575 |
| Borough of Swedesboro | Swedesboro | 856-467-0202 |
| Greenwich Twp. | Gibbstown | 609-423-1038 |
| Sportsman's Outpost | Williamstown | 856-881-3244 |
| Walmart | Deptford | 856-384-3211 |
| Walmart | Turnersville | 856-629-4167 |
| Walmart | West Deptford | 856-686-0133 |
| Walmart | Williamstown | 856-629-2054 |
Hudson County
| | | |
| --- | --- | --- |
| AGENT | LOCATION | PHONE |
| Caso's Gun-A-Rama | Jersey City | 201-435-5099 |
| Urban Tactical | Jersey City | 201-499-3601 |
Hunterdon County
| | | |
| --- | --- | --- |
| AGENT | LOCATION | PHONE |
| Big Bear Gear | Lambertville | 609-460-4784 |
| Boan's Marine | Lambertville | 609-397-3311 |
| Kathee's General Food Store | Frenchtown | 908-996-6886 |
| Shannon's Fly & Tackle | Califon | 908-832-5736 |
| Skip's Outdoors | Stockton | 609-773-6959 |
| The Sporting Life | Whitehouse Station | 908-923-4331 |
| Walmart | Clinton | 908-730-8665 |
| Walmart | Flemington | 908-788-6769 |
Mercer County
| | | |
| --- | --- | --- |
| AGENT | LOCATION | PHONE |
| Dick's Sporting Goods | Princeton | 609-419-1661 |
| Kulak Arms | Lawrence Twp. | 609-695-1043 |
| Rosedale Mills | Pennington | 609-737-2008 |
| Walmart | East Windsor | 609-443-6159 |
| Walmart | Hamilton | 609-438-4093 |
| Walmart | Hamilton | 609-585-1463 |
Middlesex County
| | | |
| --- | --- | --- |
| AGENT | LOCATION | PHONE |
| Auto Parts of Woodbridge | Woodbridge | 732-634-6264 |
| Dick's Sporting Goods | East Brunswick | 732-651-3284 |
| Dick's Sporting Goods | South Plainfield | 908-226-4912 |
| Dick's Sporting Goods | Woodbridge | 732-621-8400 |
| Sayreville Sportsman | Sayreville | 732-238-2060 |
| Savage Cerakote | Spotswood | 732-425-4996 |
| Walmart | Edison | 732-650-1297 |
| Walmart | Old Bridge | 732-525-8030 |
Monmouth County
| | | |
| --- | --- | --- |
| AGENT | LOCATION | PHONE |
| Brielle Bait & Tackle | Brielle | 732-528-5720 |
| Dick's Sporting Goods | Freehold | 732-358-1400 |
| Dick's Sporting Goods | West Long Branch | 732-676-7021 |
| Walmart | Freehold | 732-780-3048 |
| Walmart | Howell | 732-886-9100 |
| Walmart | Neptune | 732-922-8084 |
Morris County
| | | |
| --- | --- | --- |
| AGENT | LOCATION | PHONE |
| Dick's Sporting Goods | E. Hanover | 973-428-0889 |
| Dick's Sporting Goods | Rockaway | 973-659-1950 |
| Dorsi's Deli & Pharmacy | Stirling | 908-647-7878 |
| Dows Boat Rental | Lake Hopatcong | 973-663-3826 |
| Lakes End Marina | Landing | 973-398-5707 |
| Ramsey Outdoor Store | Succasunna | 973-584-7798 |
| Rich's Refrigeration | Morristown | 973-234-5868 |
| Silver Bullet Supply LLC | Rockaway | 973-664-9661 |
| Walmart | Boonton | 973-299-3943 |
| Walmart | Flanders | 973-347-7400 |
| Walmart | Ledgewood | 973-598-4088 |
| Walmart | Rockaway | 973-361-6089 |
Ocean County
| | | |
| --- | --- | --- |
| AGENT | LOCATION | PHONE |
| Animals & Gardens Unlimited | New Egypt | 609-752-0000 |
| Creekside Outfitters | Waretown | 609-242-1812 |
| Dick's Sporting Goods | Brick | 732-477-4844 |
| Dick's Sporting Goods | Manahawkin | 609-597-5396 |
| Garden State Yacht & Sales | Point Pleasant | 732-892-4222 |
| Grizz's Forked River B&T | Forked River | 609-693-9298 |
| Pineland Sporting Goods | Jackson | 732-961-7248 |
| Walmart | Brick | 732-840-7772 |
| Walmart | Lanoka Harbor | 609-242-4231 |
| Walmart | Little Egg Harbor | 609-296-2430 |
| Walmart | Manahawkin | 609-978-8300 |
| Walmart | Toms River | 732-349-6000 |
Passaic County
| | | |
| --- | --- | --- |
| AGENT | LOCATION | PHONE |
| City of Newark (Watershed Office) | Newfoundland | 973-697-1724 |
| Dick's Sporting Goods | Wayne | 973-200-8077 |
| Totowa Bait & Tackle Shop | Paterson | 973-956-0825 |
Salem County
| | | |
| --- | --- | --- |
| AGENT | LOCATION | PHONE |
| Greenhorn Outdoors | Pennsville | 856-759-4166 |
| SJ Gas and Shine | Elmer | 856-358-3488 |
| Walmart | Pennsville | 856-935-8200 |
Somerset County
| | | |
| --- | --- | --- |
| AGENT | LOCATION | PHONE |
| Walmart | Manville | 908-575-8997 |
Sussex County
| | | |
| --- | --- | --- |
| AGENT | LOCATION | PHONE |
| Andover Hunt and Fish | Andover | 973-786-7382 |
| Garden State Bow and Reel | Stockholm | 973-697-3727 |
| Griffin & Howe, Inc. | Andover | 973-398-2670 |
| Simon Peter Sports | Newton | 973-786-5313 |
| Skylands Sport Shop | Augusta | 973-300-5883 |
| Stokes Forest Sport Shop | Branchville | 973-948-5448 |
| Walmart | Franklin | 973-209-4242 |
| Walmart | Newton | 973-300-1859 |
Union County
| | | |
| --- | --- | --- |
| AGENT | LOCATION | PHONE |
| Dick's Sporting Goods | Union | 908-964-2580 |
| Walmart | Union | 908-624-0644 |
Warren County
| | | |
| --- | --- | --- |
| AGENT | LOCATION | PHONE |
| Hackettstown Firearms Storage | Hackettstown | 908-852-5260 |
| Hi-Way Sport Shop | Washington | 908-689-6208 |
| Knot Just Flies | Blairstown | 908-362-3474 |
| Pequest Trout Hatchery (Credit Card, Debit Card, Check or Money Order Only) | Oxford | 908-637-4125 x 0 |
| Smittys Liquor and Deli | Columbia | 908-475-5933 |
| The Owl's Nest | Phillipsburg | 908-995-7903 |
| Walmart | Hackettstown | 908-979-9342 |
| Walmart | Phillipsburg | 908-454-3622 |
| Washington One Stop | Washington | 908-689-1353 |
Out-of-State
| | | |
| --- | --- | --- |
| AGENT | LOCATION | PHONE |
| Cabela's | Hamburg, PA | 610-929-7000 |