New Jersey Fish and Wildlife implemented a new waterfowl hunting program at Tuckahoe WMA in 2021. Tuckahoe WMA has 6 impoundments that total 941 acres. Three impoundments are on the Cape May County (colloquially, Tuckahoe) side of the Tuckahoe River while 3 larger impoundments are on the Atlantic County (colloquially, Corbin City) side (see map on the right).
During the late 2010s, Fish and Wildlife partnered with Ducks Unlimited and the Cape May County Mosquito Commission and procured a $1 million habitat restoration project for these 70-year-old impoundments, paid with Federal funds through the North American Waterfowl Conservation Act. Given this restoration project, Fish and Wildlife has a unique opportunity to manage the Tuckahoe WMA impoundments for a more quality waterfowl hunting experience. Managed waterfowl hunting opportunities that seek to maximize waterfowl use and provide a quality hunting experience are a common practice across the US. Common themes in these programs are that managers provide an attractive food base for waterfowl and reduce disturbance to the area by limiting hunting pressure. At Tuckahoe WMA, moist-soil impoundment management to grow valuable plants like millet, yellow nutsedge, broom sedge and 3-square, is used to provide the waterfowl food base.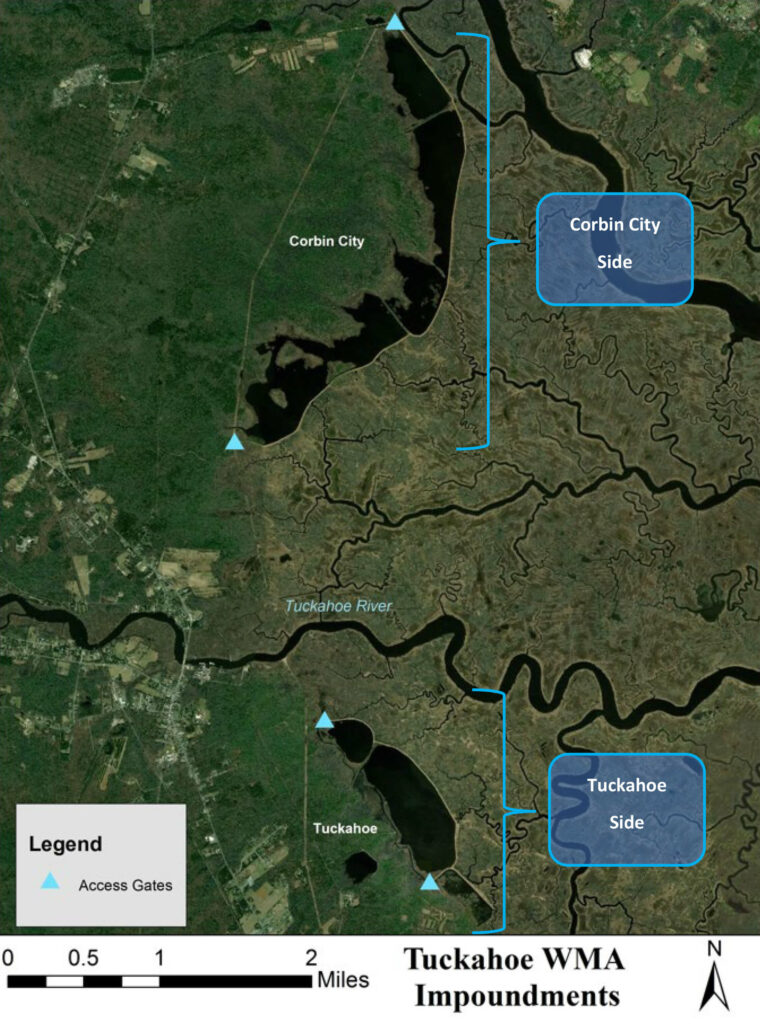 Fish and Wildlife's Recruitment, Retention, and Reactivation (R3) Program has worked closely with other agency bureaus, as well as Ducks Unlimited, to develop this managed hunting opportunity which was endorsed by the Fish and Game Council. Collectively, four major objectives of this plan are to:
Improve the overall quality of

waterfowl habitat

and hunting at the Tuckahoe WMA impoundments.
Provide an opportunity for newly recruited or less experienced waterfowl hunters, RECRUIT
Provide a new and improved experience for current waterfowl hunters, RETAIN
Provide opportunities that alleviate access and overcrowding constraints that negatively impact hunters' experiences to bring them back. REACTIVATE
Key elements of the program are:
Reduce waterfowl disturbance by closing impoundment roads to all vehicular traffic during the waterfowl hunting season (South Zone), except on hunt days.
Reduce hunting pressure by only allowing waterfowl hunting 3 days/week; Monday, Wednesday, and Saturday.
Provide two options of hunting experiences and hunter densities. The Tuckahoe side will have a structured lottery (for 6 designated blinds); however, the Corbin City side will have a less structured approach. The less structured strategy is more conducive for Corbin City since it is more than 2 times larger than the Tuckahoe side.
This is a

Managed

Hunt as prescribed by the elements above and is NOT a

guided hunt

or

mentored hunt

(unless specifically identified as such) Please keep in mind that water levels, blind success, weather conditions and other aspects are out of our control and subject to real hunting conditions. New Jersey Fish and Wildlife's R3 Program has and will do everything possible to encourage and assist hunters to maximize overall satisfaction of this program within limits.
Regulations: both Tuckahoe and Corbin City Sides
Gates to the Tuckahoe impoundment roads will be gated and closed to all vehicle traffic from October 9 until February 6. Roads will only be open on hunt days to vehicle traffic from before dawn until 1:00 PM.
Impoundments will only be open to waterfowl hunting on Mondays, Wednesdays, and Saturdays during the South Zone duck season. Hunting hours on these days will be

½ hr. before sunrise

to

Noon.

WATERFOWL HUNTING IS FORBIDDEN ON TUESDAYS, THURSDAYS, AND FRIDAYS AND AFTER 12 NOON ON HUNT DAYS.
Dikes are closed to small game (e.g. pheasant) hunting at all times.
No waterfowl hunting is allowed within 450 feet seaward of the dike around the impoundments (see closure map).
There are no additional hunting restrictions during the September Canada goose or special winter Canada goose seasons.
Specific Regulations: Corbin City Side
Impoundments will only be open to waterfowl hunting on Mondays, Wednesdays, and Saturdays during the South Zone duck season.
Hunting hours on these days will be

½ hr. before sunrise

to

noon

. Gates will be locked after

1:00 pm.

No permanent blinds allowed. Temporary blinds must be taken down at end of hunt.
No restrictions on number of hunters.
No restrictions on hunting location.
No restriction on hunting party size.
Specific Regulations: Tuckahoe Side
6 Designated hunting blinds are available by application and a random lottery. Any leftover or unclaimed blinds after the lottery will be reassigned on the morning of the hunt by random drawing.
The Lottery Application is September 1-25, 2022.
Notification of blind lottery will be by October 1, 2022.
Blinds hold up to 4 hunters. Hunters awarded a hunt blind in the lottery can hunt alone or bring up to 3 additional guests.
Registration is required during your hunt day.
Have Questions? Click For More Detailed Information & FAQ's.