FOSTERING OUTDOOR ENTHUSIASM FOR WOMEN WITH THEIR CHILDREN
Sisters Afield targets women of color with children, who want to learn the art of angling as a life skill; and to build a community of support for ongoing fishing and outdoor recreation opportunities.
Background
While national and state fishing campaigns focus on increasing the participation of women in the sport of fishing, and research shows mothers are continually looking for outdoor activities to engage their children; New Jersey Fish & Wildlife seeks to be a leader in this initiative. Sisters Afield strives to remove perceived barriers for women, focusing on women with children who come from ethnically diverse backgrounds. Registration fees, where applicable, include one parent/guardian and one child; an additional youth fee is $15 pp. No experience is necessary to participate, and some equipment will be provided. Generally, events are rain or shine, except where stated. Deadlines to register for each event are firm, no exceptions.
Program Overview
The goal of the program is to foster interest and gain a meaningful comfort level with fishing among women of color with children. While this program targets women of color, all interested women with children are welcome.
Are you interested in learning to fish,
but not sure how to get started?
Do you want more control over the quality
of food your family can enjoy?
Do you want to be more self-reliant when
it comes to feeding your family?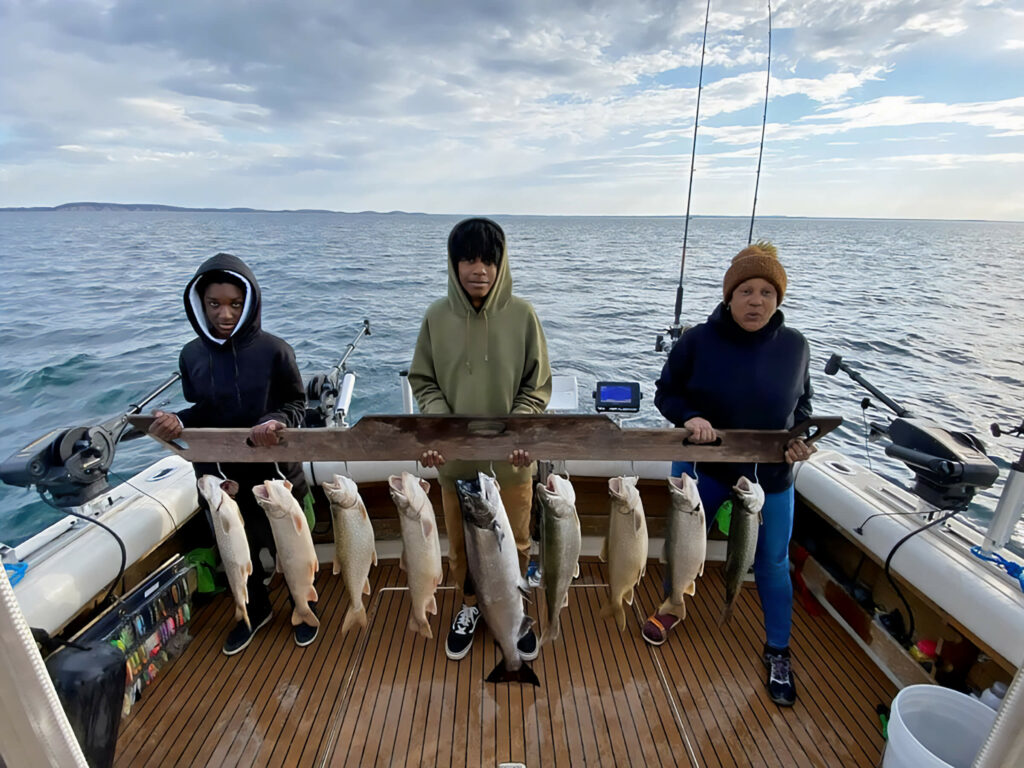 ---
2023 PROGRAM DATES
Sedge Island Natural Resource Education Center
July 7 @ 5:00 pm – July 9 @ 2:00
$100 – Youth Aged 10 and Up (Rain or Shine)
Registration Deadline: June 23
Sedge Island Natural Resource Education Center, located in Barnegat Bay off Island Beach State Park, is in New Jersey's only marine conservation zone. Sedge Island provides participants with a hands-on immersive salt marsh education experience, exploring both the natural and cultural history of the area. Conservation is the underlying concept taught throughout your time at Sedge. A short 15-minute boat ride from the Sedge Dock at Island Beach State Park takes you to the island. The renovated duck hunting lodge dates to over 100 years old, and is full of history of famous sportsman, historians and conservationists. Sedge Island continues to fuel memories as it is home to scientists, researchers, and explorers who wish to experience the "magic of sedge." Each day the sunrise wakes the house, and the marsh comes alive around it!
For more information, please contact hofnod@dep.nj.gov.
Pequest Trout Hatchery and Natural Resource and Education Center
August 25 @ 5:00 pm – August 27 @ 2:00 pm
$30 – Youth Aged 6 and Up (Rain or Shine)
Registration Deadline: August 11
Camping is an easy way to unplug and enjoy the outdoors. Whether you're a seasoned pro or a first-time camper, this adventure is sure to build lasting memories for you and your family. In addition to tent camping, the weekend activities include a river walk, hiking along a glacial moraine, bird watching and identification, evening bonfire (weather dependent), and lots of fishing! Each family is responsible for their own camping equipment and meals, but dinner will be a group effort. Bring tents, sleeping bags, camp chairs and any other camping equipment you feel will make your weekend better. Limited camping supplies are available for use by request on a first come, first serve basis.
For more information, please contact hofnod@dep.nj.gov.
James J. Braddock Park
79th Street & Bergenline Avenue, North Bergen, NJ 07047
October 9 @ 9:30 am – 2:30 am
FREE (Rain will cancel!)
Registration Deadline: September 25
With a land area of 167 acres, James J. Braddock Park is one of the largest and most beautiful of Hudson County's parks. The park is home to the 16-acre Woodcliff Lake and has an amazing view of the Manhattan skyline. The day begins with indoor hands-on instructions on setting up your rod/reel, understanding terminal tackle and types of live bait and lures, next honing your knot tying skills. After lunch, participants will go outside for casting practice then fishing. Fishing here is catch & release only and anyone age 16 to 69 must have a current fishing license. Equipment will be provided. Bring your lunch, snacks and a beverage.
For more information, please contact hofnod@dep.nj.gov.
NO EXPERIENCE NECESSARY.
ALL SESSIONS ARE MANDATORY.
ALL EQUIPMENT IS PROVIDED.

If you have questions about this program, please email hofnod@dep.nj.gov