Permits issued for 2022 are not valid in 2023.
Applications for the 2023 SBBP are currently not being accepted. A new application must be submitted for 2023 when available. NJFW will provide information on 2023 applications for individual anglers and party/charter boat owners in early spring.

To receive notification of SBBP updates, regulation updates, emergency closures, special notices, etc., please subscribe to the free NJ Marine Fisheries e-mail list.
Effective May 15, 2022, the SBBP regulations are as follows:
One fish per permit at 24″ to less than 28″
May 15, 2022 – December 31, 2022
Bonus harvest reporting is mandatory and must be reported within 24 hours of harvest. See Harvest Reporting instructions below.
Program Background
New Jersey is allocated a commercial harvest quota of striped bass under the Striped Bass Interstate Fisheries Management Plan as administered by the Atlantic States Marine Fisheries Commission (ASMFC). Since New Jersey does not allow netting or sale of striped bass, this quota was transferred to the recreational fishing sector resulting in the origin of the SBBP.
The current allocation from ASMFC is 215,912 pounds to be distributed between individual anglers and party/charter boats. Should NJ overshoot this quota in 2022, any overage would be subtracted from the 2023 quota. Although this program does allow for the harvest of an additional striped bass for New Jersey anglers, the NJ DEP Fish & Wildlife (NJFW) encourages catch and release whenever possible so this species can prosper for future generations.
NJFW initiated the program in 1990 to allow the harvest of an additional striped bass for New Jersey recreational anglers. Although the program has been modified throughout the years, the main goal of the SBBP is to allow anglers to participate in the management process while enjoying their favorite recreational pastime. It is a popular program and provides valuable data for assessing stock status and fishing trends, making it an integral part of New Jersey's striped bass management.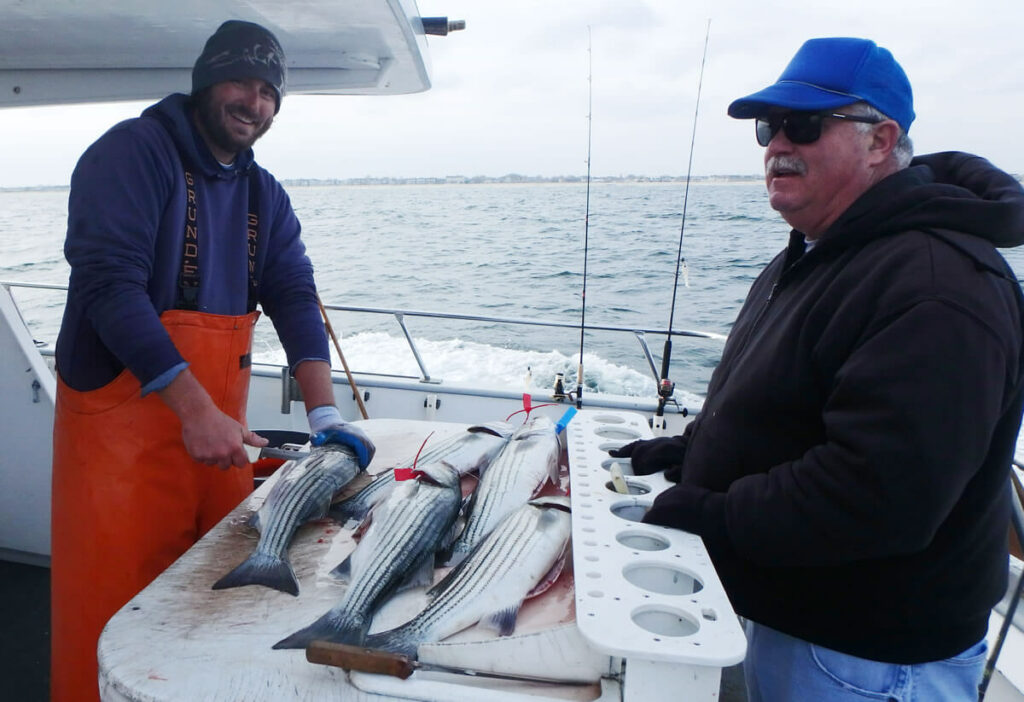 Regulations
New Jersey's 2022 recreational striped bass regulations in all state waters are as follows:

One fish 28″ to less than 38″
With a bonus permit, anglers can keep one fish at 24 inches to less than 28 inches from May 15 through December 31, 2022. Reporting bonus harvest within 24 hours is mandatory. Please note the order of fish harvested does not matter (Bonus fish can be the 1st or 2nd fish). Visit the Marine Seasons & Regulations page to check current Federal and State possession and season regulations for striped bass fishing in your area.
In accordance with the ASMFC Interstate Fishery Management Plan for striped bass, NJ adopted regulation that requires using inline (non-offset) circle hooks when fishing for striped bass with bait. More Information.

Application and Mandatory Reporting Information
Applications for the 2023 SBBP are currently not being accepted.
Please watch the instructional video for addition information on the 2022 SBBP.
SBBP Reporting Instructions Video

Individual Angler Mandatory Reporting Requirements
1) Harvest Reporting
If a Bonus fish is harvested, the SBBP Permit must be securely attached to the fish through the mouth and gill immediately upon capture and prior to transportation. Harvest reporting is mandatory within 24 hours of harvest and must be reported online or by leaving a message at 609-748-2074. Reporting harvest online allows NJFW to issue an additional permit, if requested, in the shortest amount of time. Required reporting information includes name, permit #, phone number, date of harvest, and fish length.
After NJFW receives a harvest report, the participant may be issued an additional permit up to the discretion of NJFW. Individuals may be eligible for multiple permits throughout the season, upon availability.
Submit a Harvest Report
SBBP Angler Reporting Instructions (pdf, 145kb)
2) Striped Bass Fishing Log
Complete the daily log included in the envelope with the permit and submit via mail or online by January 15, 2023 even if you did not fish or did not catch any striped bass.
SBBP Reporting Instructions (pdf, 145kb)
SBBP Fishing Log (pdf, 65kb)
NOTE: PDF can be completed (and saved on some browsers and Acrobat Reader) before printing. Log can be printed on both sides and mailed.

Party/Charter Boats
Applications are currently not being accepted for 2023.
The Party/Charter Boat (PCBT) facet of the SBBP reopened on May 15, 2022. Data collected from this program has proved invaluable for managing striped bass. Qualified PCBTs will be issued a limited number of permits allowing customers to keep one Bonus fish from 24″ to less than 28″. Only one permit may be issued to a customer per day.
Party/Charter Boat Reporting Requirements for 2023
PCBTs will be required to submit mandatory Trip Reports of each trip's striped bass catch and Bonus harvest every Monday to ensure the quota is not exceeded.
SBBP Party/Charter Boat Reporting Instructions (pdf, 175kb)
Please view the instructional video for more information on the 2022 program.
SBBP Party/Charter Reporting Instructions Video

Contact Us
If you require additional information concerning this program or any other striped bass issue, please contact the NJFW's Nacote Creek office at 609-748-2020 or sbbp@dep.nj.gov.

Dockside Interviews
Fish and Wildlife staff are now responsible for conducting field interviews for the Access-Point Angler Intercept Survey (pdf, 600kb). As a participant of the Striped Bass Bonus Program, your cooperation with NJFW staff is expected and appreciated. Please be aware that NJFW staff may request a short interview upon arrival at the dock, ramp, or marina.
Year
# Bonus Fish Harvested
Weight
Harvested
(lbs)
Mean
Length
(inches)
Mean
Weight
(lbs)
% of
Quota
1996
233
4,050
35.7
17.4
1.8
1997
344
7,678
36.8
22.3
3.4
1998
473
11,149
37.2
23.6
5.0
1999
574
13,174
36.2
23.1
5.9
2000
2,488
42,794
33.7
17.2
19.0
2001
4,583
79,774
33.5
17.4
35.5
2002
4,855
82,050
33.0
16.9
36.5
2003
6,101
121,410
35.0
20.0
37.7
2004
4,602
81,870
32.8
17.8
25.4
2005
2,047
29,866
31.7
14.6
9.3
2006
1,127
23,656
34.9
21.0
7.4
2007*
708
13,615
34.0
19.2
4.2
2008
367
7,345
34.3
20.0
2.3
2009
526
10,330
34.2
19.3
3.2
2010
728
12,833
34.5
17.6
4.0
2011
916
16,332
34.0
17.8
5.1
2012*
325
6,285
34.3
19.3
2.0
2013
404
6,096
33.4
15.1
1.9
2014
178
3,653
35.0
20.5
1.1
2015*
3,301
21,479
25.8
6.5
9.9
2016
3,686
24,963
25.9
6.8
11.6
2017
2,161
14,602
25.9
6.8
6.8
2018
1,101
6,786
25.3
6.2
3.1
2019
5,558
32,000
26.0
5.8
14.9
2020*
5,746
36,865
25.5
6.4
17.1
2021
6,457
41,867
25.7
6.5
19.4
* denotes when significant administrative or regulatory changes to the SBBP took place
Additional Information