Currently, striped bass age samples are collected primarily during NJFW's field surveys, such as the Striped Bass Tagging Survey, Ocean Trawl Survey, and Striped Bass Young-of-Year Survey. The majority of samples collected are scales from fish less than 30 inches caught in the spring. Therefore, data on large striped bass and fish caught in the fall is lacking. Another common data gap for all species is biological data from fish caught and released recreationally. In attempt to fill these data gaps, NJFW staff recognized that party/charter boat and tournament sampling was an excellent way to enhance survey data with much needed samples from the fall, from both kept and released fish, and in particular large striped bass.
PARTY/CHARTER BOAT SAMPLING
NJFW staff have been collecting biological data from striped bass consistently on party/charter boats since 1999. Party/charter boat sampling provides MRA staff the opportunity to collect information about the recreational fishery that most other types of sampling are not able to obtain. This recreational data provides insight to lengths, weights, and ages of individuals that would otherwise be thrown back alive and unsampleable. Data is collected on harvested fish as well. Due to recent changes in striped bass regulations, large striped bass (38"+) are unable to be harvested so sampling aboard party/charter boats allows MRA staff to collect data on large fish before being released. NJFW MRA would like to thank all party/charter boats that have contributed samples in recent years and/or welcomed staff onboard. This includes the Queen Mary, Susan Hudson, Miss Belmar Princess, Golden Eagle, and the Gambler.
TOURNAMENT SAMPLING
NJFW staff have been collecting striped bass data from tournaments since 2003. Tournament sampling provides MRA staff the opportunity to collect length, weight, and age data from recreationally harvested fish. Prior to the change in regulations, since the MRA typically catches small to medium sized fish in field surveys, it was imperative for NJFW staff to attend tournaments to obtain samples from larger fish to fully understand the biology of the striped bass fishery in New Jersey. Although 38"+ fish are no longer harvested, tournaments are still beneficial in supplementing data from MRA's field surveys due to the ability for otolith collection. Collecting paired scale-otolith samples is an important research initiative in order to improve age data for future stock assessments. Since fish entered in tournaments are all harvested and are mostly larger fish, it is the preferred sampling method for collecting otoliths and paired samples.
NJFW MRA appreciates the help and cooperation from all participating tournaments, especially long-standing striped bass tournaments such as the Sea Shell Beach Club Striped Bass Derby, High Tides Striper Tournament, Manasquan River Marlin & Tuna Club Striper Tournament, Beach Haven Marlin & Tuna Club LBI Cup, Striper Shootout, Hi-Mar Striper Tournament, Brielle Chamber of Commerce Tournament, and Stafford PBA Striper Tournament.
HOW DOES MRA USE THE COLLECTED SAMPLES AND INFORMATION?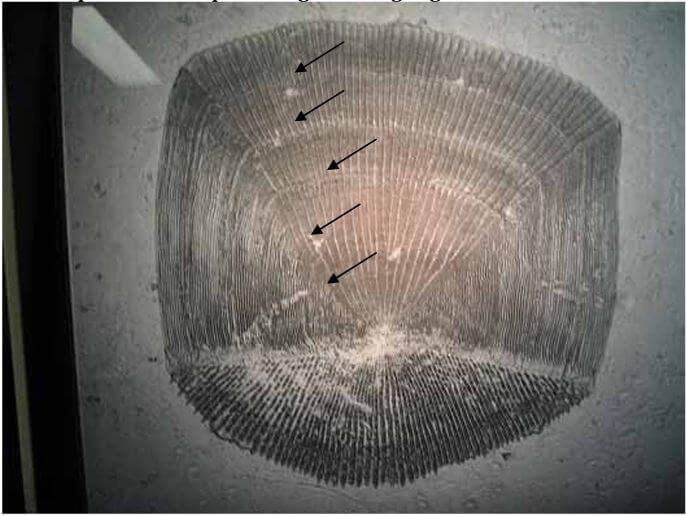 Age Determination
Scales are the most common structure used to age striped bass primarily due to the ease of collection without harming the fish. In order to read the age from a scale sample, the scale impressions are pressed into an acetate slide (a clear plastic-like material). The slide is then placed in a microfiche reader for staff to determine the age. Using scales to age fish is similar to counting rings on a tree. The striped bass scale to the right shows arrows pointing to each "ring" or annuli. Each annuli denotes one year of growth.
Although scales are a reliable source of age determination, otoliths (small ear bones located inside the head) are proven to be more accurate especially as age increases. One disadvantage to using otoliths is that the fish must be sacrificed. To process otoliths, two otoliths are extracted from each fish head by removing the bones with tweezers. Once the otoliths are removed, they are cleaned and placed in envelopes for processing at the lab. A low speed saw is used to cut a thin slice through the core of the otolith. The cross section is mounted to a slide and viewed with a microscope to determine the age. Like scales, the process involves counting annuli.
Length and Weights
Together with the age data collected, biologists can determine the relationships between measurements such as age-length, length-weight, and age-weight correlations. This information is important for the biological understanding of the species for stock assessments. The biological information allows scientists to estimate growth rates, maturity rates, and to track cohorts (year classes) over time. Length frequencies and age-length keys can be created to help characterize the annual catch and for inclusion in future stock assessments. By knowing this information, regulations can be determined to help prevent overfishing or rebuild the stock when necessary.
Expanding Sampling to Other Species
Due to the success NJFW has had supplementing data from other field surveys for striped bass, NJFW expanded the program to sample bluefish in 2010. Prior to 2010, all bluefish age data came from the state of Virginia. Since that time, New Jersey has collected nearly 2,000 bluefish age samples which have significantly contributed to the coast wide bluefish stock assessment. In 2014, the Division expanded the program to include other species such as summer flounder, black sea bass, tautog, weakfish and black drum. This expanded sampling will ultimately help accurately characterize New Jersey specific stock characteristics as well as be an asset for coast wide assessments.
NJFW MRA values any occasion to collect better data. If any tournament coordinators or party/charter boat operators are interested in MRA staff attending your event, please contact:

Brendan Harrison, Fisheries Biologist

Brendan.Harrison@dep.nj.gov

609-748-2020