Since 1984, the Marine Resources Administration has been involved in an intensive program of artificial reef construction and biological monitoring. The purpose is to create a network of artificial reefs in the ocean waters along the New Jersey coast to provide a hard substrate for fish, shellfish and crustaceans, fishing grounds for anglers, and underwater structures for scuba divers. Deployments are donated and funded by outside organizations with oversight and coordination provided by the NJDEP Fish and Wildlife's Artificial Reef Program. For more information on the program, please visit the links below.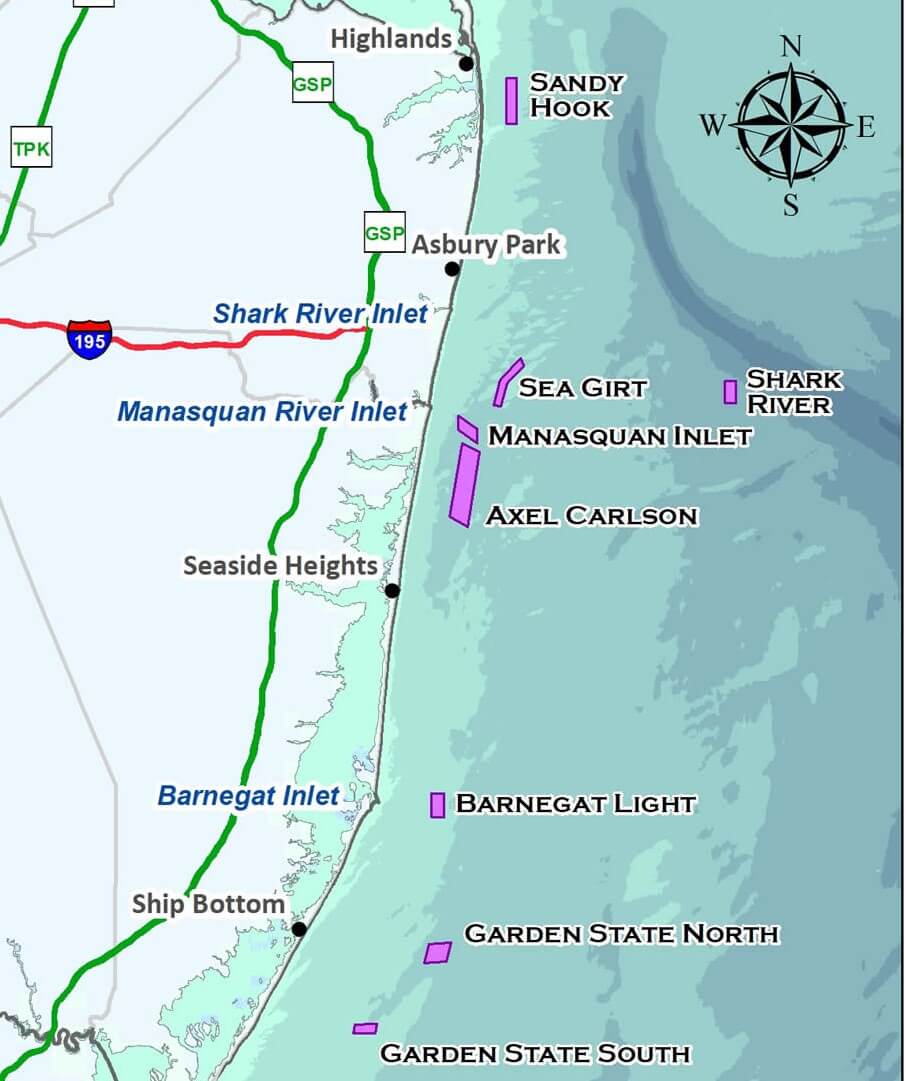 Artificial Reef Locations
Ready to print!
Reef coordinates in Digital Global Positioning System (DGPS) are formatted in degrees, decimal minutes (ddd° mm.mmm') and are available in the Reef Guide in PDF format.
RECENT DEPLOYMENTS
More information about the deployments below.
2021
January 14, 2021
Little Egg Reef
A 200′ barge, along with a 45′ tugboat and 40′ push boat
Sponsored by Beach Haven Charter Boat Association's Junior Mate Program with donations from The Sport Fishing Fund
40° 04.784′ N and 073° 59.420′ W
January 14, 2021
Manasquan Inlet Reef
65′ Tugboat
Sponsored by the Manasquan River Marlin and Tuna Club with donations by The Sportfishing Fund
40° 04.784′ N and 073° 59.420′ W
May 19, 2021
Manasquan Inlet Reef
F/V CARTERS CREEK, a 140′ decommissioned bunker boat
Sponsored by Greater Point Pleasant Charter Boat Association and The Sportfishing Fund
40° 05.010′ N and 073° 59.632′ W
May 21, 2021
Barnegat Reef
400 gravestones and concrete rubble weighing 60 tons
Sponsored by Schick monuments of Millville and South Jersey Monuments of Vineland
39° 45.320′ N and 074° 01.600′ W
2022
June 7,2022
Manasquan Inlet Reef
Over 200 seventh graders from Robert R. Lazar Middle School in Montville, NJ, assisted NJDEP's Fish and Wildlife Marine Resources Administration staff with making artificial reef ball structures as part of a grant received in 2019.
Eager students learned how to build these concrete structures by hand that will serve as home to several marine species on the ocean floor. The reef balls were deployed on the Manasquan Inlet Reef.
40° 04.784′ N and 073° 59.420′ W
Support Our Reefs
Donate to The Sportfishing Fund