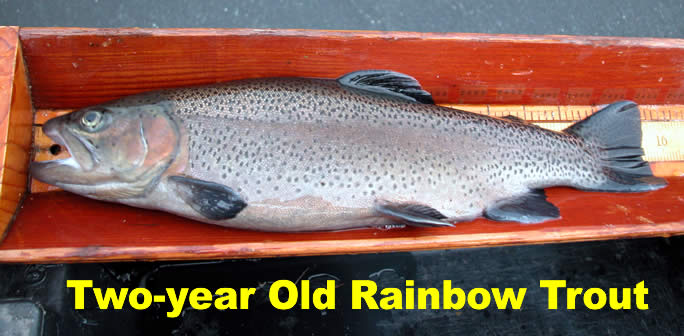 NJ DEP Fish and Wildlife will again be stocking trout as part of the Winter Trout Stocking Program. Winter Trout Stocking occurs on Monday November 21 and Tuesday November 22. New Jersey Fish and Wildlife will stock approximately 4,500 two-year old Rainbow Trout, averaging 14-18 inches in 18 ponds and lakes prior to Thanksgiving. All winter-stocked waters may be fished as soon as they are stocked.
Beginning with the 2016 winter stocking season, six lakes and ponds were moved from the Winter Stocking Program to the Fall Stocking Program. As part of the winter program, it would only be a few weeks before ice would form on the surface of these lakes. Unfortunately, ice fishing is not allowed on these waters. By moving them to the fall program anglers now have several more weeks of warmer weather to enjoy fishing for these trout.
The winter stocking is the final one each year, bringing the total of trout stocked from the Pequest Trout Hatchery in Warren County to more than 600,000.
Below is the list of waters with dates of stocking and numbers of trout. These lakes range in size from five to 100 acres and have shoreline access and/or boat launching sites.
| | | |
| --- | --- | --- |
| Amwell Lake, 11/21 – 260 | Lake Aeroflex, 11/21 – 370 | Rowands Pond, 11/22 – 100 |
| Barbour's Pond, 11/22 – 270 | Lake Ocquittunk, 11/21 – 250 | Shaws Mill Pond, 11/22 – 210 |
| Birch Grove Park Pond, 11/22 – 190 | Lake Shenandoah, 11/21 – 240 | Silver Lake, 11/21 – 300 |
| Furnace Lake, 11/21 – 360 | Little Swartswood Lake, 11/21 – 350 | South Vineland Park Pond, 11/22 – 190 |
| Green Turtle Pond, 11/21 – 330 | Mt. Hope Pond, 11/22 – 280 | Spring Lake, 11/21 – 200 |
| Haddon Lake, 11/22 – 210 | Ponderlodge Pond (Cox Hall WMA), 11/22 – 160 | Topenemus Lake, 11/21 – 190 |