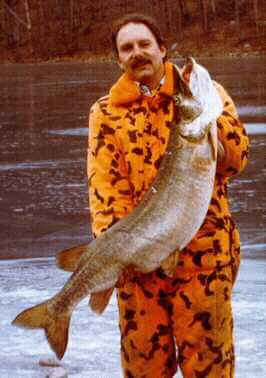 State Record Tautog Caught – 2/17/21
Despite its small size and high population density, New Jersey offers a wide range of fishing opportunities, including the chance to catch "trophy-size" fish. Such fish are recognized in the Skillful Angler Program and the State Record Fish Program.
The objective of the Record Fish Program is to increase the awareness of fishing opportunities for species that are regularly sought after and routinely found in the freshwaters or off the coast of New Jersey. Separate lists are maintained for freshwater and marine species, and in 2014 a new Spearfishing category was created for saltwater species.
Presently there are 90 species (31 freshwater and 59 saltwater, including 17 in the Spearfishing category) eligible for entry in the Record Fish Program. In May, 2007, the program was revised to include Retired Categories (Saltwater) of fish no longer accepted for entry in the program, as well as Retired Historical Records which were believed to be "unbeatable" at the time.
New Jersey's Record Fish Lists
Record Freshwater Fish
Record Saltwater Fish
Record Saltwater Fish – Spearfishing
Entering a Fish in the Record Fish Program
New record fish are caught and entered in the program every year – a testament to the excellent condition of our fisheries resources and the anglers who enjoy them. Complete rules and instructions are found on the application forms. However, the following rules apply to both fresh and saltwater species:
New Jersey State records are determined by weight alone. There are no line classes.
Fish must be weighed on a certified scale as soon as possible. A copy of the current scale Registration Certificate and valid Inspection/Test Report issued by the County Office of Weights and Measures (pdf, 115kb) is required to achieve record fish status.
All fish must be identified by a division biologist.
A clear, side-view color photograph of the fish must be submitted. All photo entries become property of the Division of Fish and Wildlife and will not be returned.
Application MUST be submitted no later than one month after the date of catch.
Application Forms
There are separate application forms for freshwater and saltwater species:
Freshwater Record Fish Application Form (pdf, 26kb)
Saltwater Record Fish Application Form (pdf, 55kb)
Saltwater Record Fish (Spearfishing) Application Form (pdf, 70kb)
Catch a fish which may not be of record size but is of sufficient size and weight to have tested your skill and/or be of "bragging" size? Then enter your catch in Fish and Wildlife's Skillful Angler Program.
The Skillful Angler Program is designed to supplement the Record Fish listing. It honors the many anglers who catch both freshwater and marine fish which aren't of record size but are impressive and worthy of recognition. Qualifying anglers receive a signed certificate attesting to their achievement. At the end of each year, special recognition is given to the anglers who caught the largest fish in each of the species categories.
For more information about the program, including a link to download the application, visit the Skillful Angler Program page.