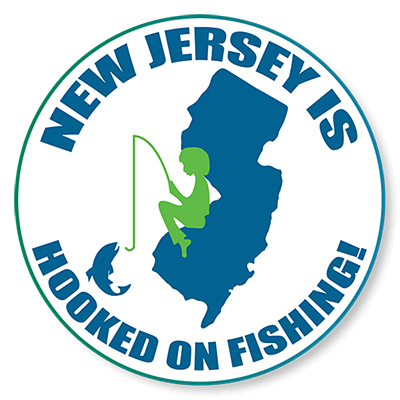 New Jersey's Hooked on Fishing-Not on Drugs Program provides a great opportunity to get kids involved in positive recreational activities. Growing up in a big city, my parents saw value in having me spend my summers outdoors enjoying nature. These experiences afforded me the chance to discover that there is more to the world and my role in it than what the concrete jungle has to offer. Likewise, the goal of this program is to introduce youth to the fun and excitement of fishing, and to engage them in meaningful life skills, so that they also can imagine unlimited possibilities for themselves.
– Liz Jackson, HOFNOD Coordinator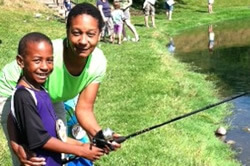 Fishing is an activity that can be started at any age by any person regardless of gender, physical size or athletic ability. Fishing can also be enjoyed individually or with family and friends. A great way to introduce youth to fishing is through the "Hooked on Fishing – Not on Drugs" (HOFNOD) Program.
"Hooked on Fishing – Not on Drugs" is a unique, nationally recognized program created by the Future Fisherman Foundation. In 2012, former Governor Christie signed legislation establishing the statewide implementation of the HOFNOD program. The legislation provided initial funding through an appropriation of $200,000 from the state's Drug Enforcement and Demand Reduction Fund. (See below for the identical State Assembly and Senate bills.)
The goal of New Jersey's program is to encourage school-aged children to avoid tobacco, drug and alcohol usage by providing alternative activities that involve learning to fish, appreciating aquatic and environmental resources, and developing positive life skills. The program will provide students with access to extracurricular outlets that utilize New Jersey's incredible outdoor recreational assets.
The NJDEP Fish & Wildlife wants to partner with schools, community- and faith-based youth organizations willing to provide on-going and sustained engagement in HOFNOD activities throughout the year. The "Hooked on Fishing – Not on Drugs" program is flexible enough to be offered in different ways, such as:
a weekly enrichment activity in summer youth programs
an on-going educational physical education activity in after school settings
integrated into grades 4-12 school curricula
as a year-round supplemental activity of community-based youth organizations (e.g. Youth Corps, Boys/Girls Clubs and faith-based entities)
HOFNOD is an excellent way for young people to participate in constructive recreation and to develop a positive sense of self-worth. The program helps:
nurture self-esteem and confidence
develop higher order critical thinking and problem-solving skills
reveal alternate activities for young people instead of the pitfalls of drug and alcohol use
foster opportunities and build skills to explore freshwater & marine careers
During the program, students learn:
freshwater and marine ecosystems
proper outdoor ethics and being a good steward of their local environment
respect for themselves, others and the world around them
how, when and where to fish
life skills like preparing and cooking their catch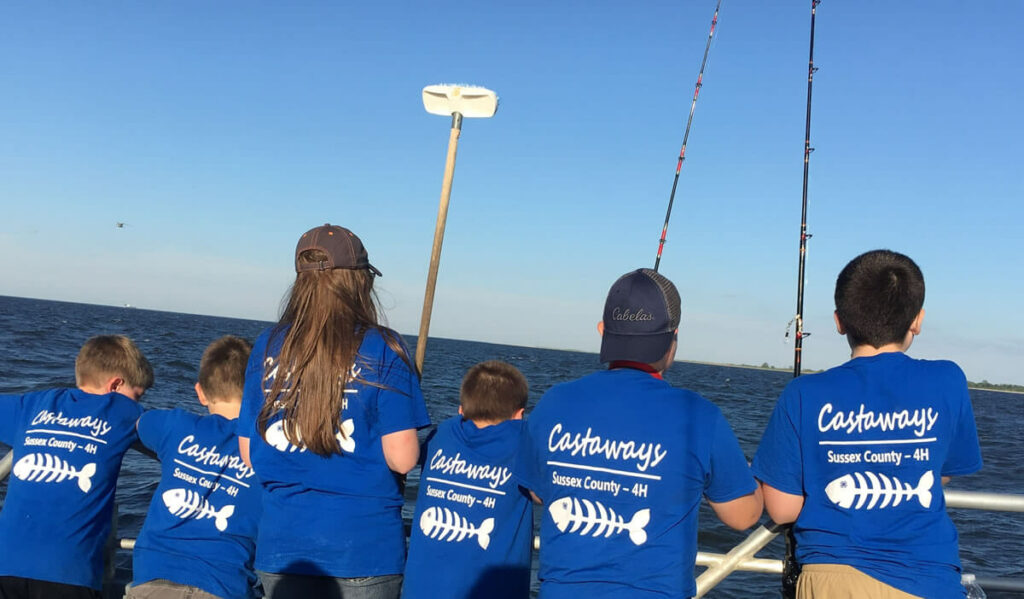 Adult-led lessons provide students with hands-on, real life experience and incorporate peer teaching and mentoring in the process. Guest experts can be used to teach supplemental sessions like fly tying and casting, spearfishing, introduction to SCUBA diving, kayaking and boating safety. Available funding through the HOFNOD program may be used to offset the cost of staff training & materials, fishing and program gear, and transportation for youth fishing trips.
Another activity HOFNOD teams can participate in is the Youth Fishing Challenge, which is typically held on the first weekend in June. Registered youth participants are eligible to receive prizes for the fish they catch during the event.
The core message of the "Hooked on Fishing – Not on Drugs" program is that you don't need to use tobacco, alcohol or drugs to have fun! It's the type of program that not only will help reduce drug and alcohol use in youth, but will also bring families closer together by giving them an inexpensive outdoor recreation activity they can all participate in.
For more information call 908-637-4125 ext. 122 or e-mail hofnod@dep.nj.gov.


HOFNOD Teams
The HOFNOD program is organized in community teams found throughout the state. Teams are led by Team Leaders who dedicate their time, skills and energy conducting the program for local youths. Want to find a local HOFNOD Team? Locate a group near you from the list below:
ATLANTIC
Atlantic County Parks and Rec
109 State Hwy 50 South
Mays Landing, NJ 08330
Adam Erskine – Erskine_adam@aclink.org
Adam Witcraft – Witcraft_Adam@aclink.org
609-625-7000 x5400
Fax: 609-645-5868

Creek Anglers: CCHS Fishing Club
Cedar Creek High School
1701 New York Ave.
Egg Harbor City, NJ 08215
Erin Sharpe – esharpe@gehrhsd.net

HOFNOD Community Fishing Students
Pleasantville, NJ
Marlene Crump – CommunityFishingStudents@gmail.com

PAC Fishing Club/HOFNOD at Principle Academy Charter School
6718 E. Black Horse Pike, Suite #16
Egg Harbor Township, NJ 08234
Marlene Crump— MarleneCrump@Principleacademycharter.org
609-498-6350
BERGEN
Hackensack River Junior Stewardship
Hackensack Riverkeeper
231 Main St.
Hackensack, NJ 07047
Jodi Jamieson – jodi@hackensackriverkeeper.org
BURLINGTON
HOFNOD Burlington
14 Cramer Road
Tabernacle, NJ 08088
Vic Gorin – victorgorin@comcast.net
609-468-6106
Heather Milloy – heathertricoche@comcast.net
609-234-1357
www.facebook.com/groups/214899822335201/
CAPE MAY
Tightlines 4H Fishing Club
Lockwood Youth Center, 4H Fairgrounds
Cape May Courthouse, NJ 08210
Rhiannon Worthington – rhiannoncmc4h@gmail.com
609-224-0283
ESSEX
Fishy Tales
Benjamin Franklin School
42 Park Avenue
Newark, NJ 07104
Jessica Allen – J1Allen@NPS.K12.NJ.US
973-268-5250
www.nps.k12.nj.us/FRA/
MERCER
HOFNOD Mercer
Tulpehaking Nature Center
Mercer County Park Commission
157 Westcott Avenue
Hamilton, NJ 08610
Alexandria Kosowski – akosowski@mercercounty.org
609-888-3218
www.facebook.com/hofnodmercer/
MONMOUTH
Collier School
160 Conover Road
Wickatunk, NJ 07765
Linda Librizzi – libreezi@gmail.com
732-946-4771

Jersey Devil Kids Camp
Jersey Devil Sportfishing
Captain Brian Rice – brian@jerseydevilsportfishing.com
732-996-6372
www.jerseydevilcharters.com
OCEAN
Brick School District HOFNOD
Brick Memorial High School
2001 Lanes Mill Rd.
Brick, NJ 08724
Tim Brennan – tbrennan@brickschools.org
www.facebook.com/Brick-Schools-Hooked-on-Fishing-Not-on-Drugs-259088461566403/

EVS 129 – Reel Legends
Toms River, NJ
Jerome & Melissa Townsend – jhscouts341@gmail.com

Reel Fun Fishing
Boating Education And Rescue (BEAR)
Mike & Debbie Bennett – bear@boatingeducationandrescue.org
732-492-4009
www.boatingeducationandrescue.com
PASSAIC
Silk City Anglers
City of Paterson/DHHS- Municipal Alliance Prevention Program
125 Ellison St.
Paterson, NJ 07505
Tenee Joyner – tjoyner@patersonnj.gov
W. Raheem Smallwood – wsmallwood@patersonnj.gov
973-321-1242
SUSSEX
Montague Bait Buddies
Montague Township School
475 Route 206 North
Montague, NJ 07827
Carl Ferriere— cferriere@montagueschool.org

Sussex County HOFNOD 4H
35 Newton Avenue
Branchville, NJ 07826
Natalie Burger – info@hiddenpasturesalpacas.com
973-948-6800
www.facebook.com/groups/hofnod4hsussexcounty/
UNION
Team Linden
City of Linden Recreation Department
Linden, NJ
Team Leaders: Sandra Jackson, Michael Jackson, Jay Sibilski
Linden Department of Recreation – 908-474-8600
www.facebook.com/Lindenhofnod
WARREN
Keeping It Reel
Community Center at Belvidere
301 Second St.
Belvidere, NJ 07823
Tammy Koop – tammykoop69@gmail.com

The Cast'aways
Stepping Stone School
45 County Road 519
Bloomsbury, NJ 08804
Sarah Fallstich – kostelas@yahoo.com
908-995-1999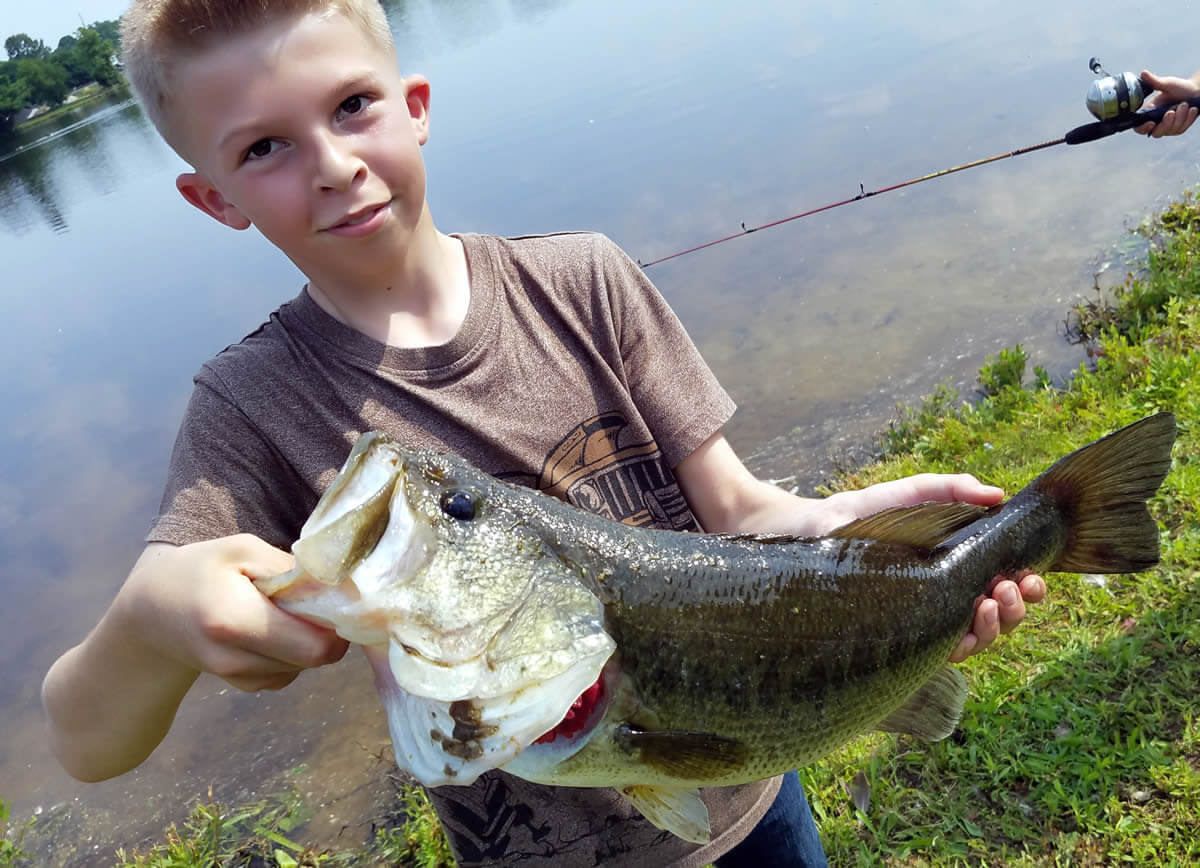 Resources
Fishing Education
Teacher/Education Resources
FunNewJersey.com (Fun things to do with kids in NJ)
Enabling Legislation
To view the enabling legislation (Assembly Bill 638 and Senate Bill 178) use the Bill Search feature on the State Legislature's site as follows:
1) Go to the Legislature's Homepage
2) In the Bill Search section enter A638 or S178 in the Bill Number(s) box.
3) Select the 2012-2013 Legislative Session
4) Click 'Search'