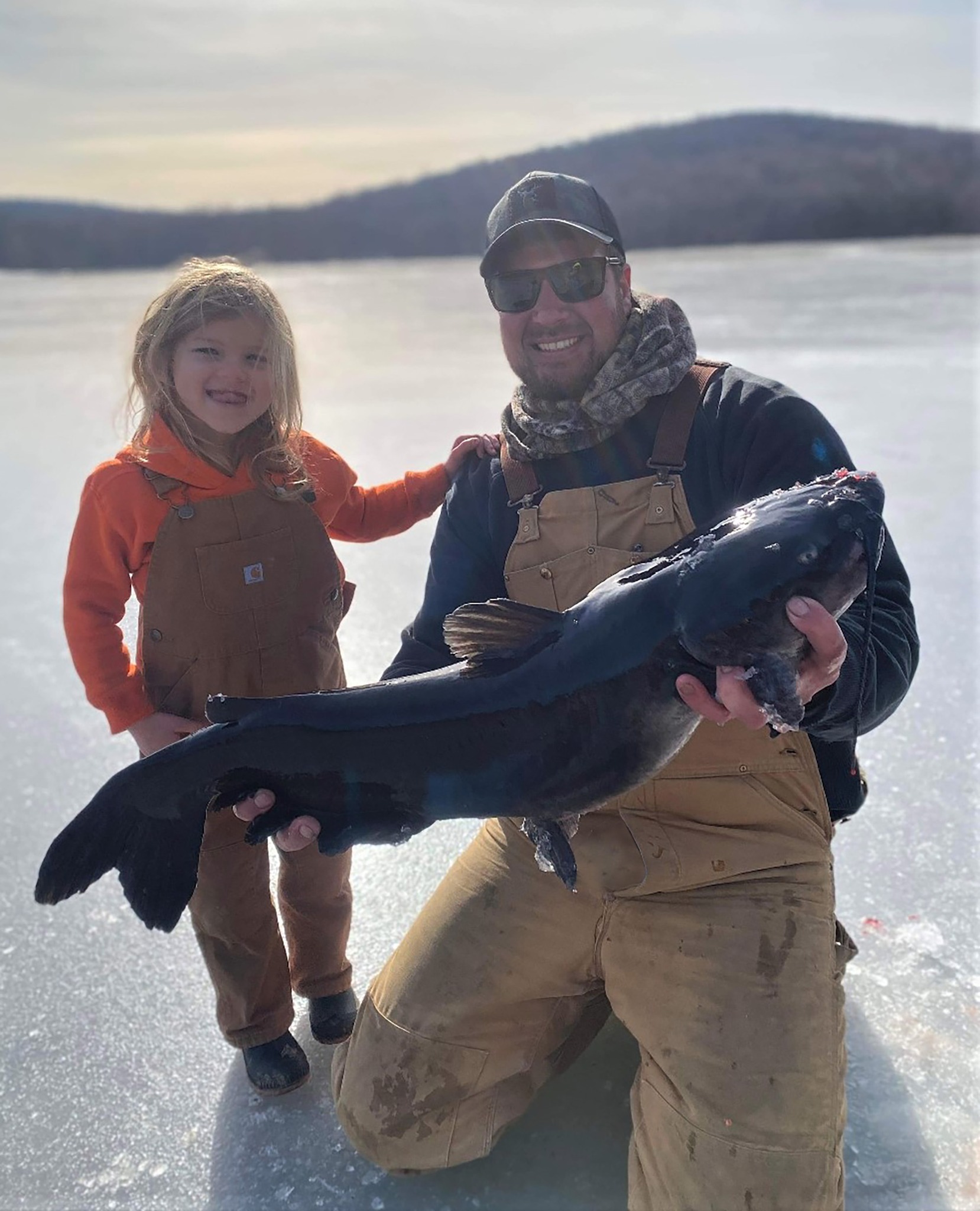 General Facts
The channel catfish is the largest member of the catfish family found in New Jersey. Channel cats are avidly sought after sport fish that grow to trophy proportions. They are excellent table fare and are commercially raised for market. Channel cats are generally bottom feeders, feeding on nearly all aquatic life forms including fish, insects and crustaceans. They feed mostly at night, using their barbels and their sense of taste to find food. Even so, channel catfish are believed to be more of a sight feeder than other catfishes, because of their clearer-water habitat preference.
Where
The channel catfish is an adaptable fish, usually found in clear, warm lakes and moderately large to large rivers over clean sand, gravel or rock-rubble bottoms. The Delaware River and its tidal tributaries, including the Maurice River, are New Jersey's most productive channel cat waters. The Salem Canal and Cooper River Park Lake also have good fisheries.
Fish and Wildlife stocks approximately 90 waters and many provide excellent fisheries. Some of the top stocked waters are Assunpink Lake, Furnace Lake, Lake Hopatcong, Mary Elmer Lake, Rising Sun Lake, Stove Tavern Lake and Sunset Lake. Usually channel catfish prefer deep pools and runs in rivers that have alternating pool and riffle habitat. They have a tendency to move to the head end of the pool below the riffle to feed. They occupy shallow to moderate depths in lakes.
When
Fishing activity for channel catfish typically takes place from early spring to early fall. Overall, summer is the most consistent period. Channel catfish are also caught occasionally through the ice, and there is a small following of ice fishermen that target them. Late May and early June may be a productive period as channels are reported to stage for spawning in rivers below dams and in lakes at the mouths of tributary streams. Although channel catfish can be caught at any time of day, nighttime is the most productive.
How
Bottom fishing from an anchored boat or shore is the traditional method of fishing for channel catfish. A typical bottom rig consisting of a hook and sinker is all that is needed. Various types of bottom rigs, such as a fish finder rig, are used under varying conditions. The most popular baits are night crawlers, chicken liver and cut bait – chunks of fish with gizzard shad being one of the most effective. Commercial stink and cheese baits have recently become available and are very effective.
In the upper Delaware River, casting bait, such as night crawlers, crayfish tails and hellgrammites, from shore or wading is an effective method. Allowing the bait to drift and bounce along the bottom, with or without a weight, often yields results. Some anglers employ chumming to attract catfish to the area they are fishing. Channel catfish are relatively aggressive and are caught with surprising frequency on lures while targeting other species.
Channel Catfish Fact Sheet (pdf, 17kb)
Channel Catfish Stocking Summary, 2020 (pdf, 150kb)
Channel Catfish Stocking Summary, 2019 (pdf, 80kb)
Channel Catfish Stocking Summary, 2018 (pdf, 85kb)
Channel Catfish Stocking Summary, 2017 (pdf, 100kb)
Channel Catfish Stocking Summary, 2016 (pdf, 34kb)
Channel Catfish Stocking Summary, 2015 (pdf, 36kb)
Channel Catfish Stocking Summary, 2014 (pdf, 32kb)
Channel Catfish Stocking Summary, 2013 (pdf, 18kb)
Channel Catfish Stocking Summary, 2012 (pdf, 19kb)
Channel Catfish Stocking Summary, 2011 (pdf, 23kb)
Channel Catfish Stocking Summary, 2010 (pdf, 22kb)
Channel Catfish Stocking Summary, 2009 (pdf, 20kb)
Channel Catfish Stocking Summary, 2008 (pdf, 20kb)
return to Fantastic Fishing in New Jersey