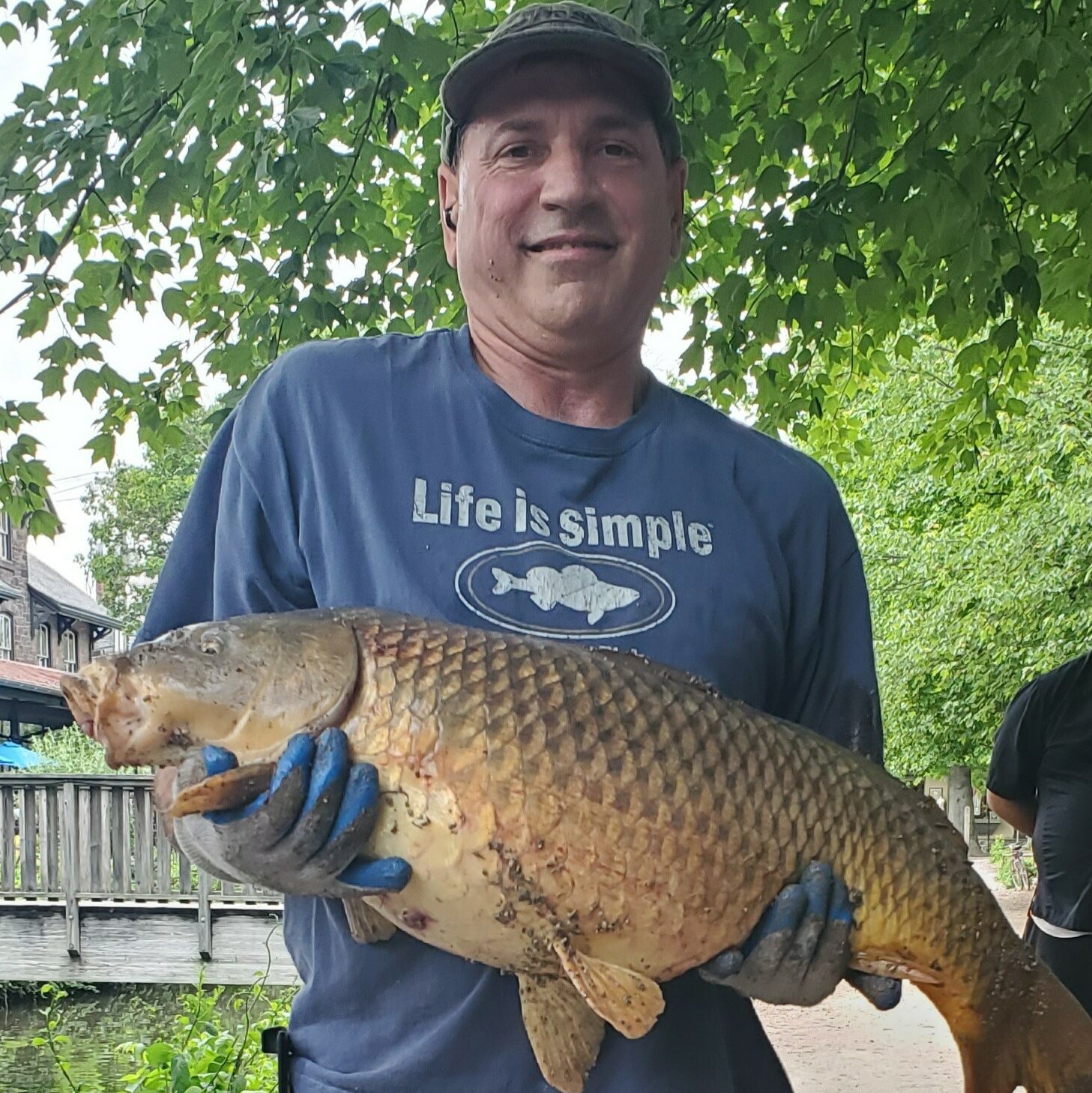 General Facts
Carp were introduced into North America as a food source from France in 1831 and in just 50 years carp became established nationwide. A member of the minnow family, carp are copper to bronze in color, long-lived and large (mature specimens weighing 25-30 pounds).
Carp possess barbels with thousands of taste receptors that allow them to home in on specific food sources. Generally, a carp's diet consists of aquatic insects and virtually any type of vegetative matter. Anglers with rod and reel or by bow and arrow pursue carp for their fighting qualities. Carp are considered excellent table fare and are usually smoked or baked. Surprisingly, carp are not considered a gamefish in the US. In England, carp are considered the most popular gamefish species.
Where
Generally, carp are well distributed and can be found in almost every reservoir, lake, pond, river or stream in New Jersey. Although it would be impossible to list all the areas with exceptional populations, the following locations are known to produce trophy sized individuals: Spruce Run Reservoir, Deal Lake, Columbia Lake, Branch Brook Park Pond, Delaware & Raritan Canal, Parvin Lake, Cooper River Park Lake, Passaic River, and the Upper and Lower Delaware River.
When
Spring and summer are the most productive times for catching carp by rod and reel. For bowfishing enthusiasts, the later part of May beginning of June is the best time to target carp. At this time, carp can be observed visually and taken from shallow water.
How
Given the popularity of carp fishing in England many techniques have been developed for catching carp. A medium action 6-7 foot spinning rod spooled with 6 to 8 pound test line is a good choice. Nibblet corn is broadcast in the fishing area one to two days prior to the fishing excursion. The corn conditions local carp to the area before fishing. Terminal tackle should consist of a single bronzed #8-#14 bait holder hook rigged fish-finder style. The least amount of weight as possible should be used. Bait should consist of kernels of nibblet corn or dough balls. Various dough ball recipes can be found by searching the Internet.
Carp Fact Sheet (pdf, 18kb)
Freshwater Clydesdales: Carp! (from 2004 Freshwater Digest, pdf, 80kb)
Freshwater Clydesdales: Carp! Part Two (from 2005 Freshwater Digest, pdf, 165kb)
return to Fantastic Fishing in New Jersey