Bureau of Freshwater Fisheries
The Bureau of Freshwater Fisheries is responsible for the propagation, protection and management of the State's freshwater fisheries resources as well as promoting its recreational use. These diverse resources include habitat and fisheries resources in waters from small, coldwater streams in the northwest to tidal rivers along the state's borders including seasonal migrations of anadromous fish.
To meet management goals and assure the long term protection of the state's aquatic resources, fisheries biologists conduct fishery surveys on the state's freshwater lakes and streams, propose surface water classifications and provide technical input on a multitude of land use, watershed, and habitat based issues. For more efficient management of aquatic resources, the state is divided into six regional management areas. In addition to administering to these regional responsibilities, each fisheries biologist has a specific area of expertise and oversees related research and management projects.
FRESHWATER BIOLOGISTS and RESPONSIBILITIES
Fisheries Management in the Wallkill, Upper Passaic, Rahway, & Elizabeth Watersheds
Maria Berezin-Dowling, Assistant Fisheries Biologist
Maria.Berezin-Dowling@dep.nj.gov
Fisheries Management in the Atlantic Coastal Watersheds
Anadromous, Fish Passage, & Warmwater Fisheries Management
Eric Boehm, Senior Fisheries Biologist
Eric.Boehm@dep.nj.gov
Fisheries Management in the Raritan Watershed
Native Species, Water Quality, Database, & Statistics
Scott Collenburg, Senior Fisheries Biologist
Scott.Collenburg@dep.nj.gov
Fisheries Management in the Lower Passaic, Pequannock, & Hackensack Watersheds
Coolwater Management
Justin Rozema, Assistant Fisheries Biologist
Justin.Rozema@dep.nj.gov
Fisheries Management in the Upper Delaware Watershed
Wild Trout Management, Lake Salmonids, & GIS
Ross Shramko, Principal Fisheries Biologist
Ross.Shramko@dep.nj.gov
Fisheries Management in the Lower Delaware Watershed
Warmwater Fisheries Management, Invasive Species, & Federal Aid
Chris Smith, Principal Fisheries Biologist
Christopher.Smith@dep.nj.gov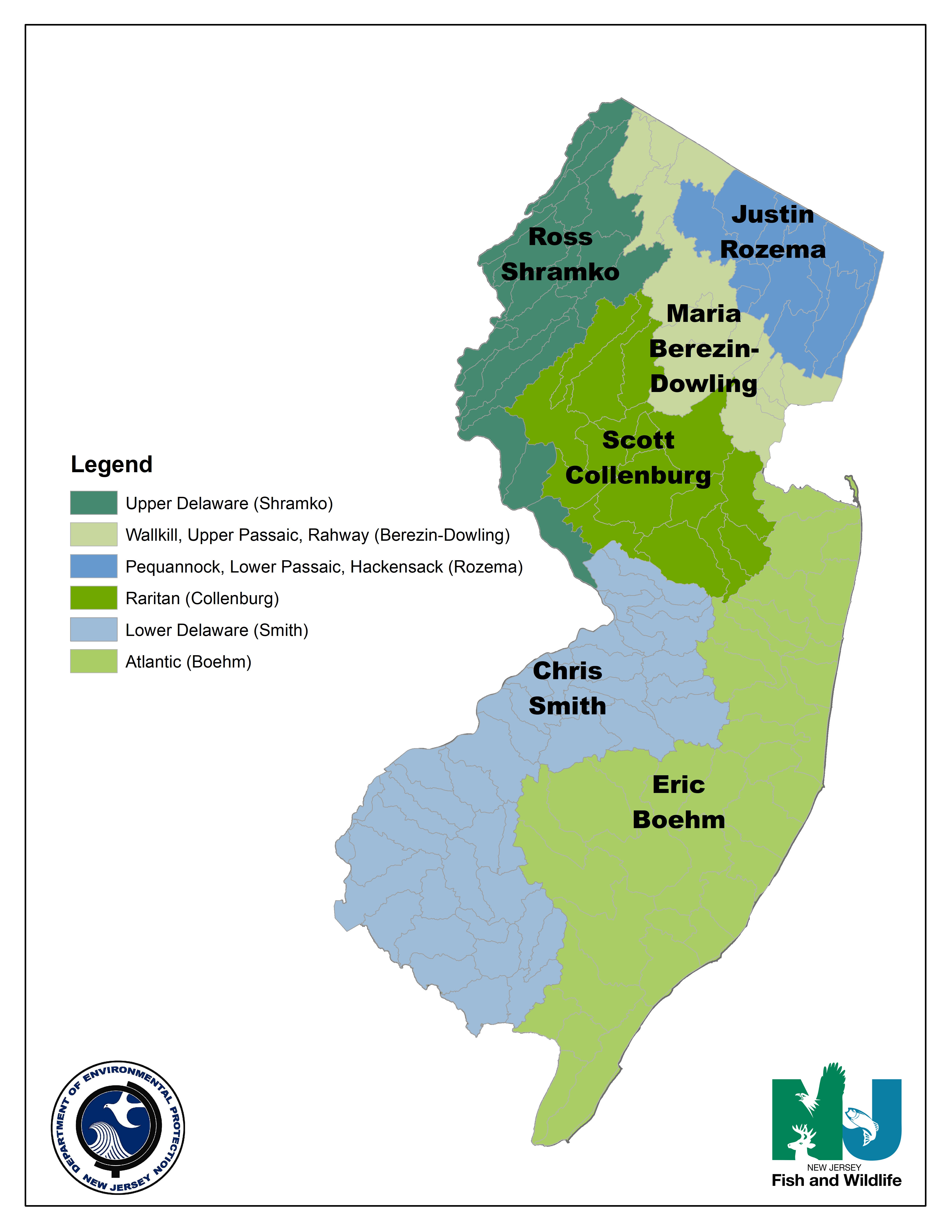 The Bureau also includes the operation of Fish and Wildlife's Pequest Trout Hatchery and Hackettstown State Fish Hatchery, coordinating the distribution of 16 species of fish. More than 2,000,000 fish are stocked annually in over 250 waterbodies located throughout the state, providing superior angling opportunities. The Pequest Trout Hatchery raises and stocks almost 600,000 Rainbow Trout each year during the spring, fall and winter trout stocking periods. The Hackettstown Hatchery raises the State's warmwater and coolwater species. The hatchery also supplies the State's Mosquito Commission with sunfish, killifish and gambusia to assist with the Commission's efforts for effective mosquito control. Both the Pequest and Hackettstown hatcheries are in operation 24 hours a day, 7 days a week.



Additionally, the bureau also facilitates habitat restoration projects and serves as a liaison to a variety of forums concerning the status of the state's fishery resources. The bureau, in coordination with the New Jersey Fish and Game Council, establishes season and daily creel limits for freshwater fish species. It also administers permits for fish stocking, water lowering, commercial harvests, and scientific collecting to further provide for the effective management and protection of the state's aquatic resources.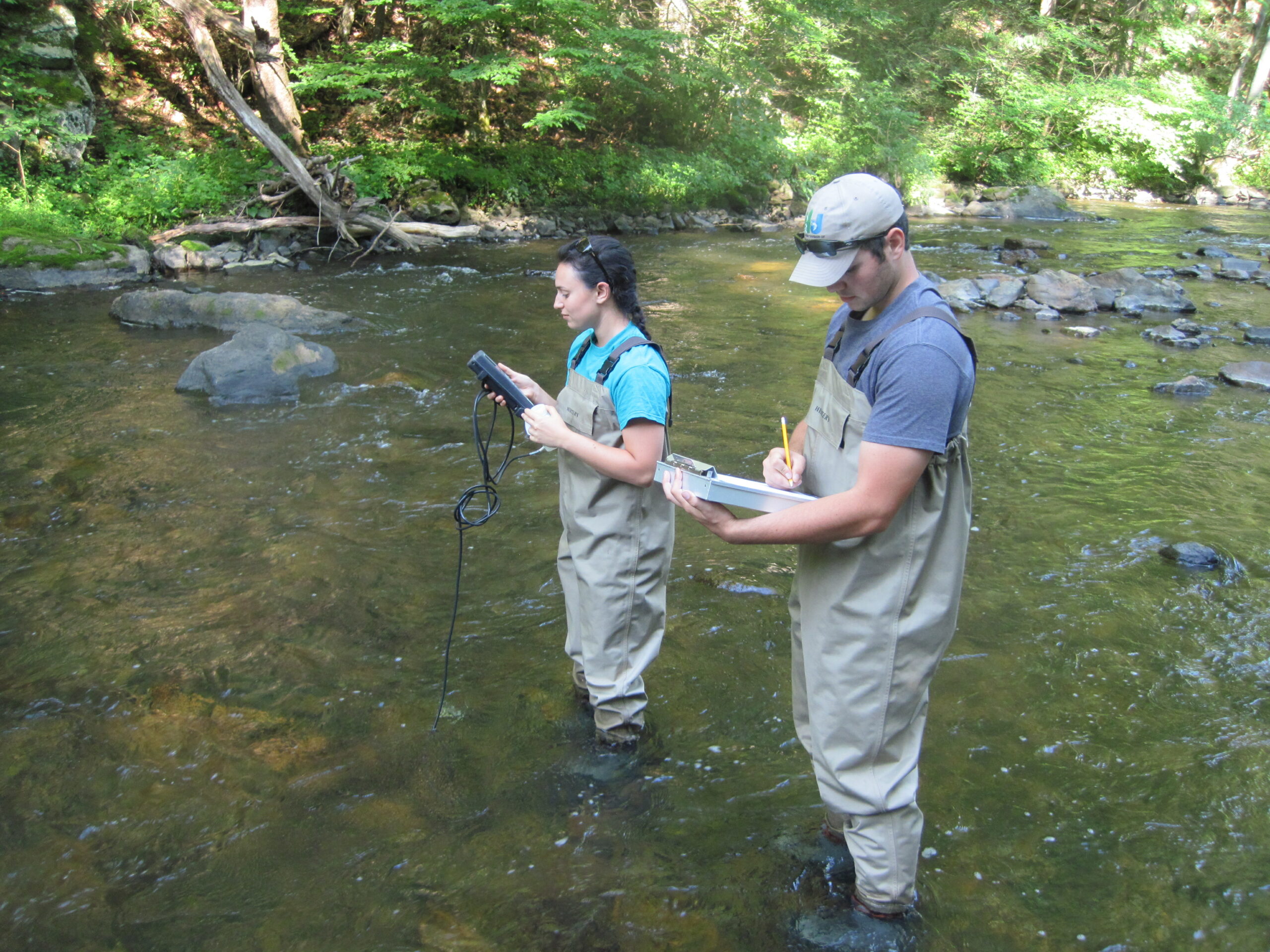 Bureau activities are funded by New Jersey sportsmen and woman, through the sale of fishing licenses and permits and through a Federal excise tax on the manufacturing fishing related equipment. Federal excise tax money is distributed through the Sport Fish Restoration Program administered by the U.S. Fish and Wildlife Service.