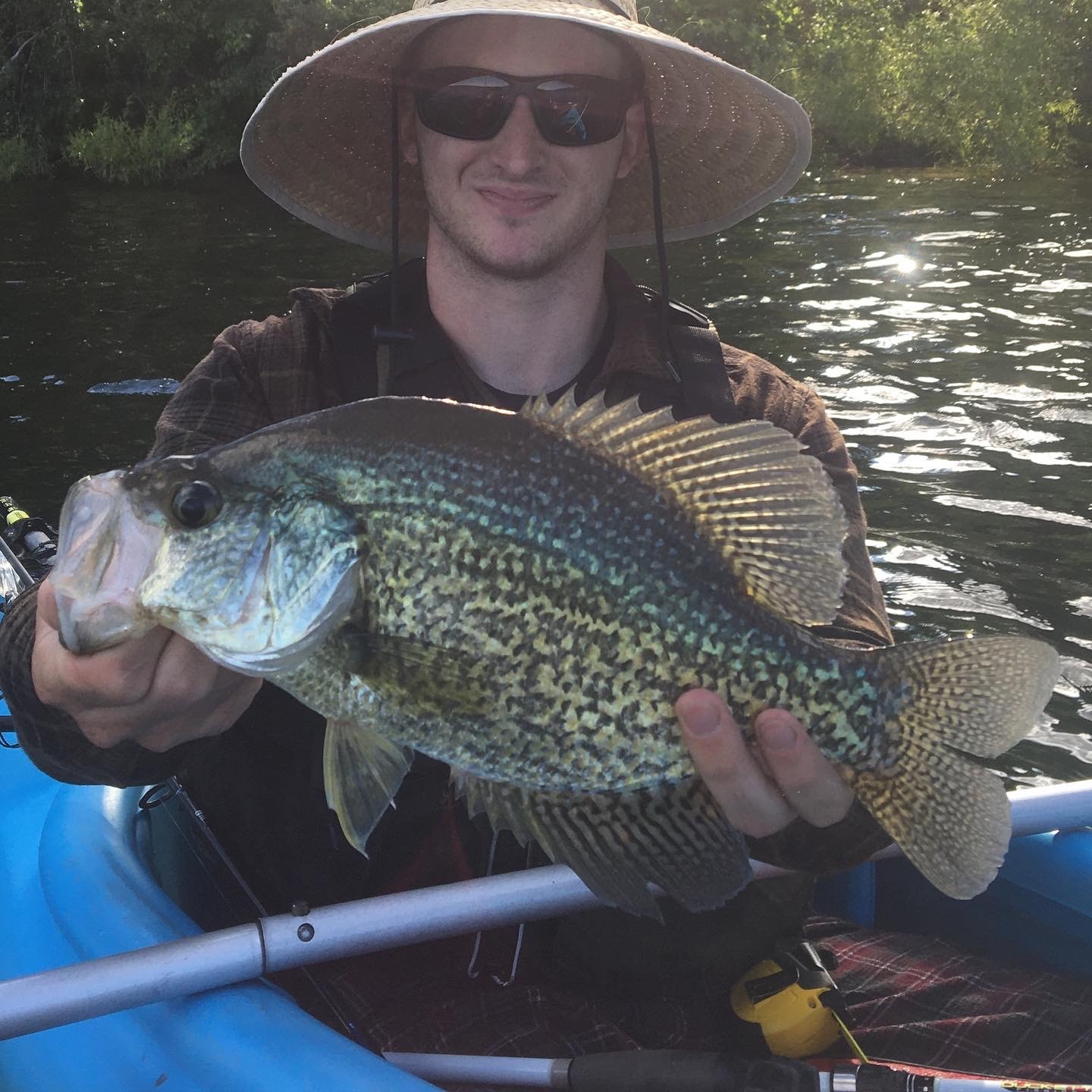 General Facts
Though two species of crappie are present in New Jersey (black and white), the black crappie is more widespread and sought after. Black crappies are known as excellent table fare. A schooling fish, crappie fishing can be fast paced when located.
Where
Crappies have a tendency to school in open water, relating to stumps, standing timber and artificial structure such as brush piles. Also they can be found in and around shallow aquatic vegetation. Some of the lakes in New Jersey with excellent black crappie populations include Assunpink Lake, Swartswood Lake, Lake Lenape (Atlantic County), Union Lake (pdf, 430kb), Greenwood Lake, Delaware Lake (pdf, 500kb), and Lake Musconetcong.
When
Seasonal movements of black crappies are similar to other warmwater fish species. In early spring, when water temperatures begin to rise, many fish will move from the deep areas of a lake to shallow vegetated areas where spawning will occur. Even better than just vegetation is an area with stumps and brush. Crappies love structure!
In early summer many crappies will begin to move to slightly deeper, cooler water. However, some crappies can still be caught in the shallows. In early fall, crappies will again begin to move, this time feeding on available forage in preparation for winter. Crappies are one of the few warmwater species that can actually be caught in greater numbers in the colder months between October and April, with November and March being the two best months.
How
Anglers can catch these fish using small plastic jigs or hair jigs in a variety of colors. Crappies are color selective at times, so experimentation is important. Additionally, anglers must experiment with depth because crappies often will suspend above structure. Sometimes varying the depth you are presenting the bait as little as six inches can make a difference. Live bait, such as minnow, killifish, small shiners and worms, can improve catches. Small twister tail grubs, beetle spins or roadrunners, can also be effective. Remember, crappies are not always on the bottom so the use of a float can be important.
Black Crappie Fact Sheet (pdf, 29kb)
Black Crappie Stocking Summary, 2019 (pdf, 55kb)
Black Crappie Stocking Summary, 2018 (pdf, 70kb)
Black Crappie Stocking Summary, 2017 (pdf, 80kb)
Black Crappie Stocking Summary, 2016 (pdf, 23kb)
Black Crappie Stocking Summary, 2014 (pdf, 21kb)
Black Crappie Stocking Summary, 2013 (pdf, 14kb)
return to Fantastic Fishing in New Jersey