WHAT IS NASP?
The National Archery in the Schools Program (NASP) brings the sport of archery to millions of students in schools across the United States. Designed to teach international-style target archery in 4th-12th grades, the core content covers archery history, safety, technique, equipment, mental concentration, and self-improvement. The 2-week archery curriculum is aligned to National Physical Education Standards and can be run safely in a school gymnasium. No prior archery experience is necessary for teachers or students.

CHANGING LIVES ONE ARROW AT A TIME…Many of the activities in physical education classes favor the strongest, fastest, and most coordinated students. Archery is a life-long sport that circumvents traditional barriers to engage students of all genders, physical abilities, and backgrounds, even aiding participation in students with disabilities. Archery is a physical activity in which boys and girls can participate together and puts athletes and non-athletes on a level playing field.
The National Archery in the Schools Program routinely transforms previously unreachable "high risk" students by unlocking self-esteem and transforming individual lives forever.

WHY NASP WORKS
Nearly everyone can succeed at archery. Kids love archery, and archery helps kids excel. Statistics show that school archery programs:
Improve school attendance
Increase self-esteem
Increase physical activity
Relate to subject matter
Appeal to all students
Get kids out-of-doors
Can become an after-school activity
WHO PARTICIPATES IN NASP?
Annually, approximately 2.43 million students participate in NASP throughout the country. That involves more children than Little League baseball and is three times larger than lacrosse! NASP has taught target archery to more than 18 million students in 47 states and continues to grow.
In New Jersey, teachers in more than 200 schools have been trained to conduct NASP archery in physical education classes.
NJ Schools Trained in NASP – Updated June, 2021
IS ARCHERY SAFE?
Archery's safety record is better than that of every ball sport taught in schools except table tennis. Equipment used is state-of-the-art and a universal fit so every student can safely use the same bows and arrows.
For further details on target archery's safety records, read Arrow Sport's Safety Report.
GETTING STARTED
If a school is interested in implementing the program into your curriculum, the first step is to submit a commitment letter from the school principal or administrator. This letter should indicate the name of the school, contact information, number of students enrolled at the school, grade levels at the school, what grades NASP will be taught to, and must state that NASP would be taught as a part of the school curriculum. Once this letter is received and confirmed by NJDEP Fish and Wildlife, an equipment kit is ordered by the school. The equipment kit accommodates 10 students on the shooting line at a time, costs approximately $3,500 and includes:
10 right-handed bows
2 left-handed bows
2 boxes of arrows (120 arrows total)
1 arrow curtain
1 bow rack
1 repair kit
5 targets
Funding may be available at the time an order is placed thanks to grants and donations from the Easton Foundation, which provides $1,000 grants to new schools purchasing a complete equipment kit.
After an equipment order arrives, staff will work with New Jersey DEP Fish and Wildlife to schedule a Basic Archery Instructor training, which is free for teachers who will be teaching NASP. The training is a full day (about 7-8 hours) and can be scheduled at a school's convenience. Teachers generally take a professional development day or schedule a substitute in order to attend. Trainings can take place in your school gymnasium or at New Jersey DEP Fish and Wildlife's Northern Region Office in Hampton.
Contact Craig Decker at Craig.Decker@dep.nj.gov to get started!
ACADEMIC ARCHER PROGRAM
NASP has created the Academic Archer Program to promote and recognize academic excellence amongst student archers. If a student fits the criteria listed at https://www.naspschools.org/instructorbai/, a school should consider registering them for this great program! Check the On Target For Life Press Release detailing the awards and recognition that Academic Archers are eligible to receive.
NJ NASP ANNUAL STATE TOURNAMENT INFORMATION
Each year in February and March, New Jersey DEP Fish and Wildlife hosts a NJ NASP State Tournament and IBO 3D Challenge for participating schools.
The first-place schools in the Elementary, Middle and High School divisions usually qualify to attend the NASP Eastern National Tournament in Kentucky in May. In addition, the top ten male and female individual archers in each division qualify for nationals if they do not attend with their school team.
Upcoming tournaments and past state tournament results are available on the NASP Tournaments page.
QUESTIONS?
For more information about how to get NASP at your school, contact New Jersey's NASP Coordinator Craig Decker at Craig.Decker@dep.nj.gov.
Also, check out NJEA's Classroom Close-up feature on Oxford Central School's archery team, which has been New Jersey's top-rated archery school team since 2006.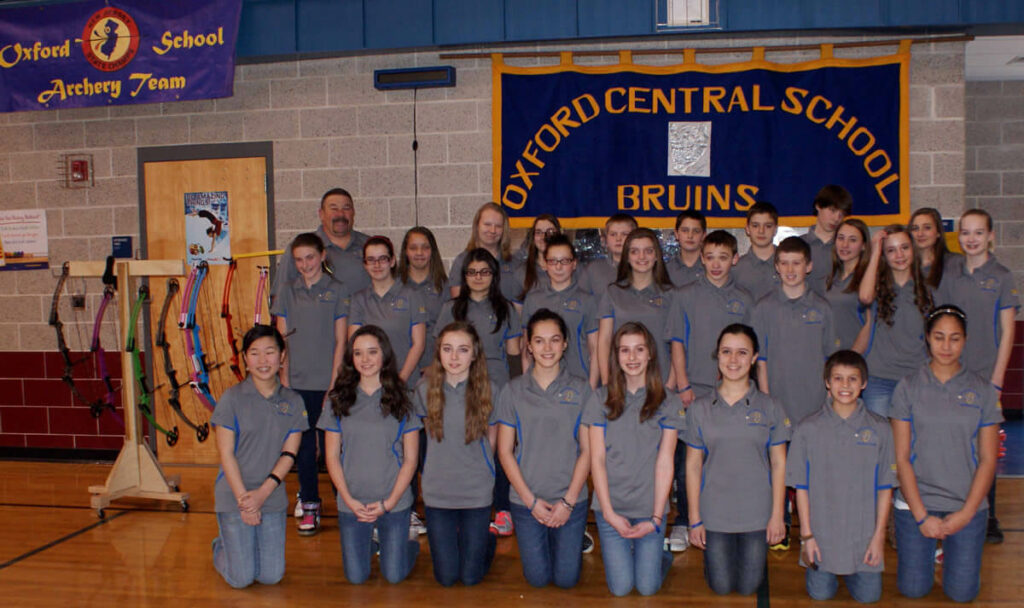 INSTRUCTOR RESOURCES
NJ NASP Receives National Awards – DEP News Release, 8/4/14