The timber rattlesnake may arguably be among the state's most endangered species. They occur in relatively small numbers in the few remaining remote and rugged areas of the state. They are often the targets of wanton killing and suffer continued persecution from illegal collecting. Because of this, the Endangered and Nongame Species Program (ENSP) actively researches and takes actions to protect this species.
Rattlesnakes have a low reproductive potential because females reach maturity at a late age, usually reproducing only once every three to four years. First-time birthing females typically give live birth to small litters of just a few individuals, but as they grow and increase their own fat stores, females are able to birth as many as 15 young! Unfortunately, only about ½ to 2/3 survive their first year as these young snakes have many predators.
Habitat destruction and alteration and human encroachment into timber rattlesnake habitat are currently considered the greatest threats to their survival in New Jersey. However, another threat has emerged in recent years, Snake Fungal Disease. While other states have documented disease-related mortality to rattlesnakes, New Jersey has yet only verified disease-related deaths to other snake species. More information about rattlesnakes is available in the Field Guide to Reptiles and Amphibians of New Jersey.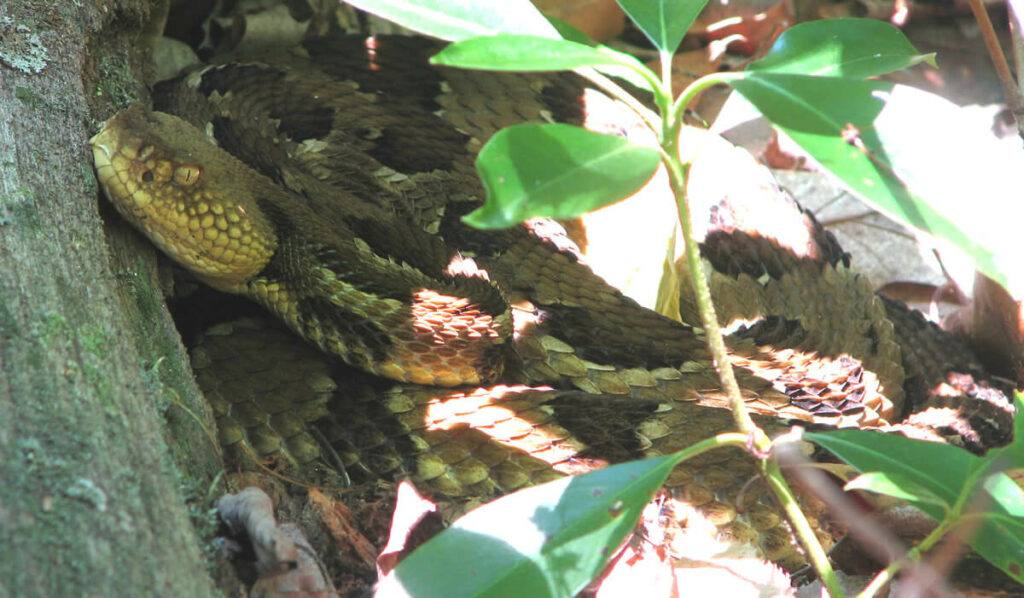 Studied by so many researchers and academics for decades, there is a wealth of information available regarding this snake's life history requirements, habitat needs, dispersal distances/home ranges, etc., although there is little known about their first few years of life. At this time, New Jersey biologists (ENSP, non-profits, academics and private researchers) are mainly focusing on four issues:
1) Habitat management to benefit the snakes and hopefully, deter them from residential communities and roads,
2) Identify roads frequently traversed by the snakes to target the potential installation of wildlife passages,
3) To minimize harm to their populations during and after construction activities, and
4) Continue to build the State's database regarding the location of timber rattlesnakes. The latter requiring assistance from the public!
In order for these efforts to be successful, public involvement plays a key role to their success. ENSP biologists are depending on residents and visitors to New Jersey to report any rattlesnakes they come across on public and private lands and roads. Such information is helpful in understanding their continued persistence in the State, important travel corridors, and in some cases, identifying critical habitats (dens, gestation and birthing areas, shedding stations) in need of protection.
If you see a rattlesnake, ENSP asks that you take the following actions to:
1) Report the observation:
a) Stay calm and keep your distance from the snake (at least 15 feet) to ensure your safety and avoid harassing the snake.
b) If possible, take a photograph of the snake. You DO NOT need to be up close…maintain your distance!
c) Complete and submit a Rare Wildlife Sighting Report Form (pdf, 1.34mb)

2) Request assistance to remove the snake from private lands or public recreation area:
a) Stay calm and keep your distance from the snake (at least 15 feet) to ensure your safety and avoid harassing the snake.
b) If possible, have someone watch over the snake while you call to report the sighting.
c) Request assistance from the Division of Fish & Wildlife by immediately calling 877-WARN-DEP (877-927-6337).
Identifying a Timber Rattlesnake:
Identifying a timber rattlesnake isn't always as easy as it sounds, especially for those not comfortable when encountering snakes. Coloration among and within snake species can be highly variable and as such, it's best to focus on the snake's pattern. Even the timber rattlesnake, with two color phases (yellow/light versus black/dark) which is based on the color of their heads, demonstrate a wide range of coloration within those phases. For example: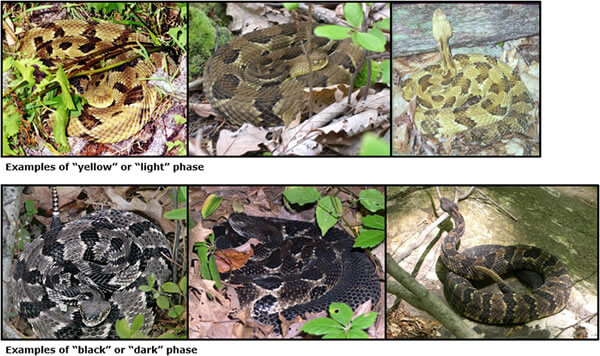 For additional help with the identification of this species please see the: