Wildlife sightings from the public are incredibly useful to New Jersey Fish and Wildlife. If you've observed any of the following species in New Jersey, we're interested! Please report your observations using the appropriate form* listed below.
*Please report dead-on-road Bobcat, River otter, Fisher, or Black bear by calling the DEP Hotline (1-877-WARN-DEP or 1-877-927-6337). NJFW biologists will record the location and pick up the carcass to collect samples from these species.
Rare, Endangered or Threatened Species (Non-Marine)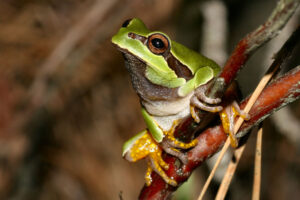 If you've observed a rare animal at a specific location, please complete the Rare Wildlife Sighting Report Form to help us keep New Jersey's Natural Heritage/Biotics inventory robust and current. These data contribute to our critical habitat mapping and help us monitor habitat occupancy and population trends over time, ultimately helping us to manage the recovery of rare wildlife species across the state. New Jersey's Natural Heritage record is also a powerful conservation tool for land-users and natural area managers.
NJ Endangered and Threatened Species List
NJ Species of Special Concern

Marine Rare Species
The Marine Protected Wildlife Reporter application allows the public to report sightings of, and encounters with, federally listed Endangered or Threatened marine species including marine mammals, sea turtles, Atlantic sturgeon, as well as prohibited shark species in the waters off New Jersey.
Birds (or Bats) with Bands
Wild birds are routinely banded to help track survival, migration, and dispersal. Anyone who finds a banded bird should record the band number, species (if known), location, and circumstances, and report it to the USGS Bird Banding Laboratory. The band will have a 9-digit number; color bands may have short codes.
State biologists are particularly interested in bands that are field-readable, such as those used on Bald eagles, Peregrine falcons, and some other species. For those band codes, record the code and band color, and the species, location, and date, and email that to ENSPTrentonVoicemail@dep.nj.gov. Banded birds that are found dead should always be reported to the Bird Banding Lab. Any endangered or threatened birds found dead should be reported to the DEP Hotline at 1-877-WARN-DEP.
Racing pigeons are banded with plastic color bands that may have codes; those are not reportable to the Bird Banding Lab but may be found online in pigeon owners clubs.
Bats are also routinely banded during studies. If you find a live bat that is banded, try to photograph the bat and get a close-up of the band numbers without touching or coming within a few feet of the bat. If the bat appears injured or in need of help, reach out to a NJ licensed wildlife rehabilitator who treats bats. If the bat you've found is dead, please make note of the location, collect it in a ziploc bag or a container if you're willing (without directly touching the bat), or photograph the bat and its band numbers. Please report bat sightings to ENSPTrentonVoicemail@dep.nj.gov.
Beaver or River Otter
Please submit a Beaver & River Otter Report (pdf).
Black Bear
Please submit a Black Bear Sighting/Incident Report Form (pdf).
Bobwhite Quail, Ruffed Grouse, Ring-necked Pheasant, American Woodcock
Please use the Upland Game Bird Occurrence Report Form (pdf).
Coyote
Please submit a Coyote Sighting/Mortality Report Form (pdf).
Grey Fox, Fisher, or Nutria
Please complete a Gray Fox/Fisher/Nutria Occurrence Report (pdf).
Injured or Young Wildlife
Please see our separate page, Finding Injured or Young Wildlife, for guidance.
List of NJ Wildlife Rehabilitators (pdf)
Wild Turkey
The Wild Turkey Brood Sighting Survey runs from May 15th to September 15th, with the goal of measuring the productivity and success of wild turkey broods across New Jersey each year.