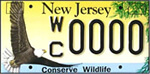 When you buy a $50 Conserve Wildlife license plate, you show everyone on the road that you value wildlife and believe in preserving our state's wildest creatures. You also help to make real conservation happen, all across New Jersey.
Eighty percent of your payment, or $4 out of every $5, goes directly toward preserving our state's endangered wildlife. That's crucial, because New Jersey's Endangered and Nongame Species Program receives no dedicated state funding and depends on contributions from the general public to do so much of its important work.
Revenues from license plate sales have made a difference:
But more still needs to be done!
The population of Red Knots, a small shorebird with a massive migration, is in delicate shape. These birds depend on an abundance of horseshoe crab eggs on quiet beaches along the Delaware Bay to fuel their springtime journey to the Arctic.
Beach-nesting birds like Piping Plovers, Black Skimmers and Least Terns all continue to face tremendous pressure from predators, flooding and shoreline modifications.
Tens of thousands of NJ's bats have died from White-nose Syndrome, a fungal disease that reached our state in 2009. It will take decades – and a great deal of stewardship – to restore the population.
Timber Rattlesnake habitats continue to be fragmented by development, roads, and rights-of-way.
Habitat connectivity is at risk in our urbanizing state. We must take actions to ensure that animals have the space they need and can move through the landscape to find food, shelter, and mates.
All of these achievements are crucial to wildlife survival. And all are being accomplished thanks to public support.
So, come on. Order your plate today and
DRIVE CONSERVATION HOME.
Purchase your wildlife plates at a local Motor Vehicle Commission location, online, at any New Jersey automobile dealer when buying or leasing a new car, or by calling 609-292-6500 ext. 5061 to request a mail-in form.
To learn what else you can do to help conserve wildlife in New Jersey, visit the Endangered and Nongame Species Program, check out the State Wildlife Action Plan, and interact with New Jersey Department of Environmental Protection's Fish and Wildlife Program on Facebook.
And remember to check-off for wildlife on your NJ State Tax Form!
Species benefiting from the Conserve Wildlife License Plate Program include Little Brown Bats, Bobcat, Wood Turtle and Piping Plover.