Borrow books and e-books: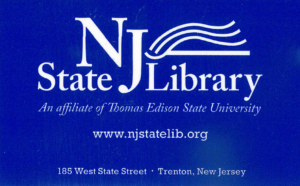 Books and ebooks available in the library's collections can be searched using the online catalog. Staff can request items through the catalog, or by contacting the library. The borrowing period is 4 weeks for most books in the circulating collection, and 2 weeks for civil service exam preparation books. Renewals are allowed.
Books at the main branch in the Capitol Complex can be picked up and dropped off at the DEP branch.
Access articles from academic journals, trade publications, magazines and other periodicals:
DEP users have access to thousands of full-text articles from scholarly journals, trade publications, magazines and newspapers. To search for specific articles, use NJ State Library's Discovery Service, or search by publication title using the State Library's Publication Finder (electronic periodicals only).
The DEP Library also subscribes separately to a small, supplemental collection of core environmental science and health publications. See the list of titles on DEPNet.
Interlibrary Loan (ILL):
If a requested item is not available in-house, the library will automatically try to obtain it from another library through interlibrary loan (ILL). Interlibrary loan allows libraries to share resources across a network of thousands of other participating libraries around the country.
Remote access to databases and electronic resources:
State employees have remote access research databases and e-resources through the NJ State Library website. Databases offer powerful search capabilities that allow researchers to find and filter articles or information relevant to their topic of interest. Content within databases is selected, curated, and can be subject and/or format-specific, allowing researchers to narrow their selections by various criteria (ex: "peer reviewed", or published within the last 2 years).
Visit the A-Z Database list to view databases available through the State Library. To find the best database for your research, you can filter the databases by subject (ex: science, environment, law, or genealogy), or type of content (ex: newspapers, scholarly content, statistics.).
Research Assistance:
Library staff can help locate hard-to-find information and perform literature searches on specific topics of interest. Please fill out a request form or contact the librarian directly via email, phone, or Teams chat. You can also explore the DEP Library's online Research Guide .
DEP staff are welcome to visit the library in-person to browse the stacks or consult with a librarian during regular business hours. No appointment is necessary.
Cataloging and preservation:
The library aims to provide long-term preservation, discovery and access for agency publications, including final versions of scientific and technical reports, white papers, planning documents and other reports. Many historical DEP publications have already been digitized and are available through Rutgers' NJ Environmental Digital Library. Newer, "born-digital" documents are preserved in the New Jersey State Publications Digital Library.
DEP publications can also be searched in our catalog. If you are aware of a DEP report or publication that has not been captured by the library, or wish to submit a published report for preservation and cataloging, please contact librarian Tonia Wu.