Library staff can be reached by email, phone, Teams, or in-person by visiting the library on the first floor of 432 East State St (Entrance is through the 428 building at the corner of Carroll Street and State Street). The DEP library is open Monday through Friday, from 8 AM to 4:30 PM. A DEP badge is required by building security. Non-DEP visitors must first make an appointment.
For books, article access, research help or general questions, please fill out the below request form, or send us an email: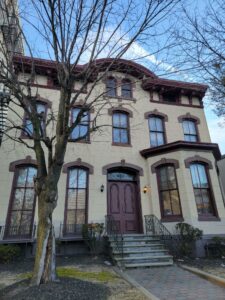 Staff Contacts:
Tonia Wu, Librarian  
609-940-4141
Tonia.Wu@dep.nj.gov
Linda DiCicco, Library Associate
609-940-4139
Linda.DiCicco@dep.nj.gov
Request items or information
Please fill out the request form below. Library staff will respond within 1-2 business days.

NJ State Library (Main branch at Capitol Complex)
NJ State Law Library (Main branch at Capitol Complex)
NJDEP Record Access Program (for administrative records, unpublished documents, facility/site-related and other agency documents not held by the library)