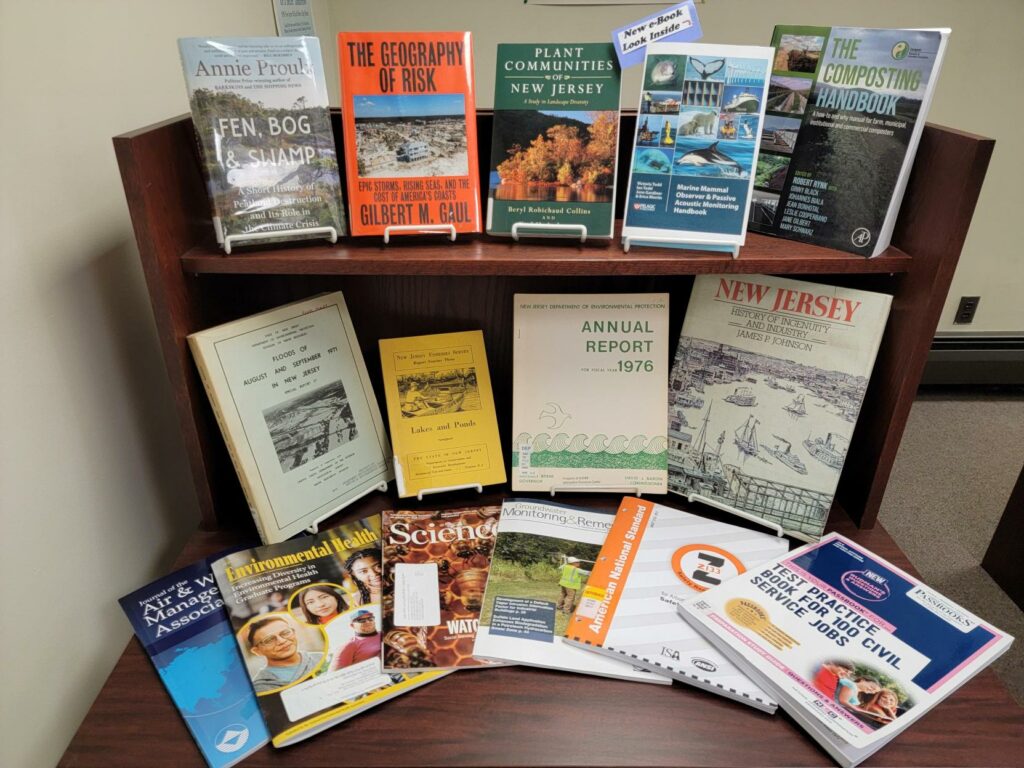 The DEP Library maintains a collection of circulating books, reference works, scholarly journals and agency reports for use by DEP scientists and researchers. Subjects include:
Environmental health
Toxicology
Environmental science and technology
Environmental policy, law and economics
Energy and climate
Historic preservation
Natural resource conservation
Regional ecology and natural history
The collection also contains resources for employee professional development such as civil service and PE exam prep books, supervisory/management resources, and skill training resources such as software and GIS instructional books.
Books and E-Books
Books and E-Books held by the library can be searched online using the NJ State Library's online public catalog. The catalog searches the combined collections of the NJ State Library system, including the DEP Library, the DOT Library (Dept. of Transportation) and the Attorney General's library. Circulating books and e-books can be accessed with an active NJ State Library Card. Print reference books such as very large encyclopedias and manuals generally do not circulate, though library staff are happy to make copies of specific entries or chapters if needed.
Journals and Periodicals
The NJ State Library provides access to thousands of scholarly journals, trade publications and other periodicals through a wide variety of online databases. Remote access to subscription databases is restricted to state employees and Thomas Edison students, faculty and staff with active library cards.
In addition, the DEP Library subscribes separately to a small number of supplementary scholarly journals, newsletters and magazines most frequently used by DEP staff.
DEP Reports
The library serves as a permanent repository for historical DEP reports and scientific research publications going back to the agency's founding in the 1970's. Many of these documents have been digitized and can be found online at Rutgers' NJ Environmental Digital Library and the NJ State Publications Digital Library.
Legal and Regulatory Materials
The DEP Library subscribes to the NJ Register and Title 7 of the NJ Administrative Code and provides access to legal reference books such as New Jersey Legal Research Handbook and New Jersey Environmental Law Handbook. The collection also contains materials related to regulation development such as historical Basis and Background documents.
Standards and Methods
The library provides access to publications such as ASTM Standards and current and historical versions of Standard Methods for the Examination of Water and Wastewater. Select standards from other organizations such as ANSI, API, and NSF are purchased or borrowed as needed. If you would like to request a specific standard publication, please contact Tonia Wu.