Purpose of Funding
To protect public and private property and infrastructure from coastal storm damage, erosion and shoreline migration, and sea-level rise. Projects include beach replenishment and construction and maintenance of bulkheads, jetties, and seawalls.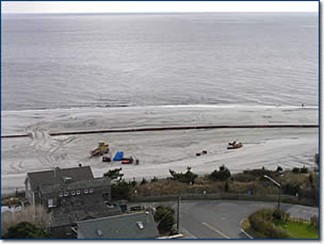 Application
Contact Erick Doyle
Application Deadline
N/A
Notification Date
N/A
Source of Funding
N.J.S.A. 13:19-16.l created the Shore Protection Fund, which is credited with all (realty transfer fee) revenues collected and deposited in the fund pursuant to section 4 of P.L.1968, c.49 (C.46:15-8), all interest received from the investment of monies in the fund, and any monies which, from time to time, may otherwise become available for the purposes of the fund.  Recent legislation has set the annual appropriation at $25,000,000.
Statutory Citation
N.J.S.A. 12:6A-1 confers to the DEP the authority to perform shore protection along the state's tidal waterways.
Who is Eligible
Municipalities and counties. Priority is given to funding necessary to match federal appropriations to the US Army Corps of Engineers (USACE) for Congressionally supported shore protection projects.
Qualifications Required for Consideration
Eligible projects must be associated with the protection, stabilization, restoration or maintenance of the shore, including monitoring studies and land acquisition, and must be consistent with the current New Jersey Shore Protection Master Plan and Coastal Zone Management Program. Project areas must be affected by normal tidal cycles and be located on public or private property which has legal, perpetual easements assigned to the state for public access and use. Projects will be prioritized, after monies are reserved for US Army Corps of Engineers projects requiring a state funding match, based on:
Need to maintain, repair, or enhance an existing state shore protection feature or structure;
Relative potential storm damage risk to public and private property and infrastructure; this priority consideration includes the direct exposure to coastal storms and the relative values of the at-risk property and infrastructure;
Public access and use enhancements provided by the project;
A description of how it will tie into the municipality, county or regional resiliency efforts.
Grant Limitations
Project funding varies with the project scope. For projects conducted by the state and the grantee, the grantee must provide a minimum of 25% of the construction cost, provide engineering design and specifications, and provide perpetual easements to facilitate public access. The costs associated with the engineering design and specifications and costs to obtain real estate shall be bore solely by the grantee.
For USACE projects, the same 75% state and 25% local grantee cost-share ratio is assigned , however, the USACE provides 65% of construction costs and the 75-25% ratio is applied to the remaining 35% of costs. Local grantees are not asked to share in the preconstruction design and planning costs; those costs are shared by the state and the USACE.
Application Procedures
Contact Erick Doyle
For More Information or to Request an Application, Contact
Erick Doyle erick.doyle@dep.nj.gov