National Recreational Trails Program
– NOT CURRENTLY AVAILABLE –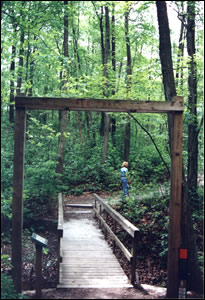 Purpose of Funding
To provide financial assistance for developing and maintaining trails and trail facilities. Trails can be for non-motorized, multi-use and motorized purposes.
Application
www.trails.nj.gov
Application Deadline
Not currently available
Notification Date
varies
Source of Funding
This program is funded through the United States Federal Highway Administration. Projects are funded on an 80% federal share and 20% matching share basis. Funding levels vary from year to year based on New Jersey's federal apportionment.
Statutory Citation
The Recreational Trails Program is a part of the Safe, Accountable, Flexible, Efficient Transportation Equity Act – A Legacy for Users (SAFETEA-LU) (23 U.S.C. 206).
Who is Eligible
Government Agencies and Nonprofit Organizations
Qualifications Required for Consideration
Application must be submitted. Land on which trail facility is to be funded must be public land or private land with an easement for public recreational use.
Grant Limitations
Varies from year to year depending on funds available and total applications received.
Application Procedures
When funding is available, applications will be posted on the Trails Program web page www.trails.nj.gov.
Additional Information N/A
For More Information or to Request an Application, Contact
Mackenzie Piggott
New Jersey Department of Environmental Protection
P.O. Box 420, Mail Code 501-01
Trenton, New Jersey 08625-0420
Phone: (609) 984-0500
trails@dep.nj.gov