Dam Restoration & Inland Water Projects Loan Program
Purpose of Funding
The purpose of the program is to provide loans to assist local government units, private lake associations or similar organizations in the funding of a dam restoration project or an inland waters project.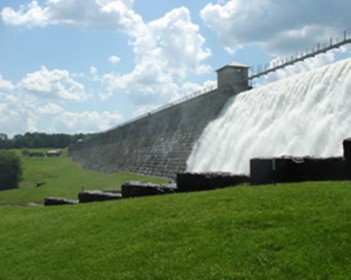 Application
NJDEP | Division of Dam Safety | Grants & Loans
Application Deadline
TBD
Notification Date
TBD
Source of Funding
The source of funding are prior bond acts listed in the below statutory citation. The loans are repaid semi-annually by the recipients and as authorized under these bond acts, the repayments as well as any project cancellations, withdrawals, cost savings or interest earnings remain in the bond funds for future funding rounds.
Statutory Citation
"Green Acres, Clean Water, Farmland and Historic Preservation Bond Act of 1992", P.L. 1992, c. 88
"Dam, Lake, Stream, Flood Engineering, Water Resources and Wastewater Treatment Project Bond Act of 2003", P.L. 2003, c. 162.
Who is Eligible
Any local government unit (municipal or county, or instrumentality thereof) is eligible to apply to either program. Any private lake association or similar organization or private dam owner is eligible to apply as a co-applicant with a local government unit
Qualifications Required for Consideration
From N.J.A.C 7:24A-1.3; To be eligible for a loan in any loan period, a proposed dam restoration or inland waters project, as defined in 7:24A-1.7, must satisfy the following criteria:
The proposed design of a dam restoration project must meet all requirements of the Dam Safety Standards, N.J.A.C. 7:20, including the development of an Operation and Maintenance Manual and Emergency Action Plan. The Operation and Maintenance Manual and Emergency Action Plan are not required to be completed at the time of application but must be completed as a condition of the loan award agreement;
A dredging or lake restoration project at a site where the dam impounding the lake is not in compliance with the Dam Safety Standards, N.J.A.C. 7:20, shall not be eligible unless the Department has awarded a loan for dam restoration pursuant to this chapter or the applicant provides with its application proof of other funding dedicated to the necessary dam repairs;
The project shall be an independent and complete project;
The project shall not be excessively expensive; and
The project shall not conflict with any other State projects.
Grant Limitations
Additional rounds will be opened as funding becomes available from repayments and cancelations of prior loans
Application Procedures
N.J.A.C. 7:24A-2.2 sets forth the application requirements; Each applicant shall request a pre-application conference pursuant to N.J.A.C. 7:24A-2.1 before making a formal application for a loan. During the conference, the Department shall identify and explain all loan application procedures and requirements. The Department shall also identify and answer questions concerning other Departmental permits the applicant must obtain before being awarded a loan. Neither written nor oral statements made during the pre-application conference shall bind the Department. The Department may waive the pre-application conference at its discretion.  If the applicant is a local government unit, the application must include a written resolution or ordinance of the local government unit authorizing the application for a loan. If the application is a co-application in which a local government unit is applying along with a private lake association or similar organization, then the application must include both the local government authorization and a resolution of the organization authorizing the application. A private dam owner applying with a local government unit must submit the written resolution or ordinance of the unit authorizing the application
Additional Information: 
Loan Rules:https://dep.nj.gov/wp-content/uploads/rules/rules/njac7_24a.pdf
For More Information or to Request an Application, Contact
Email: Damsafety@dep.nj.gov
Phone: 609-984-0859