Community Firewise Grants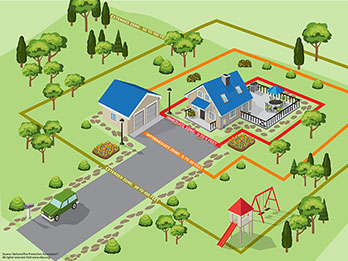 Purpose of Funding
Meeting the National Cohesive Wildland Fire Management Strategy goals for Wildfire Risk Reduction (WRR).
To provide municipalities, communities and other qualifying organizations a cost-share incentive to:
Obtain Firewise Community/USA designation.
Implement hazard mitigation activities.
Train community Firewise liaisons.
Conduct outreach and awareness activities in the community.
Application
www.nj.gov/dep/parksandforests/fire/program/firewise-grant.html
Application Deadline
Rolling, based on timing of federal funding
Notification Date
Notification of award will occur within one month of the end of the application period listed above or upon acceptance of a qualified proposal; whichever is earlier.
Source of Funding
USDA Forest Service- through the Cohesive Fire Strategy Grants.
Statutory Citation
N.J.S.A. 13:1D-9 (q), (r ) and N.J.S.A. 13:9 et seq.
Who is Eligible
NJ counties, municipalities, and homeowner associations.
Qualifications Required for Consideration
Communities located in documented wildfire risk areas that have met the criteria for Firewise Communities/USA designation.
Grant Limitations
Funding is limited to half of the project cost, up to $5,000 per Firewise community.
Application Procedures
Community Firewise Grant applications are accepted via NJ Department of Environmental Protection, System for Administering Grants Electronically (NJDEP SAGE) www.nj.gov/dep/parksandforests/fire/program/firewise-grant.html.
Additional Information: Training provided in-house on a case-by-case basis and through Firewise USA and NFPA
For More Information, Contact
Joseph Battersby, Division Forest Firewarden
joseph.battersby@dep.nj.gov