State Parks and Forests
Background
State parks and forests are popular for enjoying a wide range of outdoor recreational activities, such as camping, swimming, hiking, bird and wildlife watching, boating, fishing and hunting, as well as other outdoor pursuits. Through nominal visitation fees, licensing programs, and concessions, these recreational uses generate economic benefits that contribute to New Jersey's multibillion-dollar tourism revenues.
New Jersey's Green Acres Program has protected more than 1.2 million acres of open space across the state.1 Of that, more than 453,786 acres (as of 2022) are under the care and management of the State Parks, Forests and Historic Sites program, representing approximately 10% of New Jersey's total land area (national average is about 1%). As of 2022, the system was comprised of 40 state parks, 11 state forests, 20 historic sites, and 29 miscellaneous areas including burial grounds, state marinas, recreational areas, and reservoirs. In addition to the 20 standalone historic sites, there are approximately 37 historic sites within state parks. The state also has 43 areas designated as "natural areas", some of which overlap with the current state parks and forests. These natural areas include lands and waters of the state as authorized by N.J.S.A. 13:1B 15.10 and are included in the natural areas system established by N.J.S.A. 13:1B 15.12A et seq. Along with these preserved spaces, NJ Fish and Wildlife oversees 122 fish and wildlife management areas in the state with a total of 357,676 acres as of 2021.2
In addition to direct economic benefits, parks and forests benefit the state through ecosystem services—vital natural benefits and functions that, when feasible, are costly to replicate artificially. These state lands play a vital role in mitigating greenhouse gas emissions and maintaining essential services such as soil erosion control, groundwater protection, and providing habitats for plants and animals. One notable ecosystem service is the ability of healthy forests and wetlands to mitigate the flood potential of sustained precipitation. Forests capture nutrients from stormwater runoff and recycle them. They then release nutrients slowly to groundwater and surface waters. Many parks and forests are located within the watersheds of some of the state's biggest water supply reservoirs and the watershed protection they provide is of critical importance for the water entering the reservoirs. These areas also serve as habitat for wildlife and promote the conservation of New Jersey's biological diversity. State park and forest lands contribute almost half of the area for watchable wildlife in the state.
Over the period from 1992 to 2022 (i.e., fiscal years lasting from July 1 of the prior year to June 30 of the named year), there was a statistically significant increase in the acreage of state parks and forests from 304,539 acres to approximately 453,786 acres (Kendall tau = 1, p-value < 0.01) (Figure 1).
Over the same period (1992 to 2022), visitation in the state park system increased significantly from 10,607,300 to 17,222,960 people, with a peak of 18,543,109 in 2008 (Kendall tau = 0.52, p-value < 0.01) (Figure 2). The number of visitations over time is notable because the Census Bureau estimates that, for 2010 to 2020, New Jersey's residential population was between 8.8 and 9 million people3 whereas the number of visitations each year was nearly double. This suggests that visitors from outside of the state significantly utilize New Jersey's parks or that the New Jersey residents who utilize the state's parks visit them repeatedly, or likely a combination of both.
It should be noted that in 2020 due to the COVID-19 pandemic, all state parks, forests and historic sites were closed for all use from April 7th to May 2nd. Additionally, campgrounds were closed until June 20th. Throughout the 2020 season visitor capacities were reduced in day use areas, swimming areas and campgrounds which played an impact in the number of visitors reported in 2020.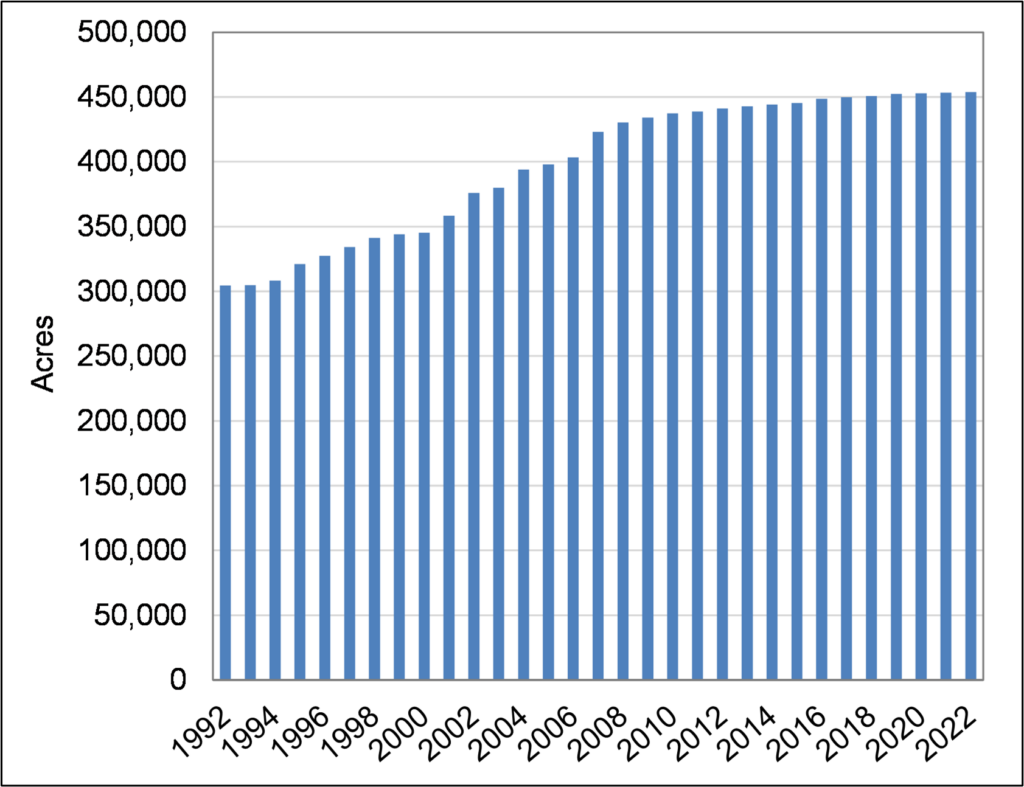 Figure 1. Acreage of state parks and forests for fiscal year (July of previous year to June of named year)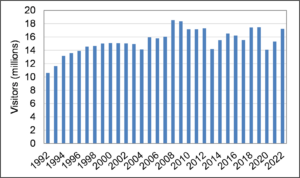 Figure 2. Visitors to state parks and forests each fiscal year (July-June).
In addition to environmental benefits, the state parks and forests, in their current protected state, are responsible for substantial economic benefits to New Jersey. A 2004 DEP study4 estimated that the economic value was at least $1.2 billion annually, which includes the value of important ecosystem services. State parks and forests also create critically needed connected corridors, linking protected lands and buffering from areas of higher intensity development. These state lands form the backbone of conservation planning tools, approaches and efforts with which New Jersey communities can systematically and cooperatively coordinate and plan open space initiatives5.
Further information can be obtained from DEP's State Park Service, which administers the state parks and forests: njparksandforests.org/
Much of the information in this report was provided by the NJDEP State Parks, Forests and Historic Sites program.