Destination Electric shows drivers in the Northeast that driving electric can seamlessly fold into their lifestyle by highlighting local businesses, venues and attractions with convenient public charging stations nearby.
To see all the Northeast states and businesses participating in Destination Electric, visit Drive Change Drive Electric: See the Lifestyle.
New Jersey Destination Electric Communities
 Madison
New!
A classic suburban community located less than twenty-five miles from Manhattan, Madison offers quiet sophistication, a robust dining scene, unique shops and experiences, and plenty of EV charging options.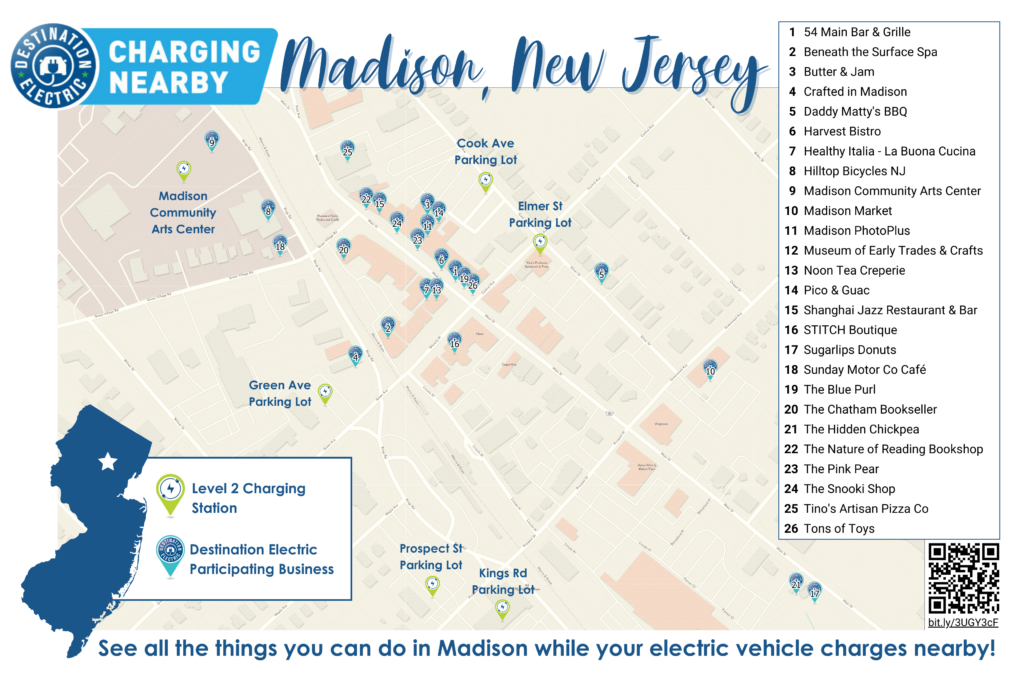 Jersey City
Just west of the Hudson River, Jersey City lays home to Liberty State Park and sports many local, unique shoppes and family businesses. There are dozens of charging ports available for public use in this small but commanding city, and don't forget the breath-taking views of the Statue of Liberty and New York City skyline.
Red Bank
Supporting the next level of transportation technology is well-suited for Red Bank, which sits on the Navesink River and was once a key transportation corridor to the Jersey shore. Today, the borough is a destination for dining and shopping, as well as a cultural arts hub for music, theater and more.
Princeton
Located within an hour from New York City and Philadelphia, Princeton is the perfect place to travel in an electric vehicle. With picturesque and historic architecture, a variety of local business and many convenient locations to charge your EV, you can travel in an eco-friendly and sustainable way.
Destination Electric Dashboard