Coastal Resilience Plan
As part of the Climate Change Resilience Strategy, DEP has developed the draft Coastal Resilience Plan (CRP), which addresses the issues specific to New Jersey's coastal zone. New Jersey's coastal areas provide immeasurable value to the state's economic, social, and cultural identity, as well as supply important ecological resources and ecosystem services. With 80% of New Jersey's population residing in the coastal zone, responding effectively to the impending threats of climate change is imperative. The CRP is the first step for the DEP to evaluate how its policies and programs allow for local, regional and state response to climate change within the coastal zone to combat threats of climate change and flooding.
The plan guides policies, regulations, resource allocation and funding in the coastal zone to: reduce the impacts of coastal hazards; increase resilience for structures, infrastructure systems, environmental resources, and coastal communities; address the needs of socially vulnerable populations; and attract equitable and sustainable investment. The CRP represents the early steps of a long-term strategy for climate change resilience and adaptation in New Jersey.
In 2018, DEP hosted a two-day Summit to discuss resilience and other related issues facing our coastal communities. Information on the presentations and agenda can be found on the Coastal Resilience Summit webpage.
---
New Jersey's Coastal Zone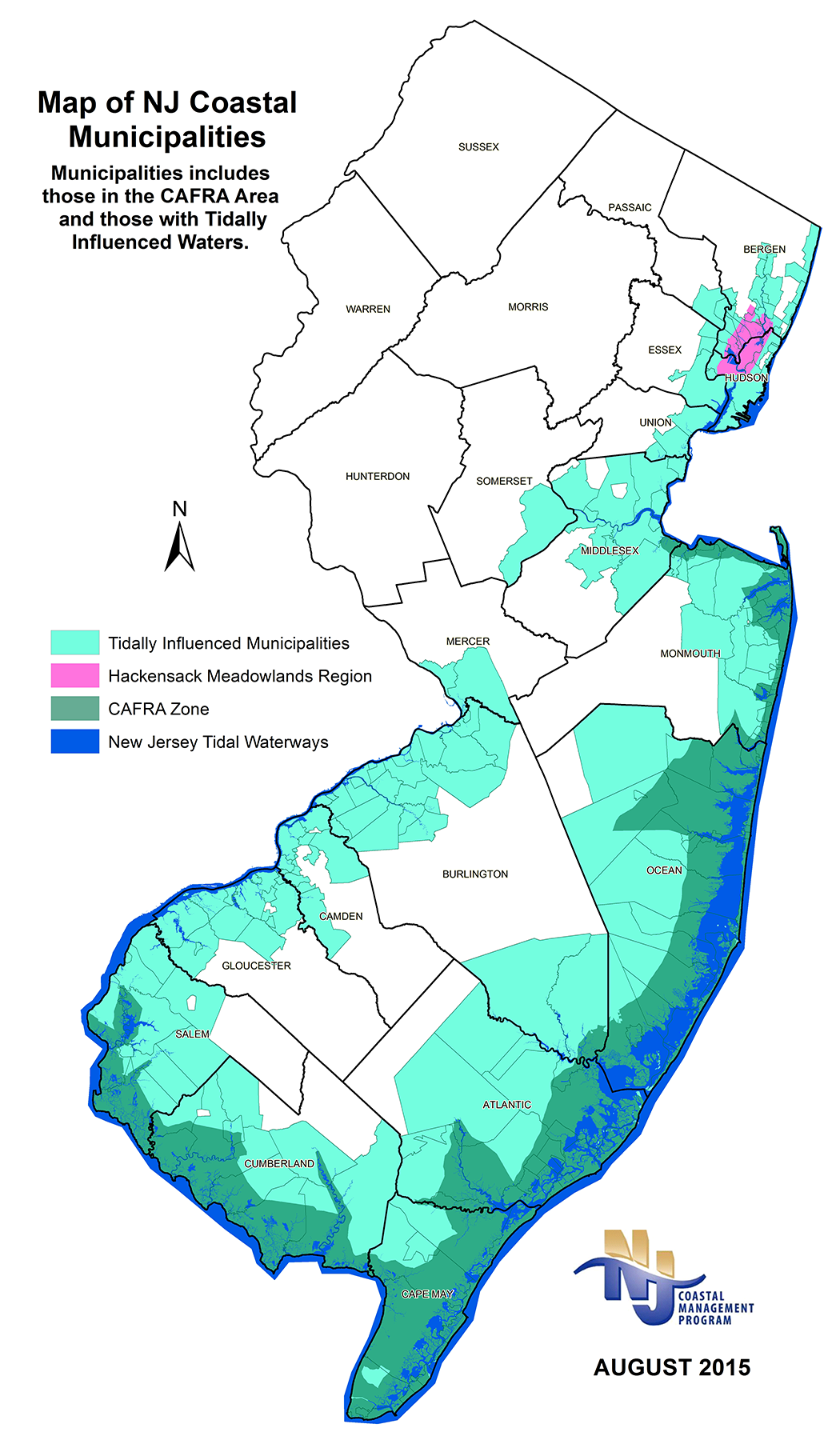 New Jersey has more than 1,800 miles of coastline from the New York border to the head of tide along the Delaware River. The coastal zone covers 3,218 square miles and comprises 239 communities. It includes all areas covered under the Coastal Area Facility Review Act, the Waterfront Development Area and the New Jersey Meadowlands District.
Approximately 53 percent of New Jersey's total population resides in the coastal zone, with thousands more visiting cities, towns, beaches, parks and other popular locations every day. The coastal zone features thousands of attractive destinations; indeed, New Jersey's tourism industry is a multi-billion-dollar economic engine, and various other sectors rely on waterfront access as well. The communities in this region are diverse and encompass characteristics of all New Jersey communities from large urbanized cities adjacent to New York City, to shore towns, to tiny hamlets surrounded by undeveloped land.
This rich, diverse area faces significant threats and challenges in the face of a changing climate and rising seas. Areas within the coastal zone are already vulnerable to inundation from tides, coastal storms and rain events. Although there have been various studies to identify the vulnerability of several communities or specific resources within the coastal zone, no study has comprehensively evaluated the potential impacts of sea-level rise and future coastal storm events on the coastal zone.
---
View the full Climate Change Resilience Strategy, including the Coastal Resilience Plan.