Through Executive Order No. 89 , the Interagency Council on Climate Resilience (Interagency Council) was established, comprised of 16 state agencies, was established to develop short- and long-term action plans that will promote the long-term mitigation, adaptation, and resilience of New Jersey's economy, communities, infrastructure, and natural resources. In addition to these coordinated efforts, the Interagency Council will support the development and implementation of the Climate Change Resilience Strategy that will guide and inform State actions to address the impacts of climate change.
Interagency Council Members
Nick Angarone, PP/AICP- Vice Chair of the Interagency Council and Chief Resilience Officer
In his role of Chief Climate Resilience Officer, Nick works to coordinate statewide resilience policy, leads and directs the development of the Statewide Climate Change Resilience Strategy, and provides technical guidance and support to local governments in their efforts to plan for and address the current and anticipated impacts of climate change. Nick also administers New Jersey's Coastal Management Program in cooperation with a network of programs across DEP, and represents the Commissioner on the State Planning Commission, ensuring that climate resilience, natural resource protection, and infrastructure capacity are incorporated into the planning process. Nick holds a Master of City & Regional Planning from the Edward J. Bloustein School of Planning and Public Policy at Rutgers University and a B.S. in Environmental Planning & Design from Rutgers University.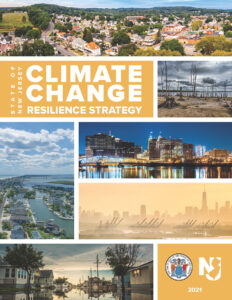 New Jersey's first Statewide Climate Change Resilience Strategy provides a suite of forward-looking policy options to promote the long-term resilience of New Jersey to climate change. As a framework for policy, regulatory, and operational changes, the Resilience Strategy presents actions that New Jersey's Executive Branch can take to support the resilience of the state's communities, economy, and infrastructure. The Resilience Strategy includes 125 recommended actions across six priority areas.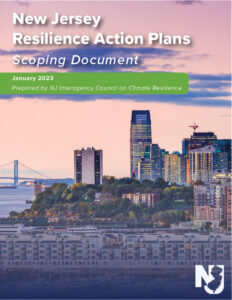 Over the coming years, the State of New Jersey will release a series of Resilience Action Plans, developed by the Interagency Council on Climate Resilience.
The Resilience Action Plans will build on the Statewide Climate Change Resilience Strategy (2021), a policy framework for state agencies. The Resilience Action Plans will provide more detail on how the recommendations of the Resilience Strategy are being implemented. The Action Plans will identify new, existing, and expanded policy, programmatic, and regulatory actions that address climate impacts.
Each of the Resilience Action Plans will focus on a specific climate threat to New Jersey, the first being extreme heat. The first Resilience Action Plan, to focus on extreme heat, The State Agency's Actions to Increase Resilience to Extreme Heat Due to Climate Change  outlines various underway and short-term actions being advanced by member agencies of the New Jersey Interagency Council on Climate Resilience to build extreme heat resilience.
Agencies on the Interagency Council