Manville Borough's Flood Risk Reduction Policy
Last modified on August 11th, 2023 at 10:44 am
August 7, 2023
A state-led, risk and resilience-centered decision framework has been established to drive the use of post-Ida recovery investments in Manville Borough to support the state's hazard mitigation priorities of saving life first and protecting property.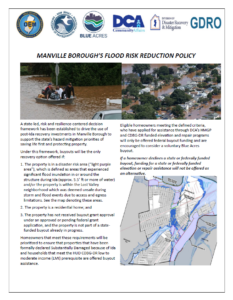 Under this framework, buyouts will be the only recovery option offered if:
The property is in a disaster risk area (light purple area), which is defined as areas that experienced significant flood inundation in or around the structure during Ida (approx. 5.5' ft or more of water) and/or the property is within the Lost Valley neighborhood which was deemed unsafe during storm and flood events due to access and egress limitations. See the map denoting these areas.
The property is a residential home; and
The property has not received buyout grant approval under an approved or pending federal grant application, and the property is not part of a state funded buyout already in progress.
Homeowners that meet these requirements will be prioritized to ensure that properties that have been formally declared Substantially Damaged because of Ida and households that meet the HUD CDBG-DR low to moderate income (LMI) prerequisite are offered buyout assistance.
Eligible homeowners meeting the defined criteria, who have applied for assistance through DCA's HMGP and CDBG-DR funded elevation and repair programs will only be offered federal buyout funding and are encouraged to consider a voluntary Blue Acres buyout.
If a homeowner declines a state or federally funded buyout, funding for a state or federally funded elevation or repair assistance will not be offered as an alternative.
Inundation data and safety concerns
The decision support tools developed to inform this policy include: Ground-based LiDAR, an Ida depth grid and flood model. The State undertook an analysis of water depths and evacuation routes relative to the Ida flood event over time, including data on safe driving and walking flood depths. The final policy reflects the State's desire to not increase risk to residents by making investments in protecting physical property (elevating and repairing structures). Waterborne rescues were heavily relied upon in 2021. Proactively assisting the population at risk through permanent mitigation is necessary to ensure the safety and wellness of the entire community.
The Lost Valley section of Manville is significantly constrained; it has only two evacuation points at Kyle Street and Bridge Street. Based on the Ida flood simulations developed by Rutgers University for NJOEM, the evacuation window in Lost Valley is hazardous given the population living in the area. Once flooding exceeds 2-3′ ft here, only waterborne rescues are possible.
Under this policy it is not the State's intent to infringe on the property rights of any individual property owners. The buyouts-only policy was developed in response to the flood risk and geographic constraints of certain Manville locations, and it builds on existing Borough buyout plans. Safety is the State's primary concern. Elevating structures in these risky areas may reduce property loss but it will not address health and safety concerns. Elevations will only incentivize people to remain in an inaccessible, flood-vulnerable area, increasing risk to themselves and to first responders coming to their aid.
Recent storm events demonstrate that fire suppression in flooded areas with limited access will remain an on-going challenge. Fire trucks can't access areas besieged by a couple of feet of flood water which further compounds the public safety risk and the risks to first responders.
Concerns about the long-term affordability and accessibility of newly elevated homes in many parts of Manville Borough persist despite elevations. Under FEMA's newly updated Risk Rating 2.0 raising homes doesn't eliminate the need for flood insurance and premiums are calculated to reflect area-based risk.
Furthermore, elevations do not address the needs of senior populations who would be trapped by 5.5' of floodwater or who will struggle to traverse flights of stairs to elevated first floor living space.
On December 1, 2022, the Federal Emergency Management Agency (FEMA) Flood Mitigation Assistance (FMA) grant program approved $10 million for the voluntary buyout of 31 homes in flood-prone sections of Manville. The Borough of Manville sustained extensive flooding from the Raritan River and Millstone River, as remnants of Hurricane Ida came through New Jersey in September of 2021.