Blue Acres Applies for $40M FEMA Hazard Mitigation Grant for Buyouts Across 20 Communities, 8 Counties
Last modified on February 22nd, 2023 at 1:40 pm
12/22/2022
In consultation with its state and local partners, Blue Acres has submitted a funding request to FEMA's Hazard Mitigation Grant Program (HMGP) under NJ-DR-4488 to purchase and demolish 96 homes across 20 municipalities and 8 counties.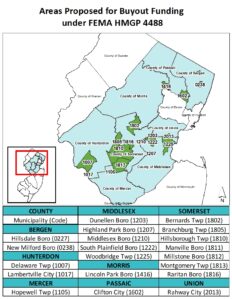 Blue Acres identified the 96 residential properties which have a strong history of flooding and damage because they were severely impacted by Ida in September 2021. The properties also meet the eligibility requirements of the federal funding source and the goals of the state hazard mitigation plan. Specifically:
43 homes were "substantially damaged" because of Ida (this means the local floodplain manager certified that the home's damage was greater than 50% of the building's value);
42 homes are located within the floodway (this means the home sits in the channel of a river or watercourse, within the area of direct hydrological flow or in the adjacent buffer area reserved to reduce flood volume during a significant storm event);
53 homes are located in the flood fringe, which is beyond the floodway but within the 100-year floodplain (this means the home has a 1% chance of seeing a base flood every year, as mapped by FEMA and publicly available);
75 homes have "repetitive losses" or "severe repetitive losses" (this is determined by calculating damage claims over time, against policy coverage from the National Flood Insurance Program); and
59 homes are located within areas identified as overburdened or socially vulnerable, per New Jersey's environmental justice law and/or the CDC's social vulnerability index.
The application covers properties in the following 20 communities across 8 counties:
Bergen County: Borough of Hillsdale and Borough of New Milford

Hunterdon County: Township of Delaware and City of Lambertville

Mercer County: Township of Hopewell

Middlesex County: Borough of Dunellen, Borough of Highland Park, Borough of Middlesex, Borough of South Plainfield, and Township of Woodbridge

Morris County: Borough of Lincoln Park

Passaic County: City of Clifton

Somerset County: Township of Bernards, Township of Branchburg, Township of Hillsborough, Borough of Manville, Borough of Millstone, Township of Montgomery, and Borough of Raritan

Union County: City of Rahway
The property owners have been notified about the funding request and they will be updated with information regarding the award as soon as FEMA completes its review and announces a funding decision. All Blue Acres acquisitions must be from willing sellers. Most property owners in the FEMA HMGP funding request have submitted Blue Acres buyout applications, but new homeowners can express their voluntary interest to sell by completing and submitting an Application for Acquisition online or via post mail. 
The funding request from Blue Acres seeks the full $40M that Governor Murphy committed for buyouts out of the nearly $150M federal funds allocated to New Jersey for disaster recovery in response to presidentially-declared disaster DR-4488-NJ. Blue Acres prepares and submits buyout funding applications, on an ongoing basis. Blue Acres anticipates that its next funding request will be for buyouts under HUD's Community Development Block Grant Disaster Recovery Program.
If funded, this project will advance implementation of the 2021 New Jersey Climate Change Resilience Strategy which specifically recommends incentivizing movement to safer areas by buying out repeatedly flooding properties and deploying natural or nature-based solutions for resilience. It will also advance state and federal environmental justice goals, in that thirteen of the properties are located within areas identified as overburdened or socially vulnerable, per New Jersey's environmental justice law and/or the CDC's social vulnerability index.
Buyouts are the most permanent and cost-effective mitigation project for protecting human lives and private property against inevitable future flood events. When homes are removed from the floodplain, there are fewer people who will need assistance evacuating in times of disaster. There are also fewer residential structures contributing to and exposed to hazard conditions, including debris, contaminants, and gas and power lines. After a buyout, the land is preserved as open space, providing community benefits such as floodwater absorption, wetland transition areas and reducing the need for future disaster response by police, fire, emergency crews and other first responders.