DEP Administrative Order for Natural Resource Restoration Policy
In order to modernize the guidance, improve transparency, and enhance public engagement regarding the development and implementation of NRD assessments and compensation projects, state Commissioner of Environmental Protection Shawn M. LaTourette has issued Administrative Order 2023-08. This Administrative Order affirms the DEP's duties as trustee for the state's natural resources and, importantly, directs the DEP to put in place mechanisms to enhance consensus-building in the planning, design and implementation of natural resource restoration activities through improved collaboration with the public and stakeholders.
About the Proposed Settlement Agreement
On Dec. 5, 2022, the New Jersey Department of Environmental Protection proposed a settlement with BASF Corporation to resolve claims regarding natural resources injured by the discharge of hazardous substances, contaminants, or other pollutants at the Ciba-Geigy Superfund Site in Toms River. The primary natural resource injury to be resolved by the proposed settlement is contaminated groundwater.
Under the proposed settlement, BASF would permanently preserve approximately 1,000 acres of land that would function as a groundwater recharge area. Under this preservation approach, the permanent groundwater recharge area would compensate the public for longstanding contamination of groundwater caused by Ciba Geigy. Additionally, BASF would perform natural resource restoration and/or enhancement activities upon 375 acres of the preserved land through a variety of ecological improvement projects. Lastly, BASF would construct public amenities, including an environmental education center, walkways, and natural resource interpretative aids, to promote public awareness of natural resources benefits. For further information, please read the full version of the draft settlement agreement.
About the Ciba-Geigy Superfund Site
The 1,255-acre property is located at 277 Oak Ridge Parkway in Toms River, NJ.  This was the site of the former Ciba-Geigy Corporation, a specialty chemicals business, which began chemical manufacturing operations at the Site in 1952 and included the production of industrial dyes, pigments, epoxy resins, and plastics. Production ended in 1990 and all operations ceased in 1996.  The contaminated site was placed on the National Priorities List in 1983 as an Environmental Protection Agency (EPA)-lead Superfund site.
BASF Corporation acquired the Ciba-Geigy site while remedial activities were ongoing and continues these remediation efforts today. These efforts include excavation and capping of contaminated source areas and the pumping and treatment of contaminated groundwater.
All necessary measures have been and continue to be taken under an EPA-lead remediation process to ensure the site is protective of human health and the environment.  The proposed NRD settlement would not have an impact on any of BASF's remaining remediation obligations under EPA's lead oversight under Superfund.
The Proposed Ecological Uplift and Public Access Projects Map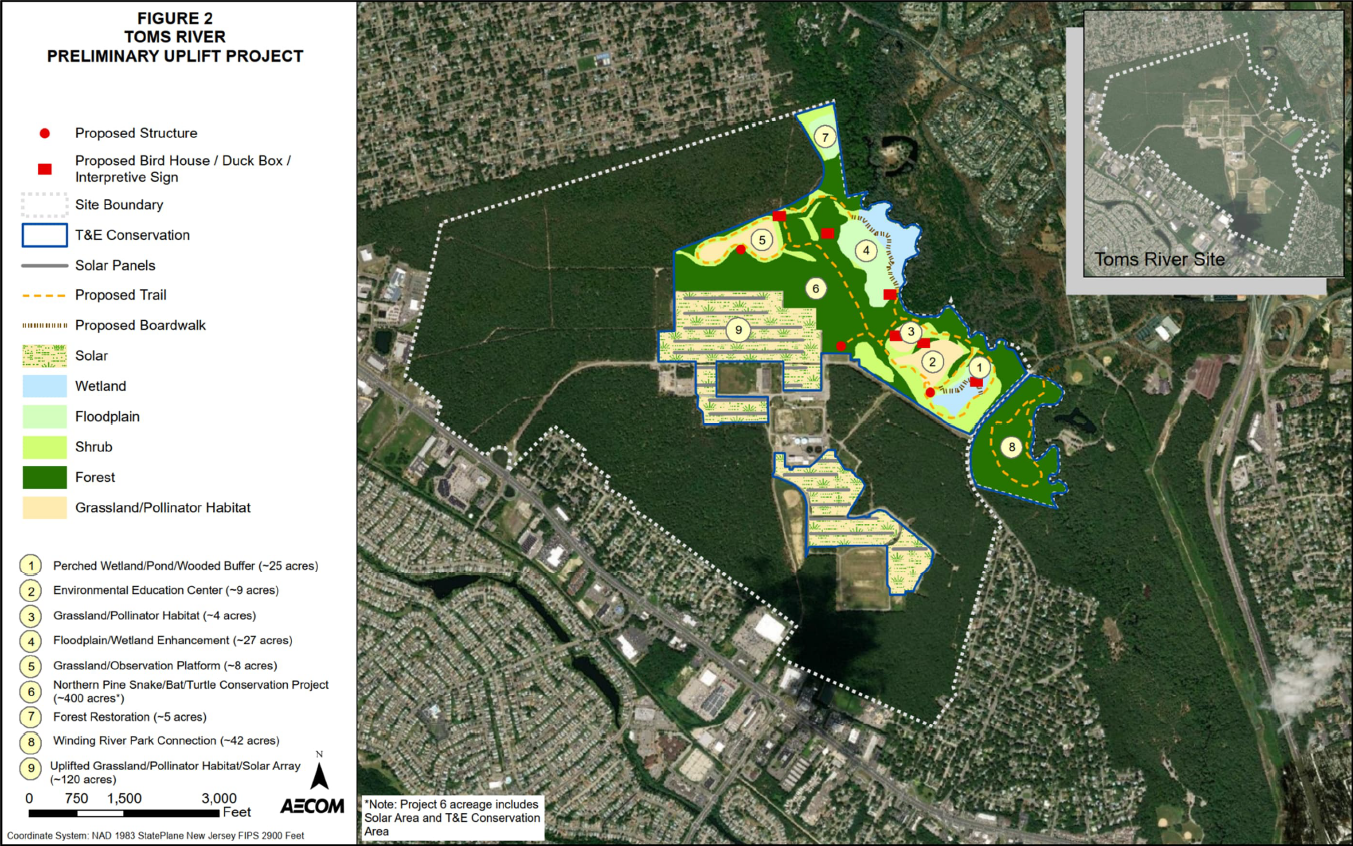 About Natural Resource Restoration
Responsible parties that have discharged hazardous substances, contaminants, or other pollutants to the environment are required to investigate and remediate discharges. However, remedial actions may not fully restore injured natural resources or compensate the public for natural resource injuries. In such cases, responsible parties are liable to the people for natural resource restoration.
The Commissioner of Environmental Protection serves as the Trustee of all natural resources of the State with a fiduciary duty to the people of New Jersey to ensure that natural resource injuries are assessed, that damaged natural resources are restored, and that the public is compensated for their injuries. The State's natural resource restoration policy is twofold, including a requirement that injured natural resources be returned to the same quality, quantity, function, and value that existed prior to the injury (known as primary restoration), and a requirement that compensation is provided  for the period of time that natural resources remained injured (known as compensatory restoration).  Compensation can take the form of monetary payment, land preservation, ecological restoration projects in various forms, and potentially a combination of those forms.
Wherever practicable, DEP pursues natural resource injury assessment and restoration through a voluntary collaborative process with responsible parties. Through voluntary negotiated settlements, the DEP can ensure more expedient natural resource restoration activities, providing more immediate and direct compensation to the public, and avoiding the delay, uncertainty, and expense of litigating natural resource injury claims before the courts.
With regard to the Ciba-Geigy site, BASF is seeking to voluntarily resolve its potential liabilities for natural resource injuries through the proposed settlement.
Presentation on Natural Resource Damages and how are they assessed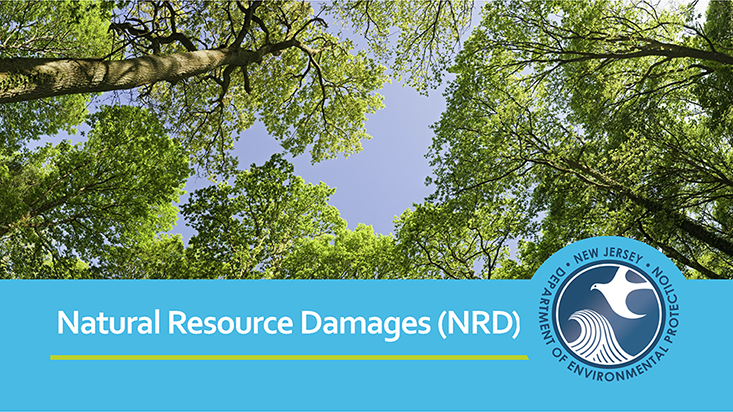 Other Matters Involving the Ciba-Geigy Superfund Site
The discharge of hazardous substances, contaminants, or other pollutants at the Ciba-Geigy site in Toms River has led to numerous civil and criminal claims and penalties against Ciba-Geigy. The proposed settlement is separate from and in addition to those matters, which included:
Administrative and judicial actions by the State against Ciba-Geigy for remedial actions and monetary penalties
Criminal indictments brought by the State against Ciba-Geigy and certain individuals
Federal Superfund site designation leading to the investigation and remediation of the site
Personal injury lawsuits against Ciba-Geigy by affected persons
Property damage lawsuits against Ciba-Geigy by affected property owners