2011 Winners
The 2011 New Jersey Environmental Excellence Awards were presented to the following groups and individuals:
Clean Air Category
This award is presented to a nominee demonstrating a commitment to and experience in one or more of the following areas and activities:
Reducing greenhouse gas emissions or equivalents through energy efficiency projects or green power purchases.
Reducing outdoor exposure to toxic air contaminants.
Reducing air deposition loading to land and water.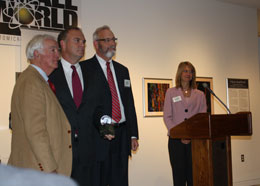 Winner: The Atlantic County Utilities Authority
The Atlantic County Utility Authority (ACUA) is a recognized leader in the field of solid waste management and wastewater treatment. The ACUA currently provides wastewater and solid waste recycling services to the 274,000 residents of Atlantic County. They are recognized tonight for their commitment to producing clean energy and reducing harmful air emissions. Their projects include a 500 kW solar array, 7.5 MW wind farm and 5.4 MW landfill gas to energy project, which provides 100 % of the electricity needed to power facilities operating in ACUA's 360-acre Environmental Park solid waste facility.
Water Resources Category
This award is presented to a nominee demonstrating a positive influence in one or more of the following areas:
Improving surface or ground water quality.
Ensuring sufficient quantities of water through reuse and conservation techniques.
Promotion or development of progressive land use policies and watershed management approaches to improve protection of surface and groundwater sources.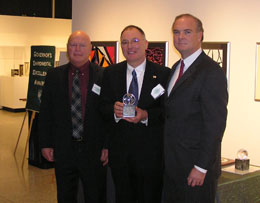 Winner: Ocean County Boat Pump Out Program
Ocean County is recognized for their boat effluent waste removal program servicing the entire Barnegat Bay down to Little Egg Harbor. Since its inception in 1998, it is estimated that approximately 727,000 gallons of concentrated effluent waste have been removed from the holding tanks of boats that may otherwise been discharged directly into the Barnegat Bay Estuary. Ocean County's fleet of 5 pump out boats offer their services to the boating public free of charge from May to October.
Healthy Ecosystems Category
This award is presented to a nominee demonstrating a commitment to and experience in programs or techniques that have resulted in the restoration, protection and enhancement of the State's ecological resources: including wetlands, estuaries, coastal areas; and, non-game and endangered species.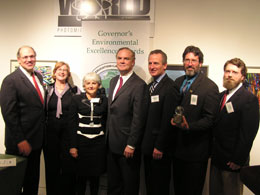 Winner: The New Jersey Conservation Foundation
The New Jersey Conservation Foundation is recognized for their large-scale wetlands restoration project at the 9,400-acre Franklin Parker Preserve located in Burlington County, within the Pinelands National Reserve. Partnering with the U.S. Department of Agriculture's Natural Resource Conservation Service, when completed, this endeavor will ultimately convert 1,100 acres of disturbed agricultural wetlands back to natural wetland communities.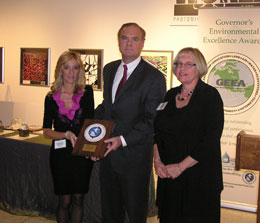 Honorable Mention: The American Littoral Society
The American Littoral Society is recognized for their "Bayscape for Barnegat Bay" program encouraging responsible landscaping practices around the bay. This program, which centers on educational workshops and in-ground demonstrations, is enhanced through successful partnerships with businesses, homeowner associations and residents. In 2011, the program expanded by adding a Bayscape for Barnegat Bay retail garden center to further promote the sale of native plants in the watershed.
Innovative Technology Category
This award is presented to a nominee demonstrating the use or deployment of a new or alternative method, procedure, process, system or facility, which is not considered to be a "proven technology."This category demonstrates how this technology resulted in greater continuous environmental protection, security or economic growth than other technologies in current practice or comparable results at lower costs in terms of energy, economics or environmental impacts.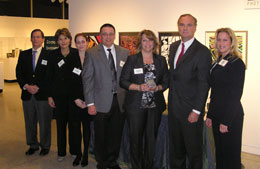 Winner: Johnson & Johnson Information Technology Center
This facility, located in Raritan, NJ, is recognized for their unique solar array and stormwater management project. The solar canopies installed over parking lots, will produce 2.104 MW of power. Stormwater diverted off the canopies, which would otherwise just runoff the parking lot, will now recharge ground water and go to a gray-water collection tank to be used for lawn irrigation on-site.
Land Conservation Category
This award is presented to a nominee that demonstrates the greatest commitment and experience in the preservation of open space resulting in the protection of land from future development.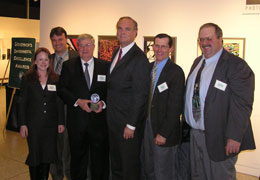 Winner: New Jersey Audubon's Support Agriculture Viability and the Environment (SAVE) Initiative
Operating in 16 of NJ's 21 counties, this visionary project has found an innovative and practical way to conserve land by developing a program that makes it economically viable for participating New Jersey farmers to grow black oil sunflowers. Incorporating aspects of the locally grown movement, NJ Audubon guarantees participating farmers a set price and an established market through their loyal and dedicated 22,000 members for their seeds. In addition to preserving farmland, revenue from every bag of birdseed sold goes to protecting critical wildlife habitat including restoring 70 acres of native grasslands at a State Wildlife Management Area this year.
Healthy & Sustainable Communities Category
This award is presented to a nominee demonstrating a commitment to and experience in one or more of the following activities:
Innovative practices or technologies that have resulted in the private or public sector clean up and redevelopment of contaminated/brownfields sites.
Any activity that reduces or eliminates pollution/waste at the source or treats the materials in an environmentally safe manner prior to recycling or disposal.
Creation of community-based initiatives that foster involvement, action and effective solutions to the adverse effects of industrial pollution in overburdened and low-income communities.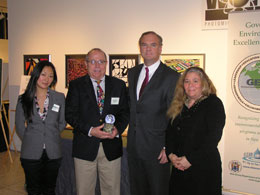 Winner: The Jersey City Green Committee
The Jersey City Green Committee is recognized for their comprehensive sustainable redevelopment planning initiatives incorporating green design, transportation, urban agriculture and open space preservation. Comprised of members from all the city's major departments and spearheaded by the Mayor's Office, the Green Committee has developed numerous sustainability policies resulting in reduced energy and resource consumption, enabling healthier lifestyles for residents and advancing environmental stewardship.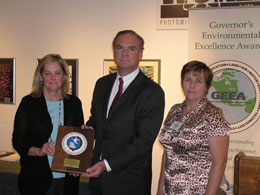 Honorable Mention: Grow it Green Morristown
Grow it Green Morristown is recognized for their Community Garden Program utilizing underdeveloped land and donating produce to local food banks and soup kitchens, including over 2,000 pounds this year alone. Working on land owned by the Morris School District, the garden showcases the transformation of an underutilized former school yard, into a living classroom for the estimated 4,700 children of the Morris School District, as well as the local community.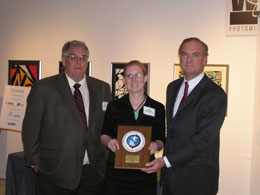 Honorable Mention: Rutgers Cooperative Extension of Essex County
Rutgers Cooperative Extension of Essex County is recognized for their sustainable landscaping and stormwater management training program involving military veterans. Through a partnership among Rutgers Cooperative Extension, the Planetree Corporation, and the Veteran Affairs New Jersey Health Care system, unemployed New Jersey veterans have been trained through a green job skills program focused on sustainable landscaping and stormwater management at the East Orange Veterans Affairs hospital facility.
Environmental Education/Student Activity Category
This award is presented to the educator, student, group of students or class that has planned and implemented a project/program with measurable positive environmental impacts.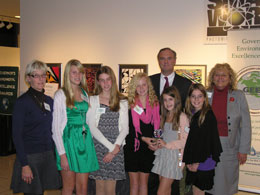 Winner: The Lavallette Elementary School 7th Grade Environmental Club
These 7th graders, their teachers and parent volunteers are recognized for their "Nix Nitrogen 'N Nettles Now" Barnegat Bay nitrogen reduction education program. The students' efforts have led to an increase in public awareness in their barrier island community and have encouraged residents to reduce the amount of fertilizer they apply in their yards.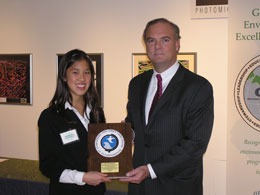 Honorable Mention: Victoria Pan, Ridgewood High School
Miss Pan, a senior at Ridgewood High School, is recognized for her energy conservation and recycling efforts at her high school and in her community. She is also recognized tonight for her significant accomplishments providing outreach to other schools so they may duplicate the successes enjoyed at Ridgewood High School.
Environmental Leadership Category
This award is presented to an individual who has shown the greatest leadership in the promotion of environmental protection in their profession.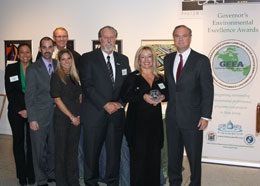 Winner: Valerie Montecalvo, President, Bayshore Recycling
Ms. Montecalvo, long recognized as a leader in her industry, is specifically being honored tonight for her leadership efforts in the field of recycling and for her company's commitment to alternative energy. Under Valerie's leadership, Bayshore operates an array of permitted recycling facilities with a combined capacity of over 10,000 tons per day. Moreover, in 2008, $5.7 million was invested for a 679 kilowatt rooftop solar energy system that assists in powering the day to day operations. With an eye towards the future, Valerie is on her way to developing an "Eco-Complex" facility that will attract other green businesses. Her corporate goal – simply stated – is 100% compatible green businesses powered by 100% renewable energy.
Note: The preceding project and winner descriptions are based on information provided by the applicants and/or third party nominators.