2010 winners
The 2010 New Jersey Environmental Excellence Awards were presented to the following groups and individuals:
Clean Water New Jersey Category Awards
The Clean Water New Jersey Category awards are presented to those nominees that have demonstrated originality and effectiveness of their stormwater management program; illustrated long-term impacts of their program on the waters of the State; and gone above and beyond the basic permit requirements and/or developed innovative approaches that have resulted in more efficient processes, significant cost savings, or mechanisms that promote cost-sharing or shared services while providing enhanced protection for water quality.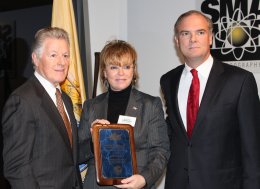 Tier A Municipality Winner: Andover Township, Sussex County
Andover Township is being recognized in storm water management for implementing innovative solutions, comprehensive maintenance and creating public awareness of storm water issues. Andover Township repaired and improved maintenance at seven storm water management basins, restoring proper function and enhancing storm water infiltration and water quality. Andover Township also repaired numerous outlet structures improving aesthetics and more importantly reducing erosion. Additionally, Andover Township retrofitted two storm water detention basins into bioretention system by improving soils and planting with appropriate native vegetation. Most importantly, Andover Township was able to involve the public in most of these projects, greatly increasing storm water awareness and was able to reduce costs by applying for grants and working with local businesses.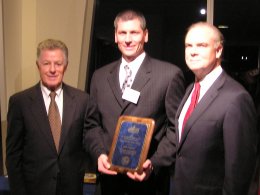 Clean Water New Jersey Category County Winner: County of Somerset – Department of Public Works
Somerset County is recognized for its efforts to map storm water outfalls and provide technical assistance to municipalities within the county. Somerset County received a grant to purchase five Trimble GPS units and ten ArcMap software licenses to help municipalities within Somerset County map their storm water outfalls and comply with the New Jersey Pollutant Discharge Elimination System Municipal Storm water Permit program. Somerset provided training and assistance on use of these GPS units and developed a GPS application to improve mapping efficiency. In addition Somerset County used the equipment themselves to go beyond the storm water permit requirements and map over 7,000 catch basins owned and operated by the county. This has allowed the county to more efficiently inspect and clean its storm water catch basins rather than take a reactive approach as they did in the past.
Clean Air Category
This award is presented to a nominee demonstrating a commitment to and experience in one or more of the following areas and activities:
Reducing greenhouse gas emissions or equivalents through energy efficiency projects or green power purchases.
Reducing outdoor exposure to toxic air contaminants.
Reducing air deposition loading to land and water.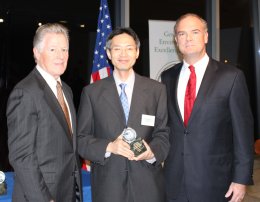 Winner: Shiseido America, Inc.
Shiseido America Inc., a subsidiary of the Japanese cosmetics corporation, Shiseido Company LTD, established its corporate operations in East Windsor, New Jersey in 1998.Shiseido America Inc. manufactures a variety of cosmetic products at the East Windsor location and distributes them to global markets. Over the last twelve years, Shiseido has transformed this site from an inefficient 50-year old pharmaceutical factory to a high tech manufacturing center providing employment to over 280 people. Over the last three years, innovative energy projects have supported growth in productivity while cutting reliance on utility electricity by 80% through installation of solar collectors and replacing inefficient boilers and lighting. These improvements have helped Shiseido eliminate production of over 1 million pounds of carbon dioxide in the last 12 months.
Water Resources Category
This award is presented to a nominee demonstrating a positive influence in one or more of the following areas:
Improving surface or ground water quality.
Ensuring sufficient quantities of water through reuse and conservation techniques.
Promotion or development of progressive land use policies and watershed management approaches to improve protection of surface and groundwater sources.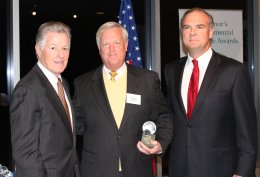 Winner: Duke Farms Foundation
Duke Farms is one of the largest, privately owned open spaces in the heavily developed Route 206 corridor in Somerville, New Jersey. Known for years as a garden destination, Duke Farms has recently refocused its mission to be a model of environmental stewardship in the 21st Century and inspire visitors to become informed stewards of the land. In this new role, the Duke Farms Foundation is clearly leading by example, especially in the area of water resources conservation. It has undertaken a new comprehensive master plan for the property that looks at all of the resources and refocused the buildings, landscape, and programs to create an environmental showcase and learning center. Over the last few years in implementing this new vision they have restored 9,000 linear feet of shoreline, installed floating islands, enrolled over 500 acres in two federal programs to ensure the long-term preservation and restoration of wetlands throughout the site, as well as along the four miles of riparian and wetlands corridor that front on the Raritan River.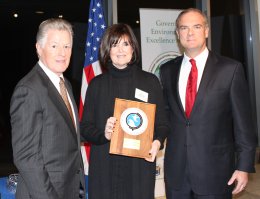 Honorable Mention: Borough of West Long Branch
The Borough of West Long Branch is recognized for its program to restore Franklin Lake, the focal point of the community. Specifically, the Township removed approximately 54,000 cubic yards of silt material that had been negatively impacting aquatic stability, water quality and capacity. The removed dredge spoils were tested and beneficially re-used as landfill cover at the county landfill. To prevent future problems, storm water inlets were re-designed to prevent silt from entering the lake. Following the completion of the lake restoration efforts, the township was able to oversee the stocking of trout into the improved waters and habitat.
In addition, Duke Farms will demonstrate innovative uses of both storm water and wastewater at its new visitor's center currently under construction.
Environmental Education/Student Activity Category
This award is presented to the educator, student, group of students or class that has planned and implemented a project/program with measurable positive environmental impacts.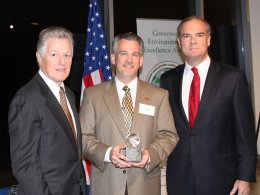 Winner: The Rutgers Master Gardener Program
Initiated in 1984, The Rutgers Master Gardener program is an educational volunteer training program offered in New Jersey through the efforts and expertise of faculty and staff of Rutgers Cooperative Extension. The program is designed to increase environmental awareness and stewardship through increased availability of University-based horticultural information to local communities and individuals through trained volunteers known as Rutgers Master Gardeners. Rutgers Master Gardener volunteers are well known for their sincere desire to help others and great interest in expanding their working knowledge of gardening, horticulture, and the environment. They are members of the local community who willingly and with dedication use this knowledge to then serve as volunteer environmental educators to fellow residents. This trained volunteer base has greatly expanded the visibility and capacity of Rutgers Cooperative Extension in fulfilling our educational mission through the distribution of horticultural information to individuals and groups all across New Jersey. Active in 18 counties throughout New Jersey, the program has developed and enhanced many community programs related to gardening, horticulture, and environmental well-being. In 2009 alone, approximately 2,400 Master Gardener volunteers gave nearly 158,000 hours in pursuit of horticultural and environmental education efforts all across NJ.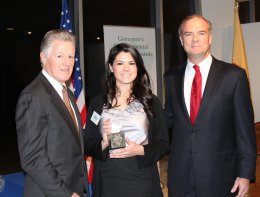 Student Winner: Fernanda Lois, Kearny High School
Ms. Lois is currently a senior in Kearny High School and very active in her school and community. In the spring of 2009 Fernanda had the idea to hold a river clean-up along a portion of the Passaic River. An avid rower, she regularly saw debris in the river and decided to do something about it. She enlisted the support of her rowing coach, organized her fellow crew members and, after finding a sponsor, was able to host a river clean up event in April 2009.Volunteers filled a 20-cubic yard dumpster past capacity with trash pulled out of the river and off the banks. Many in the community heard of the event and offered support leading Fernanda to organize another cleanup in the spring of 2010.This time she was able to expand the event by including the Belleville and Nutley rowing teams.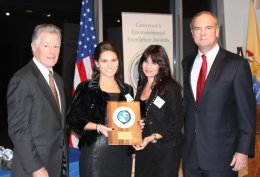 Honorable Mention: Derynn Paige Scine & Mrs. Lisa Marie Perini of Immaculate Heart Academy (IHA) High School
Student Derynn Paige Scine and teacher Mrs. Lisa Marie Perini of Immaculate Heart Academy are recognized for their efforts involving the High School Environmental Club. Among their successful projects were distributing biodegradable shopping bags in the community and raising environmental awareness at their school resulting in a reduction in solid waste generation, tree planting and community-wide cleanups.
Healthy Ecosystems Category
This award is presented to a nominee demonstrating a commitment to and experience in programs or techniques that have resulted in the restoration, protection and enhancement of the State's ecological resources: including wetlands, estuaries, coastal areas; and, non-game and endangered species.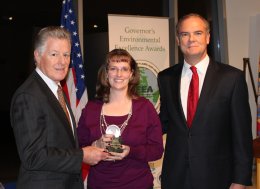 Winner: North Jersey Resource Conservation and Development Council
North Jersey Resource Conservation and Development (RC&D) Council is a six-county non-profit working in northwestern New Jersey. The New Jersey RC&D serves and is sponsored by the Board of Chosen Freeholders and Soil Conservation Districts of Hunterdon, Morris, Somerset, Sussex, Union, and Warren Counties. Through partnerships with municipal, state and federal agencies, as well as many private entities, the Council develops and manages programs and projects that promote the improvement and wise use of the regions human and natural resources. The New Jersey RC&D Council is recognized this year for its leadership and efforts involving an ecological restoration project along the Walnut Brook in Mine Brook Park and on the Hunterdon Land Trust Alliance Dvoor Farm in Raritan Township Hunterdon County. Through the project they have constructed nearly three acres of forested wetlands, implemented innovation bio-engineering practices along two severely eroding meanders of the brook, and restored the riparian buffer. The stream and buffer work improved water quality in the Walnut Brook. The wetland creation will provide habitat and functioning floodplain that provides storm water storage.
Innovative Technology Category
This award is presented to a nominee demonstrating the use or deployment of a new or alternative method, procedure, process, system or facility, which is not considered to be a "proven technology." This category demonstrates how this technology resulted in greater continuous environmental protection, security or economic growth than other technologies in current practice or comparable results at lower costs in terms of energy, economics or environmental impacts.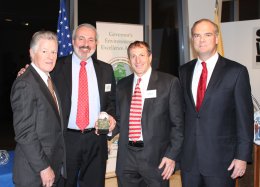 Winner: The Hoboken Brownstone Co.
The Hoboken Brownstone Co. is recognized for their Van Leer Place (VLP) green-building development in Jersey City. Van Leer Place is a seven-acre redeveloped brownfield in downtown Jersey City approved for 482 apartments and 7,500 square feet of retail where the buildings are capable of 50% to 90% energy savings when compared to standard buildings. Using the "Tripod of High Performance Building Design", partners George Vallone and Daniel Gans worked with Michael McDonough of the United States Green Building Council to develop state-of-the-art energy efficient structures by utilizing autoclaved aerated concrete for high thermal mass, energy recovery ventilation and alternative energy including solar and geothermal.
Land Conservation Category
This award is presented to a nominee that demonstrates the greatest commitment and experience in the preservation of open space resulting in the protection of land from future development.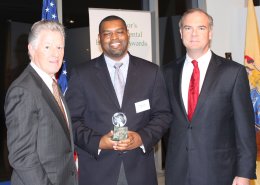 Winner: Franklin Township Open Space Committee
The Franklin Township Open Space Committee is recognized for its effort in assisting Franklin Township in acquiring and managing open space. The Committee and Township have worked aggressively to preserve and manage its open space since the year 2000 with currently over 1/3 of its land base (9,386 acres out of a total of 28,049 acres) being preserved-either as open space, parkland or farmland. Perhaps most interesting, however, is not the amount of the township's land base that has been preserved, but rather the manner in which much of it is being managed, by the Township's Open Space Advisory Committee (OSAC), for public access, passive recreation and for wildlife habit for threatened, endangered and species of concern.
Sustainable & Healthy Communities Category
This award is presented to a nominee demonstrating a commitment to and experience in one or more of the following activities:
Innovative practices or technologies that have resulted in the private or public sector clean up and redevelopment of contaminated/brownfields sites.
Any activity that reduces or eliminates pollution/waste at the source or treats the materials in an environmentally safe manner prior to recycling or disposal.
Creation of community-based initiatives that foster involvement, action and effective solutions to the adverse effects of industrial pollution in communities of color and low-income communities.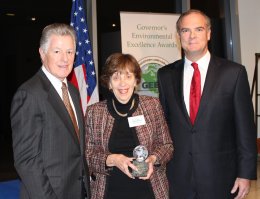 Winner: Millburn Township/Millburn Environmental Commission/Cora Hartshorn Arboretum Partnership.
This partnership is proposed for recognition in this GEEA category for their innovative "Millburn Green Challenge" program for fostering community-wide environmental awareness and action. This community education program has resulted in over 1,700 pledges from Millburn and vicinity committing to doing a variety of things to reduce their carbon footprint through energy conservation, composting, and purchasing locally grown food, among other things. In all, people could pick from 20 different measures they and their families could commit to improve the environment. The Millburn Green Challenge addresses the needs of New Jersey by providing a blueprint for community engagement for implementing sustainable practices.
Environmental Leadership Category
This award is presented to an individual who has shown the greatest leadership in the promotion of environmental protection in their profession.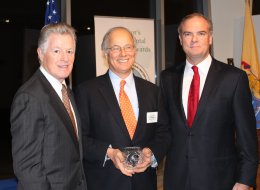 Winner: Fred R. Profeta, Jr.
Fred Profeta, former Mayor and now Deputy Mayor for Environment for Maplewood township also serves as the Chair of the state-wide Mayor's Committee for a Green Future, a 13 member standing committee of the New Jersey State League of Municipalities. Deputy Mayor Profeta's leadership and emphasis on the environment has left its mark on many projects in Maplewood including the construction of a new Leadership in Energy & Environmental Design (LEED) certified police station, a railroad commuter jitney program which has removed more than 300 commuter vehicles from the road each day, programs to foster bicycle transportation, purchasing of biodiesel fuel for municipal vehicles and revamping of the Township's recycling program which increased recycling by 37%.Deputy Mayor Profeta speaks widely around the state and elsewhere to promote Sustainable New Jersey including the Local Government Climate Change Leadership Summit in Copenhagen, Denmark in 2009.
Note: The preceding project and winner descriptions are based on information provided by the applicants and/or third party nominators.