2009 winners
The 2009 New Jersey Environmental Excellence Awards were presented to the following groups and individuals :
Clean Water New Jersey Category Awards
The Clean Water New Jersey Category awards are presented to those nominees that have demonstrated originality and effectiveness of their stormwater management program; illustrated long-term impacts of their program on the waters of the State; and gone above and beyond the basic permit requirements and/or developed innovative approaches that have resulted in more efficient processes, significant cost savings, or mechanisms that promote cost-sharing or shared services while providing enhanced protection for water quality.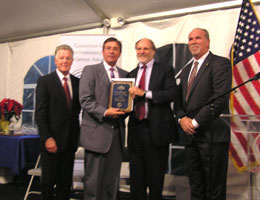 Tier A Municipality Winner: City of Wildwood, Cape May County
The City of Wildwood, Cape May County, is recognized for their flood control and surcharging of their municipal stormwater sewer system. Wildwood received $437,455 in federal funds and contributed $196,855 of their own funds to correct and mitigate decades old stormwater problems by installing tide flex valves on 22 of the 26 back-bay outfalls. These tide flex valves prevent surcharging of the municipal separate storm sewer system during high tides which contributes to flooding and has been linked to surface water quality problems elsewhere. Outfalls are inspected weekly by the Wildwood Sewer Utility.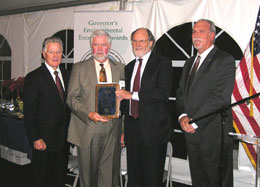 Highway Agency Winner: Cape May County Department of Public Works – Highway Agency
The Cape May County Department of Public Works is recognized for their innovative stormwater labeling and mapping program, street sweeping efforts and shared services with other agencies and counties. Specifically, the County purchased 17,000 storm inlet labels with a custom logo, picked through a county sponsored school contest (winner was a mother turtle and hatchling), four GPS units and Arc Pad mapping software through a watershed grant. The County then labeled and mapped all storm drain inlets. In addition, the county trained all municipalities within Cape May County, allowed the municipalities to use the GPS units and have inventoried and mapped every storm drain inlet in Cape May County. This GIS map is available to municipalities, is on the county web site and was made available to the Mosquito Control Commission.
The County also exceeds requirements in permit by sweeping all county roads located on barrier islands even though they may be exempted from permit requirement due to speed limit and lack of curbing. Approximately 250,000 pounds of debris has been collected as a result of these efforts.
Finally, Cape May County has assisted Atlantic, Salem and Cumberland Counties as well as the Delaware River Port Authority on inlet labeling, employee training and vehicle washing.
Clean Air Category
This award is presented to a nominee demonstrating a commitment to and experience in one or more of the following areas and activities:
Reducing greenhouse gas emissions or equivalents through energy efficiency projects or green power purchases.
Reducing outdoor exposure to toxic air contaminants.
Reducing air deposition loading to land and water.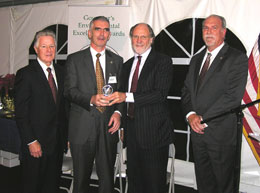 Winner: Hoffman La Roche, Inc. Nutley/Clifton, NJ site
The Hoffman La Roche Nutley/Clifton, NJ site is recognized for their multi-faceted approach to reduce air emissions of greenhouse gases and other air pollutants. Since 2003, the site has reduced greenhouse gases by more than 60,000 metric tons per year. Hoffman La Roche has also worked to reduce other air pollutant emissions including volatile organic compounds, nitrogen oxide, particulates, and total suspended particles.
Roche continues to proactively reduce greenhouse gas air emissions and reduce Criteria Pollutant Air emissions through extensive energy conservation efforts. Specific activities include repowering the onsite stationary turbine cogeneration system and addition of inlet air cooling; completion of numerous onsite energy conservation projects over the last 5 years resulting in an overall 15% reduction in total energy consumption onsite; completion of an innovative laboratory hood occupancy sensor project in 2009 to reduce lab hood ventilation rates (and turn off lights) when the labs are unoccupied, and; promoting employee ride sharing and the use of hybrid/fuel efficient vehicles in the company car fleet.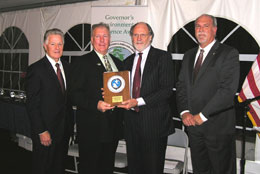 Honorable Mention: Bergen County Utilities Authority
The Bergen County Utilities Authority (BCUA) is a public utility providing water pollution control for 47 municipalities and solid waste services for 70 Bergen County municipalities. In June 2008, the BCUA commenced operation of the combined heat and power (CHP) cogeneration facility. The CHP facility provides reliable, efficient, and economical thermal and electric energy. The energy produced by the CHP plant is consumed entirely by the Bergen County Utilities Authority wastewater pollution control facility. What differentiates this project from other CHP facilities is that it is a biogas CHP plant with natural gas as the backup fuel. The CHP plant not only reduces the Bergen County Utilities Authority amount of purchased electric energy and the cost of operating hot water boilers, but it also reduces the creation of greenhouse gases by the controlled combustion of methane, which is created as a byproduct of anaerobic digestion, in the two CHP reciprocating engines.
Environmental Education / Student-Led Activity Category
This award is presented to the student, group of students or class that has planned and implemented a project/program with measurable positive environmental impacts.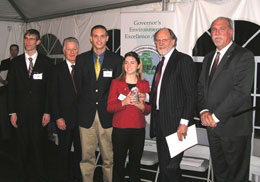 Winner: HelpLightNJ
HelpLightNJ was formed in 2007 by High School students Matthew Erickson, John Caddock and Paula Pilipovic with 2 goals; to raise money to purchase and distribute energy saving compact fluorescent lamps to needy families and seniors, and to inspire and engage other high school students to make a difference. In 2008 the students received a grant from the New Jersey Clean Energy Program to be part of the Green New Jersey Resource Team. Their objective was to distribute Energy Star energy saving light bulbs to needy families and seniors at public housing throughout New Jersey. During a 5 month period HelpLightNJ distributed 60,000 lamps. Each family received a bag of (6) bulbs that saved them $400 in energy costs. For 2009 HelplightNJ received additional funding from the NJ Clean Energy Program to distribute an additional 80,000 lamps. The students also developed a student outreach program that has allowed them to sign up 19 partner schools in New Jersey. Their project will save over $9 million in energy costs for needy residents who need the savings the most, and will avoid the release of over 166 million pounds of carbon dioxide into the air.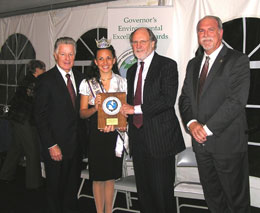 Honorable Mention: Miranda Brooke Pawline
Miranda is an 8th grade student residing in Delanco, Burlington County where she founded Delanco Recycles Our Plastic (D.R.O.P.) Bags when she noticed that discarded plastic bags comprised a large component of litter. The D.R.O.P. Bag Recycling program placed buckets in schools, the library and municipal building for people to place their bags. She has let the residents know about the program through notices, the local paper and on the township website. She collects the bags on a regular basis and then takes them to a local recycle site, where they are picked up by a company that uses the plastic to create lumber products. Because of the success in Delanco, she would like to promote her program statewide. Miranda continues to promote recycling and the use of reusable shopping bags through her work with the Burlington County Clean Communities Program.
Miranda is also an honor roll student, member of the school band, and passionate about playing sports. Outside of school she volunteers with many community organizations. She is also Miss New Jersey Junior National Teenager 2009. This pageant promotes scholastic achievement, community service and leadership.
Healthy Ecosystems Category
This award is presented to a nominee demonstrating a commitment to and experience in programs or techniques that have resulted in the restoration, protection and enhancement of the State's ecological resources: including wetlands, estuaries, coastal areas; and, non-game and endangered species.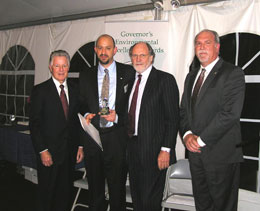 Winner: New Jersey Audubon Society
The New Jersey Audubon Society (NJAS) is recognized for their Delaware Bay Shorebird Conservation Project, an integrated research, education and conservation initiative for the recovery of the Delaware Bay shorebird populations. NJAS is a privately supported non-profit, statewide membership organization dedicated to fostering environmental awareness and a conservation among New Jersey residents while preserving wildlife and natural systems, and is independent from the National Audubon Society.
For over 25 years NJAS has played a leadership role in protecting and restoring the Delaware Bay, one of the four most important shorebird migrations in the world. Each spring, over one million shorebirds arrive to gorge on horseshoe crab eggs before continuing to arctic breeding grounds. Crab overharvesting and habitat loss have severely reduced eggs causing shorebird populations to decline dramatically and alarm about their future sustainability.
To stem this decline, the Project has provided scientifically-valid research to support shorebird conservation initiatives; implemented educational programs for diverse audiences; and carried out public outreach and advocacy campaigns to promote conservation and ecotourism opportunities in the region. This project has and continues to play a critical role in ensuring the long-term conservation of the Delaware Bay ecosystem, the future survival of individual shorebird populations and the protection of the bay's $34 million nature-based tourism industry.
Innovative Technology Category
This award is presented to a nominee demonstrating the use or deployment of a new or alternative method, procedure, process, system or facility, which is not considered to be a "proven technology." This category demonstrates how this technology resulted in greater continuous environmental protection, security or economic growth than other technologies in current practice or comparable results at lower costs in terms of energy, economics or environmental impacts.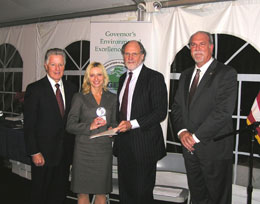 Winner: The Port Authority of New York and New Jersey
For nearly 90 years, The Port Authority of New York and New Jersey's mission has been to keep the region's commuters, travelers and global shippers moving. The Port Authority of New York and New Jersey is recognized this year for implementing a new innovative lighting replacement program to upgrade the necklace lighting on the iconic George Washington Bridge. The bridge is now lit by 156 high flux light emitting diode (LED) fixtures each rated 55 watts with a life expectancy of 15 years. The LED technology will conserve energy and provide significant reductions in greenhouse gas (CHG) emissions. The annual energy and maintenance savings from LED installation is estimated to be $49,000.
Land Conservation Category
This award is presented to a nominee that demonstrates the greatest commitment and experience in the preservation of open space resulting in the protection of land from future development.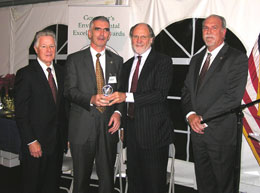 Winner: Conservation Resources, Inc.
Conservation Resources, Inc. (CRI) is a unique organization that provides technical and financial assistance to the entire New Jersey conservation community. They serve as a conservation intermediary organization and apply an innovative business model that provides assistance to other non-profits and public conservation agencies which seek to acquire, restore or better steward our lands and waters. CRI maintains a web-based catalog of exemplary conservation projects known as "The Conservation Exchange" and helps to market these projects and match them up with various sources of both philanthropic and regulatory contributions. In so doing, CRI facilitates significant contributions to land conservation from penalty settlements, litigation settlements, Natural Resource Damage settlements Supplemental Environmental Projects, permit conditions, mitigation requirements, and other regulatory matters. This service is provided at no cost to project parties to resolve regulatory agencies, and makes it easier (and more likely) for permit applications and potentially responsible parties to resolve regulatory matters in a way insures a strong nexus between funded projects and the specific natural resources that have been or may be impacted by pending projects or regulatory non-compliance. In the last 6 years, CRI has facilitated more than $41 million in funding to preserve, restore, enhance, more than 10,000 acres of land and waters throughout New Jersey.
Sustainable & Healthy Communities Category
This award is presented to a nominee demonstrating a commitment to and experience in one or more of the following activities:
Innovative practices or technologies that have resulted in the private or public sector clean up and redevelopment of contaminated/brownfields sites.
Any activity that reduces or eliminates pollution/waste at the source or treats the materials in an environmentally safe manner prior to recycling or disposal.
Creation of community-based initiatives that foster involvement, action and effective solutions to the adverse effects of industrial pollution in communities of color and low-income communities.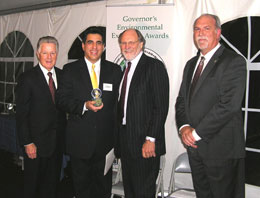 Winner: Middlesex County
Starting in 2004 with the Middlesex County Board of Chosen Freeholders' adoption of the Clean Air Initiative, Freeholder H. James Polos became committed to making Middlesex County the first sustainable and energy efficient county in New Jersey. The creation of the Middlesex County Showroom of Environmental Technology (MCSET) program consisting of the partnership of the NJ Board of Public Utilities, DEP and Middlesex County, offers state and federal grants to the various municipalities and communities which allow them to go forward with their environmentally friendly and sustainable endeavors. MCSET was soon followed by Middlesex County's introduction of the Go Green Save Green Challenge. This program was put into place to encourage and inspire residents, organizations, businesses, municipalities and schools to get involved with making Middlesex more sustainable. Middlesex County is also working hard to finalize two more initiatives in the push for sustainability. Through a $75,000 N.J. Smart Growth Grant, Middlesex is becoming the first county in New Jersey to create a comprehensive County Sustainability Plan. Middlesex is also working to establish the Green Economic Development Zones, an initiative that has been created in order to recognize the available job market that could be expanded upon by bringing more "green industries" into the area.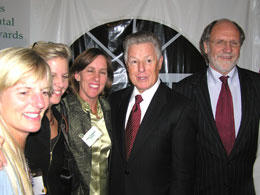 Honorable Mention: Back2Tap, LLC
Back2Tap is a social business working to reduce the use of bottled water by encouraging people to use reusable bottles when on-the-go. Back2Tap began as a grass roots campaign organized by four soccer-hockey-lacrosse-baseball mothers who noticed garbage cans overflowing with disposable plastic bottles at playing fields. The success of their campaign in Chatham propelled them to start a business raising awareness and offering alternatives to disposable plastic in other communities around New Jersey and beyond. Back2Tap has run campaigns with over forty schools and groups in New Jersey during the past year. The program includes a wealth of free information on their website such as educational activities for classrooms, two videos (for children and adults), guidelines for running a Back2Tap campaign, valuable background information about reusable bottles and bottled water, as well as social networking opportunities for groups and individuals who have joined this movement. Back2Tap sells reusable stainless steel bottles with custom logos for schools or groups that can be purchased in bulk or as part of convenient on-line green fundraiser. Due to customer demand, Back2Tap recently added reusable sandwich wraps and snack pouches to also encourage litter-less lunches.
Water Resources Category
This award is presented to a nominee demonstrating a positive influence in one or more of the following areas:
Improving surface or ground water quality.
Ensuring sufficient quantities of water through reuse and conservation techniques.
Promotion or development of progressive land use policies and watershed management approaches to improve protection of surface and groundwater sources.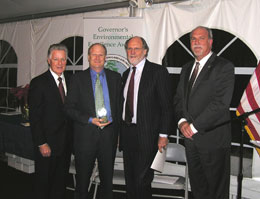 Winner: Stony Brook, Millstone Watershed Association
The Stony Brook-Millstone Watershed Association is central New Jersey's first established environmental group. Since 1949, they have been protecting clean water and the environment in the 265-square-mile region drained by the Stony Brook and Millstone River. Now celebrating their 60th anniversary, they pursue their mission through conservation, advocacy, science and education. One of the first watershed associations in the country, they have grown from just a handful of concerned citizens fighting soil erosion and promoting environmentally sound land use practices, to the Watershed Association of today – the largest Watershed Association in the state of New Jersey. With six decades of accomplishments and environmental successes under their belts, the Stony Brook, Millstone Watershed Association continues to make their "CASE" for protecting and restoring our region's water resources through Conservation, Advocacy, Science and Education.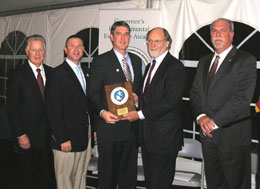 Honorable Mention: Healthy Lawns/Healthy Environment Initiative
The Healthy Lawns/Healthy Environment Initiative is a unique public-private partnership between government and members of the fertilizer industry to reduce the amount of phosphorus in lawn and garden fertilizer formulations. Although residential lawn care applications make up a small percentage of overall nonpoint source pollution, the fertilizer industry felt a contribution could be made in overall reduction efforts in the state. The main objective of the initiative was to reduce phosphorus in residential fertilizer applied to lawns. The initiative resulted in a total annual phosphorus reduction in fertilizer products of 1,230,322 pounds. The initiative effectively leveraged the strengths of its individual members and set in motion a statewide grassroots education movement that reached more than 14,000 residents with practical and actionable lawn care stewardship information. Initiative members included Lebanon Seaboard Corp., Scott's MiracleGro, United Industries, TruGreen, Rutgers, USEPA, NJDEP and others.
Environmental Leadership Category
This award is presented to an individual who has shown the greatest leadership in the promotion of environmental protection in their profession.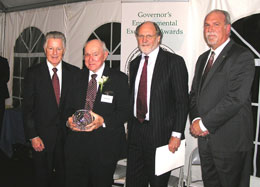 Winner: Dr. John J. Kirk
For 37 years Dr. Kirk was the Executive Director of the New Jersey School of Conservation, a branch campus of Montclair State University. Through Dr. Kirk's skill, innovation and work ethic the school became the third largest environmental field center in the world. The school serviced hundreds of thousands of students from kindergarten through doctoral candidates. Dr. Kirk and his staff developed a multidisciplinary approach to teach environmental education which became the benchmark from which environmental education is taught throughout the world.
Dr. Kirk lectured extensively throughout North America, Europe, Africa and Asia on environmental education, curriculum development and field center administration. His articles have been published in 25 countries in 9 different languages. Countless numbers of Dr. Kirk's students have followed in his footsteps and today hold prominent positions throughout New Jersey and beyond. These people are following Dr. Kirk's teachings and methods and working to positively affect the environment of New Jersey. This work has established Dr. Kirk as a leader in environmental education and awareness in New Jersey and throughout the world.
Environmental Stewardship Category
This award is presented to individuals who have accomplished significant achievements in the field of environmental protection working in a volunteer capacity.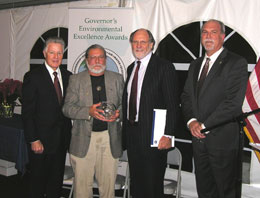 Winner: Mr. Clem Fiori
Clem Fiori can be described as many things: photographer, artist, cyclist, gardener, conservationist, and chairman of Montgomery Township Open Space Committee since its creation in 1989. Clem's many interests provide him with a unique perspective, all of which have contributed to his vision for the Township's future. His dream of a connected open space network has been realized with over 33% of the Township's land base preserved. The Cherry Brook Preserve, which is comprised of over 350 acres of contiguous preserved open space and an extensive trails network, is a critical piece of the Township's open space network. Clem's extensive work in the negotiations for this property (over more than 20 years) paid off with its preservation in 2005. Since then, Clem has worked to execute a grant from US Fish & Wildlife Service that planned over 1,000 trees, constructed and enhanced more than 2 miles of trails, worked with Eagle Scouts to build kestrel houses and plank ways, guided a dozen trail walks and spent innumerable hours of his own time mowing, cutting, hauling dirt, ripping out invasive species and installing tree protectors. To say that Clem is a steward to the open space is an understatement.
Note: The preceding project and winner descriptions are based on information provided by the applicants and/or third party nominators.