2007 winners
New Jersey Department of Environmental Protection (DEP) Commissioner Lisa P. Jackson honored environmental leaders at a ceremony November 29, 2007 announcing this year's Environmental Excellence Awards winners. Winners were judged on the basis of documented environmental benefits, innovation, and long-term impacts of their work in the environmental field. The award categories included achievements in Environmental Education, Clean Air, Clean and Plentiful Water, Safe and Healthy Communities, Land Conservation, Healthy Ecosystems, Innovative Technology, and Environmental Leadership. The 2007 New Jersey Environmental Excellence Awards were presented to the following groups and individuals:
Clean Air Category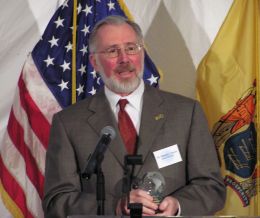 Winner: Rowan University
Rowan University, in Glassboro, NJ, was selected for this year's Clean Air Award for their exemplary efforts to reduce greenhouse gas emissions through wind energy purchases. From January 1 to May 31, 2007, Rowan University's wind energy purchase has offset the equivalent of preventing the release of carbon dioxide emissions by 2,684 metric tons. Moreover, for the year of 2007, it is projected Rowan University will use 10,250,000 kWh of National wind and 183,673 kWh of New Jersey wind thereby preventing the release of carbon dioxide emissions by 6,338 metric tons – the equivalent to not driving over 6.7 million miles, planting over 2,400 acres of trees or removing 560 cars from the road. Rowan's recent increased commitment to wind power is equivalent to 25% of their total energy usage and accounts for 50% of their CO2 reduction goal. In addition to their wind energy purchase, the university has implemented energy conservation standards and constructed an on-site co-generation facility to supplement their energy usage.
Rowan University has also adopted an aggressive campus-wide landscaping plan that has planted numerous trees across the campus and re-established native, drought tolerant species into the landscape saving water and the environment. The University remains committed to going beyond all environmental requirements and setting a leadership example in its University Master Planning approach that assures all activities on campus display the highest standards in environmental responsibility.
Rowan also integrates Clean Energy and Sustainability into the classroom. Through hands-on experience conducting energy efficiency analyses for NJ farms and businesses and their leadership of the NJ Anemometer Loan program, students learn the value of clean energy and sustainability both in and out of the classroom. Rowan has an internal Energy Review Panel comprised of students, faculty, and staff to assess energy programs and establish goals such as the reduction of carbon.
Environmental Education/Student-Led Activity Category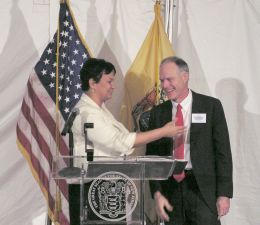 Winner: Rutgers Environmental Steward Program of the New Jersey Agricultural Experiment Station
The Rutgers Environmental Steward Program provides training and experiential learning which equips participants to contribute effectively to the process of finding solutions for environmental problems in New Jersey's communities.
Graduates of the program become knowledgeable about the basic processes of earth, air, water and biological systems. Through the program, they increase their awareness of the techniques and tools used to monitor and assess the health of the environment and gain an understanding of the research and regulatory infrastructure of state and federal environmental agencies operating in New Jersey.
They learn to recognize the elements of sound science and public policy based on that science. They acquire an understanding of the limits of current knowledge of the environment.
Graduates use their knowledge to expand public awareness of scientifically-based information related to environmental issues and facilitate positive change in their community.
The training component introduces participants to the science behind environmental issues while also to experts who can serve as resources to them in the future. The 60 hour training is followed by a mandatory 60 hour internship which can be selected from among projects identified by the program or can be proposed by the student.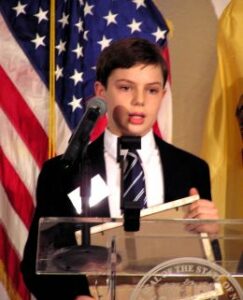 Honorable Mention : Brian Meersma
Brian Meersma is recognized for his project to reduce the use of plastic disposable shopping bags and for his efforts to educate the public on the negative impacts plastic bags can have on the environment.
Brian is also an active member of the Friends of West Windsor Open Space organization where he has contributed in a number of ways toward their efforts to promote open space preservation in the community.
Clean & Plentiful Water Category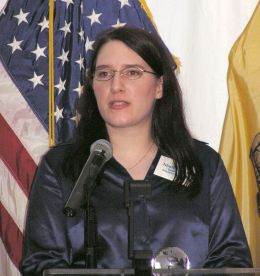 Winner: South Branch Watershed Association
The South Branch Watershed Association is selected as this year's Clean & Plentiful Water category winner for their Volunteer Biological Monitoring Program Comprehensive Report project. Initiated in 1994 to study baseline water quality using benthic macroinvertebrate communities, it is one of the longest running biological stream monitoring programs in New Jersey. The culmination of this effort, the long-term trends analysis and comprehensive report, is based on this monitoring data and was published in June, 2007.
This report allows users to look at the water quality trends in the South Branch Raritan River watershed since 1994, and provides indications as to where sources of impairment may be originating. The report also provides guidance as to what steps should be taken next for stream monitoring, restoration, and preservation.
The South Branch Raritan River watershed is home to approximately 200,000 residents and there are another 1.2 million people outside the watershed who depend on this water for their potable supplies.
Environmental Leadership Category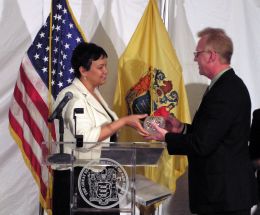 Winner: Joseph Biluck, Director of Operations & Technology, Medford Township Public Schools
Long before fleet operators knew about global warming or renewable fuels, Joseph Biluck took the lead in using soy-based biodiesel in his school buses, thus creating New Jersey's first biodiesel school bus fleet. His leadership involved 10 years of passionately educating the students, school district, and township about the environmental and energy security benefits of biodiesel. Along the way, his efforts have reduced diesel exhaust, greenhouse gases, and displaced petroleum fuel, thereby aiding our nation's energy security and protecting New Jersey's environment. Medford Township Public Schools began to implement the use of biodiesel in their fleet of 44 school buses. Over the past 10 years, due to the expansion of the district, the school bus fleet has grown to 62 units.
Through this work, in 2006 and 2007, the school district eliminated approximately 12,560 pounds of smog-forming emissions and 311 pounds of particulate matter from its diesel school bus fleet. This means that about 3,500 students, as well as the local community were exposed to fewer diesel pollutants on a daily basis. Last year the district's use of biodiesel resulted in an annual displacement of 35,000 gallons of diesel fuel, which provides a national energy security benefit and helped reduce greenhouse gases that cause global warming. Since the inception of biodiesel school bus program, Medford Township has displaced over 210,000 gallons of #2 diesel fuel.
The success of Joseph Biluck's program also spawned a new category within the State's contract purchasing program. Previously, there were no bid specifications for the purchase of biodiesel fuel. As a result of the long term success Mr. Biluck's biodiesel school bus program, he and other supporters were able to work with the NJ Department of Treasury to make biodiesel available to other public entities who wish to integrate this fuel into their fleet operations via the State's Contracted Purchasing Program. Since that time, these efforts have grown and have contributed to the New Jersey Board of Public Utilities establishing a "Biodiesel Rebate Program," which is available to every public entity to offset the incremental cost difference associated with the use of biodiesel.
As a result of Mr. Biluck's biodiesel accomplishments, he has been recognized nation-wide for his environmental and energy security accomplishments.
Environmental Stewardship Category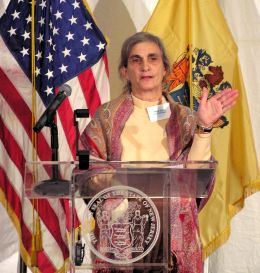 Winner: Drs. Charles and Mary Leck, Friends of the Marsh Organization
Combing research and education since the 1970's, the work of Dr. Mary Leck and Dr. Charles Leck has led to a greater understanding of the Hamilton-Trenton-Bordentown Marsh ecosystem as well as a greater community appreciation of it as a precious resource. The Hamilton-Trenton-Bordentown Marsh is a 2,800-acre tidal freshwater wetlands and uplands along the Delaware River. More than 800 plant species have been identified in the marsh. These include rare plants like Torrey's Rush and Yellow Giant Hyssop. The marsh is an important source of food and shelter for more than 230 species of birds including the endangered Bald Eagle. Fifty species of fish and 18 species of mammals also spend time in the marsh which is home to a resident population of beaver.
The Leck's dedication has inspired and helped catalyze other like-minded citizens who have formed the Friends of the Marsh organization in collaboration with D& R Greenway. This focus on the marsh led to the Mercer County Roebling Park Nature and Interpretive Center that is currently under development. Over the past years, the Leck family has helped to organize and lead nature walks, paddle and picnic activities and cleanups at the marsh.
True to their background as educators, they have developed numerous educational materials on the marsh including school programs, trail guides and a marsh brochure. They have also developed teacher training opportunities and organized photography exhibits of the marsh.
Dr, Mary Leck is a retired Professor of Biology at Rider University, who has been studying plant population ecology at the marsh since 1975. Dr. Charles Leck is a retired professor of Ecological Sciences at Cook College, Rutgers University and has served as the State Ornithologist for New Jersey. Their work with the Hamilton-Trenton-Bordentown Marsh has recently been featured in the New Jersey Network documentary, "Turning the Tide."
Healthy Ecosystems Category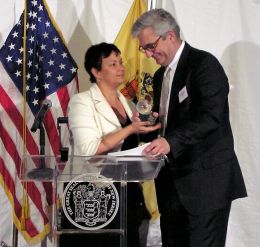 Winner: Verizon Corporate Services Group Inc.
Verizon Communications Inc. and the New Jersey Audubon Society (NJAS) entered into a partnership with the U.S. Fish and Wildlife Service (USFWS) as part of a habitat-restoration project at Verizon Center, the company's operations facility in Basking Ridge.
Through the Partners in Fish and Wildlife program, Verizon has restored natural wildlife communities on approximately 25 acres of grassland, riparian and wetland habitats on the Verizon site. Additional areas around the campus have been enhanced for wildlife as well.
Verizon, with assistance from NJAS and the USF&W, has planted over 500 native trees and shrubs on site (with another 500 native trees and shrubs scheduled to be planted in 2008), installed over 10 acres of native warm-season/native wildflower meadows, implemented invasive vegetation removal on over 25 acres of the property, implemented a delayed mowing and no chemical application practices on over 25 acres of current grassland and riparian areas, installed several turtle nesting areas, installed a vernal pool, installed numerous bird nest boxes on site, and incorporated a monitoring/stewardship program for the site to track project progress.
Honorable Mention: NY/NJ Baykeeper
NY/NJ Baykeeper is a bi-state conservation organization with offices in Keyport, NJ. Baykeeper is recognized for its programs to protect, preserve and restore the Hudson-Raritan Estuary and its tributaries. Working with state, county, non-governmental and municipal partners, Baykeeper programs have protected more than 10,000 acres of important open space and habitats in the watershed of the Hudson/Raritan Estuary by organizing the grass roots and leveraging Green Acres funding.
Baykeeper's Oyster Restoration Project, involving over 400 volunteers, involves oyster reef restoration and oyster gardening to grow oysters for our restored reefs. The program's aquaculture facility produces "spat on shell" or mini oyster reefs for reef restoration as well. This project is the only "benthic habitat restoration" project in the Hudson-Raritan Estuary. This project just became the recipient of a $1million oyster restoration supplementary environmental project.
Innovative Technology Category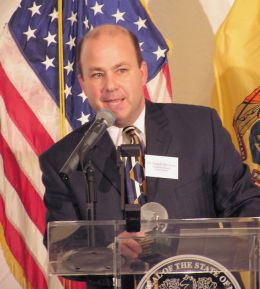 Winner: Medford Township Public School System
The Medford Township Public School system is recognized for implementing a comprehensive program to use new, innovative and sustainable technologies to conserve energy and provide significant reductions in air pollutants and greenhouse gases. These alternative processes and systems include lighting upgrades, window replacement, automatic temperature control systems, biodiesel fuels, boiler upgrades, geothermal energy, high efficiency power delivery transformers and waterless lavatory fixtures.
In 2007, Medford Township Public Schools celebrated 10 years of using alternative fuels (biodiesel) and being the nation's longest, continuous user of biodiesel in a school bus fleet. Coupled with their school bus idle reduction program, Medford Township Public Schools has been able to significantly reduce emissions from school buses.
Through all these efforts, Medford Township Public Schools has served as a model for other schools and institutions by demonstrating that innovative technologies and alternative methods resulted in greater continuous environmental protection, energy security and economic growth.
Land Conservation Category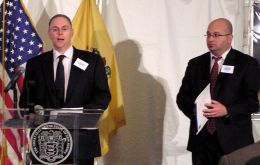 Winner: Burlington County Open Space Program
Burlington County's Strategic Plans for Open Space and Farmland Preservation works to preserve the County's agricultural heritage and natural resources along with passive recreation and a high quality of life. Towards this goal, Burlington County has preserved more than 25,000 acres of farmland and 5,000 acres of open space.
The Open Space Plan targets land along the County's waterways for benefits of watershed, drinking water and wetlands protection, as well as recreation and stormwater management. Much of the open space the County has purchased borders its main waterway, the Rancocas Creek which was the first watershed in New Jersey with a management plan. More than 1,500 acres of the County's open space is slated for parks with connecting trails, as well as canoe trails. Hikers can traverse scenic preserved open space and farmlands to the Rancocas or Delaware River or east to Historic Smithville Park.
More than $16 million in dedicated tax revenues are generated annually. A dedicated tax was extended in November by residents in an overwhelming 3-to-1 margin, the largest margin of any open space referendum in the state. By having matching funds available, the County is able to leverage its revenues for maximum effectiveness.
Safe & Healthy Communities Category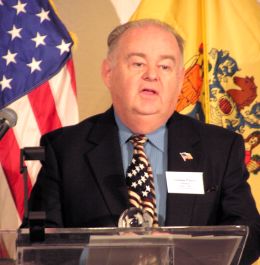 Winner: Passaic Valley Sewerage Commission
The Pollution Prevention Educational Outreach Program is an extension of the Passaic Valley Sewerage Commissioners' initiative to educate adults and youths about the environment and its current challenges.
The program's topics cover a broad scope that include lessons about water protection, point and non-point source pollution and the adverse effects of litter, household and industrial waste on the quality of the local waterways and the ecosystem of the area. Through this program, the Passaic Valley Sewerage Commission also encourages participation and promotes environmentally responsible behaviors.
In total, during the last 4 years, the program has visited an average of 70 schools per year, bringing environmental learning to about 26,000 students in the region who are encouraged to embrace environmentally responsible behaviors, thereby ensuring the environmental literacy of future generations.
The Passaic Valley Sewerage Commission has sponsored over 446 cleanups helping to remove approximately 750,000 pounds of waste from out ecosystem and landscapes allowing students to make connections between environmental protection, economic prosperity, healthier society and their own well-being.
Honorable Mention: L'Orẻal
The Piscataway Manufacturing facility of L'Orẻal USA is responsible for the production of luxury cosmetics, skincare, and designer fragrance products. In this capacity, L'Orẻal USA Piscataway Manufacturing is dedicated to reducing its impact on the environment. This commitment includes the prevention of pollution, the reduction of waste, the conservation of natural resources and the recycling of material. Reflecting this commitment, L'Orẻal USA Piscataway Manufacturing has the distinction of being the first L'Orẻal USA site to be both ISO 14001 certified and accepted in to the US EPA's National Environmental Performance Track.
Since 2006, when L'Orẻal USA Piscataway Manufacturing rolled out their waste reduction initiative known as the Plant Performance Incentive, Piscataway Manufacturing has prevented over 1.25 million pounds of waste from being disposed.