2005 winners
New Jersey Department of Environmental Protection (DEP) Commissioner Bradley M. Campbell honored environmental leaders at a ceremony November 15, 2005 announcing this year's Environmental Excellence Awards winners. Winners were judged on the basis of documented environmental benefits, innovation, and long-term impacts of their work in the environmental field. The nine award categories included achievements in Environmental Education, Clean Air, Clean and Plentiful Water, Safe and Healthy Communities, Land Conservation, Healthy Ecosystems, Innovative Technology, Environmental Stewardship and Environmental Leadership. The 2005 New Jersey Environmental Excellence Awards were presented to the following groups and individuals:
Clean Air Category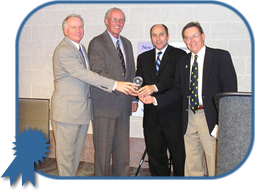 Winner: Ocean County College
For more than 35 years, Ocean County College, a public two-year community college, has provided area residents with the opportunity to benefit from higher education. Ocean County College is receiving a 2005 award for installing a 250-kilowatt fuel cell to provide onsite power and heat to their Academic Building. Use of the fuel cell eliminates significant air contaminants and has higher efficiencies than their fossil fuel combustion system counterpart. The college's main campus is located in Toms River and has off-site campuses located in Manahawkin and Brick Township.
Clean and Plentiful Water Category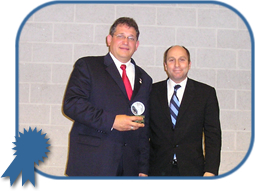 Winner: Lake Hopatcong Commission
The Lake Hopatcong Commission (LHC) was created in 2001 and functions as the steward of Lake Hopatcong. The LHC received their award in recognition of their phosphorus-free fertilizer campaign and aquatic weed-harvesting program fostering the improvement of surface water quality for the lake. The Commission works with governmental bodies and the public in the Lake Hopatcong watershed to monitor, protect, and restore the lake's water quality and its associated natural resources. At nearly 2,700 acres, Lake Hopatcong is New Jersey's largest inland lake with 38 miles of shoreline within the State's Highlands region
Honorable Mention: Delaware River Basin Commission
The Delaware River Basin Commission (DRBC) was formed in 1961 to share the responsibility of managing the water resources within the multi-state basin. The DRBC received recognition for adopting a new rule that establishes pollutant minimization requirements to reduce PCB's in the Delaware River estuary. The Commission has developed a regulatory tool – the Pollutant Minimization Plan – to achieve pollutant reductions. The Commission's new plan regulation has great potential for widespread application to other bioaccumulative toxics.
Environmental Education Category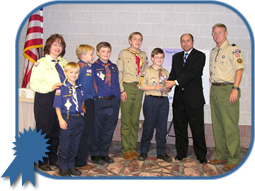 Winner: Cub Scout Pack 30
Cub Scout Pack 30 received their award for continuing efforts to improve the water quality of the Rahway River through organized clean- ups and educational outreach. Cub Scout Pack 30 operates out of St. John the Apostle Church in Linden. The Pack attracts youth from urban and suburban communities including Linden, Rahway, Elizabeth, Clark and Cranford. The Pack formally entered into an agreement with the County of Union under its Adopt-A-Park program. Under this program, the Pack sponsor and organize regular clean-up efforts in the Rahway River that promote the health and viability of the river and educate youth and citizens about the important role they play as stewards of the environment.
Healthy Ecosystems Category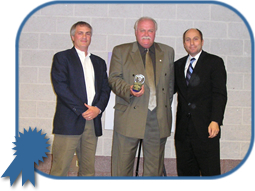 Winner: East Brunswick Environmental Commission
The East Brunswick Environmental Commission received their award for their Beekman Road Vernal Pool Protection Plan, which is designed to minimize contact between amphibians and automobiles. The Environmental Commission is active in local environmental protection including creating and managing the East Brunswick Butterfly Park, an 11-acre park dedicated to conservation, education and enjoyment of butterflies and their habitats, and the first municipal butterfly park in New Jersey. In addition, the commission reviews all development proposals in town and recently initiated the East Brunswick Birding Big Day designed to spotlight the birds of our town and parks.
Honorable Mention: Naval Air Engineering Station, Lakehurst
The Naval Air Engineering Station in Lakehurst received an honorable mention for their efforts to protect and increase bird grassland habitat at their base. The Naval Air Engineering Station is a 7,430 acre military installation which is the center of the Navy's research, development and testing related to aircraft. The base is located in northern Ocean County in the northeast portion of the Pinelands National Reserve. The natural resources management program includes 4,700 acres of forest, 1,700 acres of grasslands and three 20-acre lakes. More than 20 state-listed threatened and endangered species are found on the installation.
Innovative Technology Category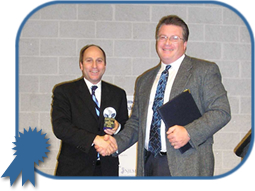 Winner: PNC Financial Services Group, Inc.
PNC Financial Services Group, Inc. received their award for their construction of "Green Buildings" using environmentally sensitive processes and materials. The PNC Services Group, Inc., is one of the largest diversified financial services companies in the U.S. PNC provides products and services in Pennsylvania, New Jersey, Delaware, Ohio, Kentucky, Washington DC, Maryland and Virginia. In 2003, PNC constructed the first green building in Delaware as the corporate headquarters for PNC's mutual fund processing affiliate. Additionally, PNC has completed eleven new "green" branches, including six in New Jersey and was recognized for having the State's first LEED certified building. Eight more new branches are currently under development or construction in New Jersey.
Land preservation Category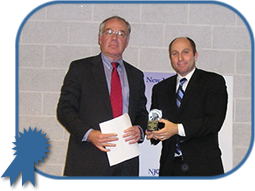 Winner: Trustees of Princeton University
The Trustees of Princeton University received their award for their land conservation initiatives in the vicinity of the historic Village of Kingston including preservation of numerous historic buildings and more than 200 acres of land near the Delaware and Raritan canal in Middlesex County. Moreover, the Trustees of Princeton University contributed financially, so the state could acquire additional property in the same area. Fully coeducational since 1969, Princeton for the past academic year (2003-2004) enrolled 6,654 students – 4,676 undergraduates (607 of whom are New Jersey residents, representing every county in the state) and 1,978 graduate students (degree candidates only). The University, with 5,291 employees, is Mercer County's largest private employer and one of the largest in the region. It plays a major role in the educational, cultural, and economic life in the area by bringing more than 500,000 visitors and $1.9 billion in economic activity to the region.
Honorable Mention: Morris Land Conservancy
The Morris Land Conservancy received an honorable mention for their "Partners for Greener Communities" program that provides technical services to help municipalities preserve park land and open space. Morris Land Conservancy is a non-profit member supported organization that has been preserving open space and protecting water resources since 1981. The Conservancy helped preserve more than 8,500 acres of land in the past nine years. The Conservancy's Partners for Greener Communities program is the cornerstone of their preservation efforts. The Partners for Greener Communities program has worked with local communities to close 88 land deals, preserving 5,400 acres in 21 communities. Through this program, the Conservancy has helped towns obtain over $94 million in federal, state, and county grants to acquire land.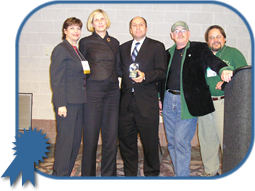 Winner: Teaneck Creek Conservancy, Inc.
The Teaneck Creek Conservancy, Inc. received their award for remediating brownfields into wetlands and passive outdoor recreation areas in Bergen County. Associated with this project is an agreement with Rutgers University for the Teaneck Creek Conservancy to provide access for scientists and students, promote wetlands protection and restoration, and to promote use of a new regional eco-park as an outdoor classroom and research site. Since 2001, the Teaneck Creek Conservancy has been leading a public/private partnership that is transforming historic Overpeck Park into an eco-park, outdoor education center, and cultural destination as well as improving water quality in the Hackensack River watershed.
Environmental Stewardship Category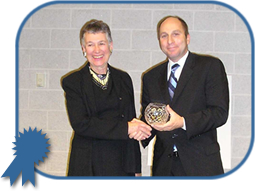 Winner: Jacqueline Royce, Ph.D.
The Environmental Stewardship award is given to Dr. Jacqueline Royce for her continued commitment to environmental issues. During ten years of community activism in Atlantic Highlands, Dr. Royce led efforts to document natural resources, preserve open space, restore saltmarsh and habitat, plan greenway/trail/stream buffers, improve stormwater management, provide recreational opportunities, build community awareness, and raise funds for these efforts. After helping to create the Atlantic Highlands Environmental Commission in 1998, she has served as its Vice Chair. She co-authored "Our Town's Environment", the basic inventory needed for all future efforts. Her work covers a range of policy development, program design, hands-on management and public outreach.
Environmental Leadership Category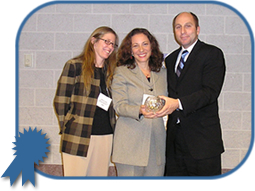 Winner: Mayor Meryl Frank
Mayor Meryl Frank, Highland Park, has proposed a long-term vision for the Borough, Highland Park 2020, which has been described as one of the most ambitious experiments in "smart growth" planning ever attempted in this part of New Jersey. The HP 2020 plan focuses on creating a community, which is sustainable economically, environmentally and socially, focusing on affordability, conservation and on building strong community relations. Meryl Frank was sworn in as Mayor of the Borough of Highland Park in January of 2000. As mayor she worked to forge a council and staff commitment to the principles of good government. She has established a reputation as a creative and innovative leader.