2004 winners
On November 16, 2004, New Jersey Department of Environmental Protection Commissioner Bradley M. Campbell honored environmental leaders at a ceremony, handing out the annual Environmental Excellence Awards to winners in nine categories. The awards recognize individuals, businesses, and communities who have made significant contributions to environmental protection in New Jersey.
Winners were selected from a pool of nominations and were judged on the basis of the documented environmental benefits, innovation, and long-term impact of their work to the environment. DEP received nominations in nine categories: Clean Air, Clean and Plentiful Water, Safe and Healthy Communities, Open Space Protection and Preservation, Healthy Ecosystems, Innovative Technology, Environmental Stewardship, Environmental Leadership, and Environmental Education.
In 2004, the New Jersey Environmental Excellence Awards were presented to the following groups and individuals:
Clean Air Category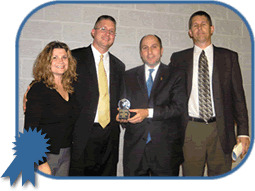 Winner: Mannington Mills, Inc.
Mannington Mills produces residential and commercial flooring products at their corporate headquarters located in Mannington Township in Salem County. This award recognizes Mannington for implementing a number of clean air initiatives at their facility including switching from solvent-based to water-based inks. In addition to decreasing and eliminating air emissions for a number of compounds, their efforts have also resulted in significant energy savings each year.
Clean Water Category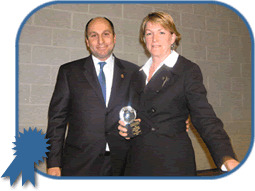 Winner: Sourlands Planning Council
The Sourlands Planning Council is a nonprofit, volunteer organization dedicated to preservation and conservation issues in the Sourlands Mountain region in the central New Jersey counties of Hunterdon, Mercer and Somerset. This award recognizes the Council for their comprehensive efforts to improve this region's water quality and quantity. Efforts include advocating and promoting municipal rezoning and resource protective ordinances as well as developing a comprehensive management plan designed to preserve natural and cultural resources and to encourage consistent smart growth land-use strategies.
Honorable Mentions:
Atlantic County Utilities Authority
Southeast Morris County Municipal Utilities Authority
Janssen Pharmaceuticals
North Jersey Resource Conservation and Development Council and Hunterdon
County Planning Board
Environmental Education Category
Winner: Hillside School Environmental Leadership Protectors
Hillside School Environmental Leaders and Protectors (HELP), a 100-member environmental club comprised of fourth and fifth graders, received this year's Environmental Education award for a student activity. These students of the Hillside Intermediate School located in Bridgewater performed a number of tasks related to habitat loss and wildlife populations. Among these were transformation of six acres of school property into a nature preserve. Other projects included reforestation, establishing a wildlife meadow, a freshwater marsh and hosting an annual Forest Fest environmental festival.
Honorable Mention:
Washington Township Environmental Commission
Environmental Leadership Category
Winner: Lucy Bottomley
Until her recent retirement, Lucy Bottomley was the inspirational leader of the Navy Lakehurst Environmental Program. For over 25 years, Lucy Bottomley, dedicated her career to improving the environment in the areas of potable water and air compliance, recycling, waste water and hazardous waste management. In addition, she was responsible for initiating partnerships with several local schools that resulted in a number of novel science programs for students. Her unwavering dedication to protection of the environment while supporting the Navy mission, have contributed to this recognition for her many accomplishments.
Environmental Stewardship Category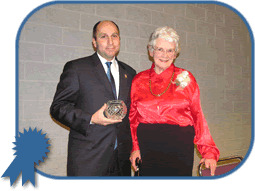 Winner: Alice Hemphill
Alice Hemphill, Chairwoman of the Manasquan Environmental Commission since 1990, is recognized as this year's recipient of the Environmental Stewardship award for her tireless efforts as an environmental advocate and for preserving land and protecting Manasquan's natural resources. Among her accomplishments are land, waterway and beach cleanups, promoting recycling efforts, initiating environmental educational programs, water quality monitoring, and implementation of a stream restoration project. She was also instrumental in spearheading the drive to save Fisherman's Cove that ultimately resulted in the establishment of a new Monmouth County park.
Healthy Ecosystems Category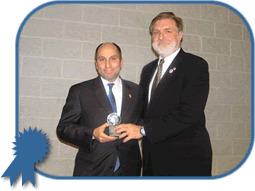 Winner: NJ Corporate Wetlands Restoration Partnership
The NJ Corporate Wetlands Restoration Partnership (CWRP), formed in 2003, is an innovative public/private partnership between government agencies, business, community groups, conservation organizations, and academia to protect, enhance and restore important coastal habitats. This year the organization is honored for their part in projects resulting in the construction of a fish ladder at Batsto Village and an innovative oil spill protection project whereby anchors for rapid deployment of booms are installed on pilings at the mouth of tributaries in ecologically sensitive waterways. CWRP has also contributed toward continued research of Delaware Bay shorebird and horseshoe crab populations.
Honorable Mentions:
Pine Hill Scout Reservation
Franklin Township
Innovative Technology Category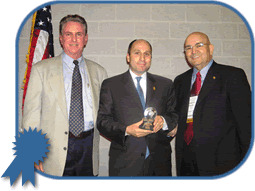 Winner: Township of Burlington
In response to a surge of residential and commercial development during the 1990's, the Township of Burlington decided to expand and upgrade their original Central Avenue Wastewater Treatment Facility. Using a New Jersey Environmental Infrastructure Trust/New Jersey Department of Environmental Protection low-interest loan for the construction of the project, the new expanded and upgraded facility was dedicated on October 21, 2000. In addition to preventing pollution by discharging a cleaner effluent, other environmental benefits of this facility include resource and energy conservation. This award recognizes the Township of Burlington's innovative wastewater treatment facility.
Open Space Protection and Preservation Category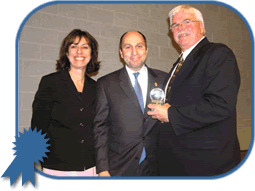 Winner (tie): Delaware and Raritan Greenway
The Delaware and Raritan Greenway is being honored for being a model in the open space protection movement in New Jersey. For the last 15 years, Delaware and Raritan Greenway's efforts have resulted in the protection of thousands of acres in central New Jersey. In conjunction with the DEP Green Acres Program, in the last year alone, Delaware and Raritan Greenway's work led to protection of 1,190 acres of mature forests and perched wetlands in the Sourlands region that will provide for critical wildlife habitat and water resource protection.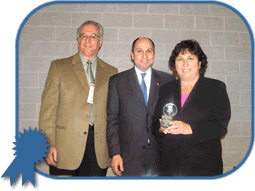 Winner (tie): NJ Meadowlands Commission
The New Jersey Meadowlands Commission is honored for its open space work involving development and adoption of a master plan presenting a multifaceted approach to smart growth and sustainability for the Hackensack Meadowlands District. The 30-square mile Meadowlands District is located approximately five miles west of New York City and encompasses portions of fourteen municipalities. One of the features of the Master Plan is the preservation of 8,400 acres of wetlands in this heavily urbanized area. Other smart growth efforts are designed to enhance the quality of life throughout the Meadowlands for generations to come.
Honorable Mention:
Safe and Healthy Communities Category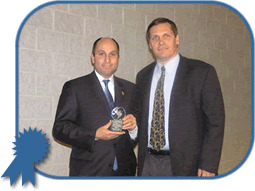 Winner: United States Postal Service
On October 18, 2001, the Hamilton Postal facility was closed due to the first case of anthrax bio-terrorism in this country. The United States Postal Service is receiving this award in recognition of the recently completed anthrax cleanup at the Hamilton Postal facility in Mercer County. Through the Postal Service's hard work and leadership, the largest anthrax decontamination in United States history was completed safely and efficiently. This unique challenge resulted in the development of innovative cleanup strategies with far reaching implications in public health and emergency response and planning.
Honorable Mention: