Predicted Levels Compared to Monitoring Data
NJDEP measures outdoor concentrations of air toxics at four monitoring sites in New Jersey. They are located in Camden, Elizabeth, New Brunswick, and Chester. The Camden site has been measuring several toxic volatile organic compounds (VOCs) since 1989. The Elizabeth site began measuring VOCs in 2000, and the New Brunswick and Chester sites became operational in July 2001.  Also in July 2001, analysis for toxic metals began at all four sites.  Air toxics monitoring data summaries can be found in the annual NJDEP Air Quality Report, under "Air Toxics Summary" and "Appendix B – Fine Particulate speciation Summary."   Some results are discussed below.
NJDEP Air Toxics Monitoring Sites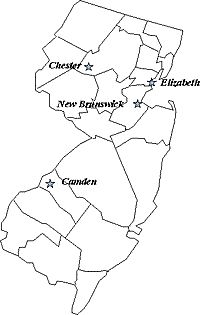 COMPARISON OF MONITORED CONCENTRATION TO NATA RESULTS
One way to determine whether the air toxics concentrations predicted by USEPA's National-Scale Air Toxics Assessment (NATA) are reasonable is to compare them with actual monitoring data. For a number of chemicals of concern, data from the four NJDEP monitoring sites were compared with the modeled concentrations predicted by the 2017 AirToxScreen at the corresponding census tracts. The comparisons are shown in the graph below.  It appears from this analysis that the agreement between the predicted and monitored concentrations is remarkably good for most of the chemicals.  Modeling predictions are dependent on many variables, any of which can vary from the actual conditions, and many of which can not be accounted for.  The results produced by the modeling depend on emission estimates for stationary, area, and mobile sources, meteorological conditions, and how well the dispersion model represents what happens in reality.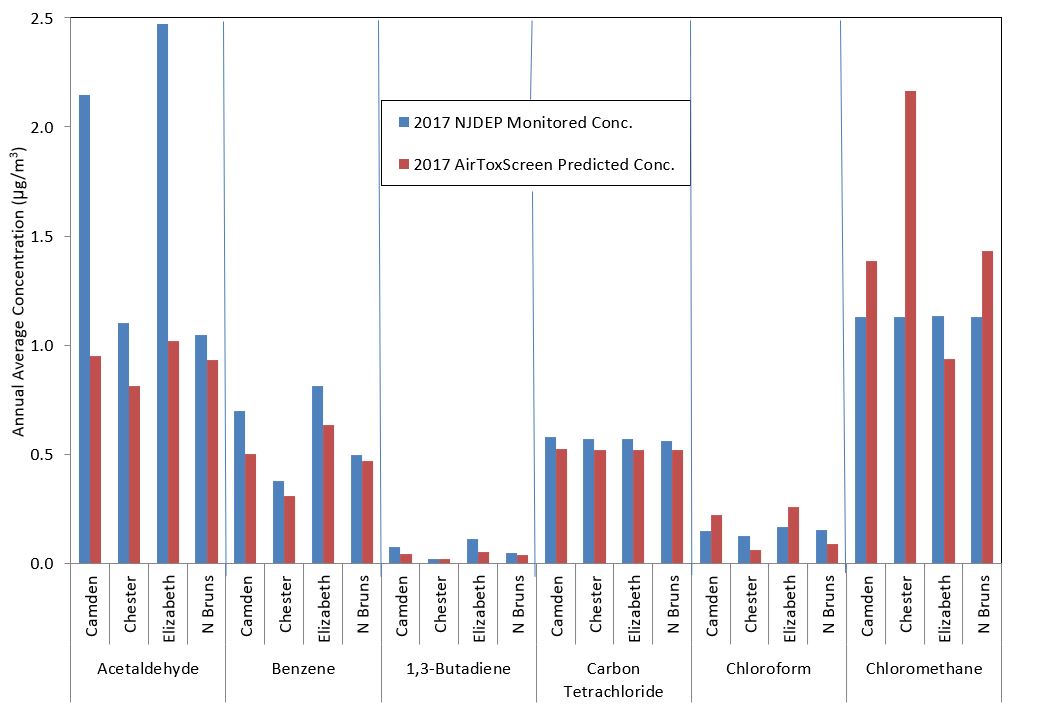 TRENDS IN MONITORED AIR TOXICS CONCENTRATIONS
The graphs below show the ambient air concentrations for five air toxics that have been monitored in New Jersey over the years. Benzene, 1,3-butadiene, formaldehyde and acetaldehyde are pollutants of concern in New Jersey, meaning that their air concentrations exceed their health benchmarks.